At a glance: Attribute your Twitter retargeting campaigns in AppsFlyer.
For retargeting campaigns on Twitter, AppsFlyer supports Re-engagement measurement only. That is an engagement with a retargeting campaign by a user who already has the app installed at the time of engagement.
Currently, re-attribution measurement is not supported by Twitter.
Enabling Twitter re-engagement attribution on the dashboard
To enable re-engagement attribution for Twitter, follow these steps:
Ensure Retargeting is enabled for the app on the App Settings page. For details, click here.
Go to Active Integrations enter Twitter and from the Twitter Integration window, enable Re-engagement attribution.
Configure click-through lookback window.
If needed, activate Re-engagement view-through attribution and configure the Re-engagement view-through lookback window.
Configure the re-engagement window

(the period when the user's in-app events are attributed to the retargeting media source).
Read more about Twitter re-engagement configuration.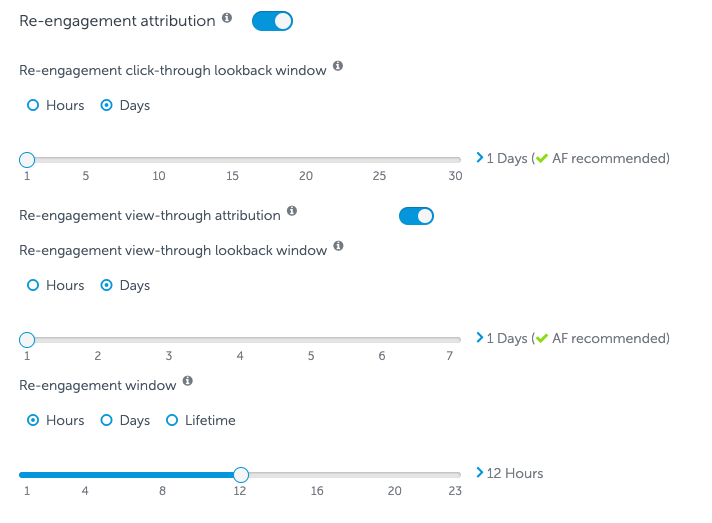 Viewing the reports
Once Twitter Retargeting Attribution is enabled on your AppsFlyer account, you can view your retargeting campaigns in the Overview dashboard by selecting Retargeting in the selection panel.
All available information in the dashboard now displays the retargeting campaigns and the downstream in-app events reported after the engagement with the retargeting campaign.