Starting 17 May 2017 clients using the new Google AdWords UI and have never configured Google AdWords on AppsFlyer should follow the guidelines below:
To start measuring Google AdWords app install campaigns with AppsFlyer, insert your Google AdWords Link ID in AppsFlyer's Dashboard (see example below).
To set up a Google AdWords campaign and measure it with AppsFlyer, follow the below steps:
NOTES: 
As a prerequisite for the integration with Google AdWords, the app must collect IDFA / GAID.  
For further information please refer to the SDK Integrations Guides for either iOS or Android.
The new Google AdWords UI allows you to configure only a new UAC campaign.  To configure all other specific campaign types, switch back to the old UI.  For details of how to do this, click here.
Search iOS campaigns are not part of this API. To track them you need to switch back to Adwords old UI and then follow the setup instructions here.
Generate your Link ID in your Google AdWords dashboard, click here for more info.
Setup your campaign with Google AdWords. Click here and follow the instructions.
Make sure you have the latest AppsFlyer SDK integrated. Minimum, AppsFlyer's iOS SDK 2.5.1.9+ or Android SDK v1.3.12+ is required for measuring Google AdWords campaigns.
Configure your Link ID in AppsFlyer's Dashboard:
Click Integrated Partners on the left side of the screen

 
Select Google AdWords 
In the Integrated Partners page, select Google AdWords as the media source.
You can do this by either scrolling down the page to Google AdWords or entering Google AdWords in the search box. 

Copy your Link ID from the Google AdWords dashboard and paste your Link ID into the AppsFlyer dashboard, then click save. You may also set your desired attribution window at this time. The default value here is 30 days, same as in your Google AdWords console.
NOTE: The AdWords Customer ID is only needed for agency accounts.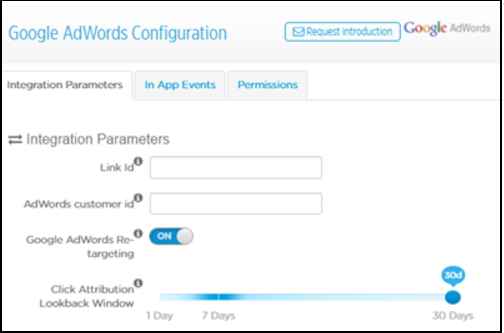 In App Events Configuration
In addition to the Link ID setup, you can enable the in-app events measured by AppsFlyer to be sent to Google AdWords. This allows you to better target and optimize your campaigns.
1. Click the In App Events tab in your Google AdWords Configuration: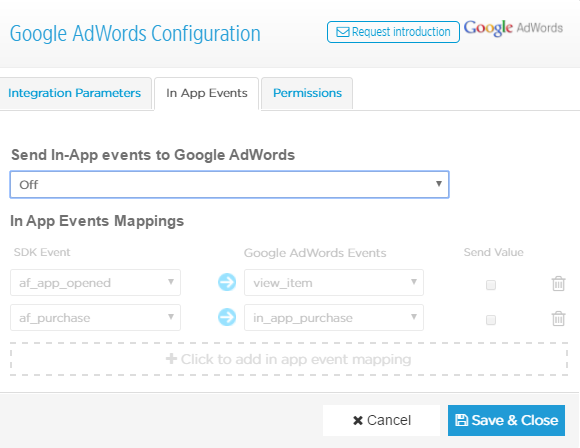 2. Select sending All-in app events.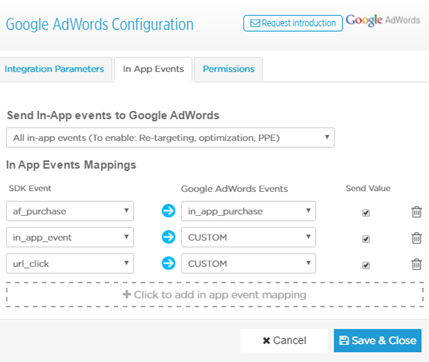 3. The first time you set the drop down to send All in-app events, all af_xxx in-app events are mapped automatically to Google AdWords events. If you would like to add custom events, click Click to add in app event mapping.
Notice that non "af_xxx" in-app events are mapped as "CUSTOM", and are sent to Google AdWords with the event name shown on the AppsFlyer SDK Event side (e.g url_click in the above example, is mapped to the Google AdWords Events as "url_click").
4. Click Save & Close.
5. Import the first-open and in-app actions in AdWords to start accruing conversions there and in your AppsFlyer dashboard. See import steps here.
Google AdWords Re-Targeting Campaigns
Re-targeting campaigns are campaigns targeting existing users of your app.
When a user clicks a re-targeting campaign it launches the app directly using the deeplink pre-configured in the app.
To enable a Re-Targeting campaign, follow these steps:
1. Make sure your app supports deeplinks.
2. Enable re-targeting campaigns for your app under app settings:

3. Toggle on the Google AdWords re-targeting toggle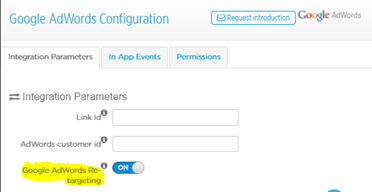 4. Set your re-targeting campaign in the AdWords dashboard. Click here for more info.
NOTE: Your app must support deeplinks for you to run this type of campaign.   Click here for more information.
The below are the available parameters for the Google AdWords integration:
 
 
AppsFlyer Parameter Mapping
Campaign Type
Network Type
Channel (af_channel)
Campaign (c)
Campaign ID (af_c_id)
Adset (af_adset)
Adset ID (af_adset_id)
Ad (af_ad)
Ad ID (af_ad_id)
Ad Type (af_ad_type)
Site ID (af_siteid)
Keywords
UAC​
Search 
UAC_Search
Yes
Yes
N/A
N/A
N/A
N/A
Yes
GoogleSearch​ / SearchPartners
N/A
Display 
UAC_Display
Yes
Yes
N/A
N/A
N/A
N/A
Yes
N/A
N/A
Video
UAC_Video
Yes
Yes
N/A
N/A
N/A
N/A
Yes
YouTubeVideos​ / YouTubeSearch​ /VideoPartners
N/A
Search
GoogleSearch​
Search
Yes
Yes
No (will be auto populated with Adset id)
Yes
No (Will be auto populated with ad id)
Yes
Yes
GoogleSearch​

Yes

SearchPartners​
Search
Yes
Yes
No (will be auto populated with Adset id)
Yes
No (Will be auto populated with ad id)
Yes
Yes
SearchPartners​
Yes
Display
mGDN​
mGDN​
Yes
Yes
No (will be auto populated with Adset id)
Yes
No (Will be auto populated with ad id)
Yes
Yes
Yes  (Publisher app ID)
N/A
Video
AdMob​
AdMob​
Yes
Yes
No (will be auto populated with Adset id)
Yes
No (Will be auto populated with ad id)
Yes
Yes
Yes  (Publisher app ID)
N/A
YouTubeVideos​
YouTube
Yes
Yes
No (will be auto populated with Adset id)
Yes
No (Will be auto populated with video id)
Yes
Yes
YouTubeVideos​
N/A
YouTubeSearch​
YouTube
Yes
Yes
No (will be auto populated with Adset id)
Yes
No (Will be auto populated with video id)
Yes
Yes
YouTubeSearch​
N/A
VideoPartners
YouTube
Yes
Yes
No (will be auto populated with Adset id)
Yes
No (Will be auto populated with video id)
Yes
Yes
VideoPartners
N/A