This article is intended for customers who want to send attribution data to MoEngage.
Follow the instructions below to configure the integration with MoEngage.
To configure a campaign with MoEngage, follow the steps below:
1. Set Up Campaign
Once you have registered your app with AppsFlyer, you must set up a campaign in the dashboard.
To do this, click the app that you want to advertise or select Overview from the drop-down menu.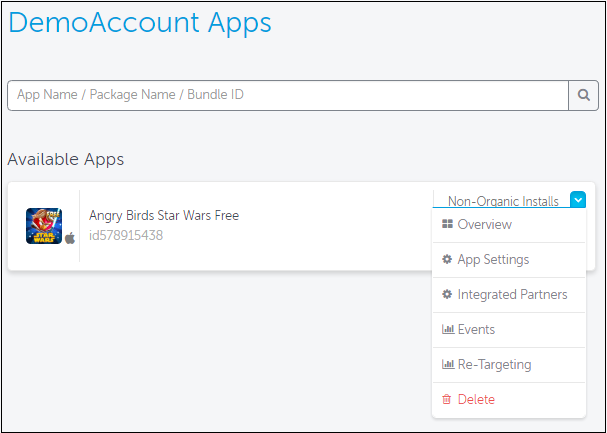 2. Configure Integrated Partner
Click Integrated Partners on the left side of the screen
3.  Select MoEngage
In the Integrated Partners page, select MoEngage as the media source.
You can do this by either scrolling down the page to MoEngage or entering MoEngage in the search box. 

Click on the MoEngage logo to open the MoEngage Configuration page.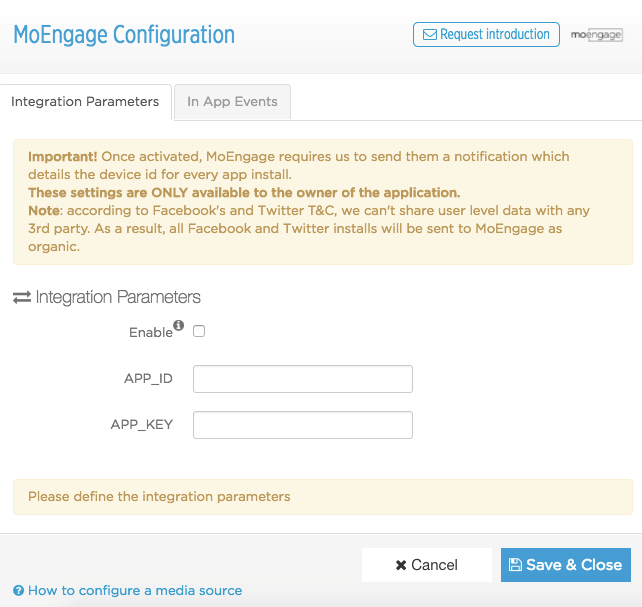 Select Enable (by doing so, you agree to push the device id details for every app install to MoEngage).
To obtain the APP_ID, login to your MoEngage account, click on Settings in the left menu and select App Settings, here we show the APP ID of your app.
To obtain the APP_KEY, go to Settings > Analytics under your MoEngage account.
Under Acquisition Settings, turn on Acquisition Tracking, and select AppsFlyer from the dropdown list. By default, this  generates an App Key.
Click Save & Close.
From the MoEngage Acquisition Settings: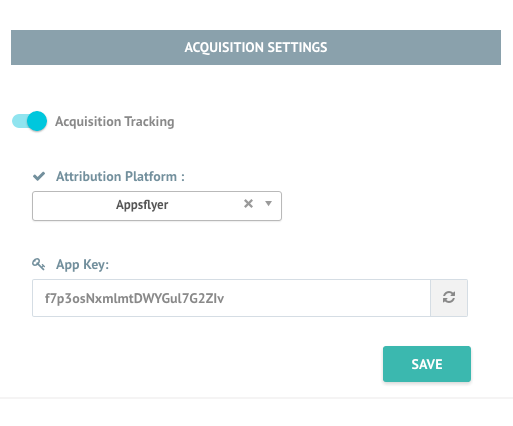 Click Save & Close on AppsFlyer's MoEngage integrated partner page.
Integration with AppsFlyer is now complete.
NOTES:
Third party acquisition data from AppsFlyer is calculated every two hours and aggregated data on acquisition dashboard is refreshed every six hours on the MoEngage dashboard
According to Facebook and Twitter T&Cs, AppsFlyer is unable to share user level data with any 3rd party.
For more details on configuring a media source, click here.