Important!
As of late May 2018 AppsFlyer's integrated partners user interface and accompanying documentation are being gradually updated. For details about the new user interface please visit the Integrated Partners Setup guide.
Introduction
This article is intended for customers who want to send attribution data to Webeffects.
Configure Webeffects in AppsFlyer's Dashboard
Click Integrated Partners on the left side of the screen


Click on the Webeffects logo to open the configuration window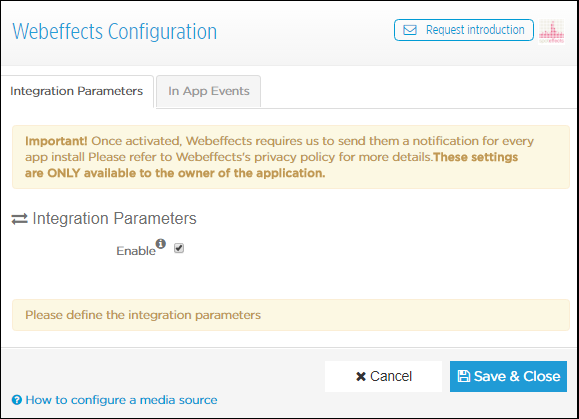 Under Integration Parameters, select Enable
Click Save & Close
Once you have saved the configuration, AppsFlyer sends the following data to Webeffects for every organic and non-organic install:
Device ID (IDFA / Goggle Advertising ID)
Media Source
Campaign name
 Important!
According to Facebook and Twitter T&C, AppsFlyer is unable to share user level data with any 3rd party.