Validation Rules allow advertisers to define a set of rules that validate installs.  
Integrated partners can receive the following tools to monitor validation rules impacting their traffic:
All validation rules affecting their campaigns in the dashboard
Invalid Install Raw Data Reporting
Invalid Install Postbacks
Validation Rules Configuration
Networks are able to see all validation rules affecting their campaigns, by following the steps below.
1.  From the left navigation bar, select Validation Rules to open the Validation Rules window

If no validation rules have been defined, the following screen is displayed.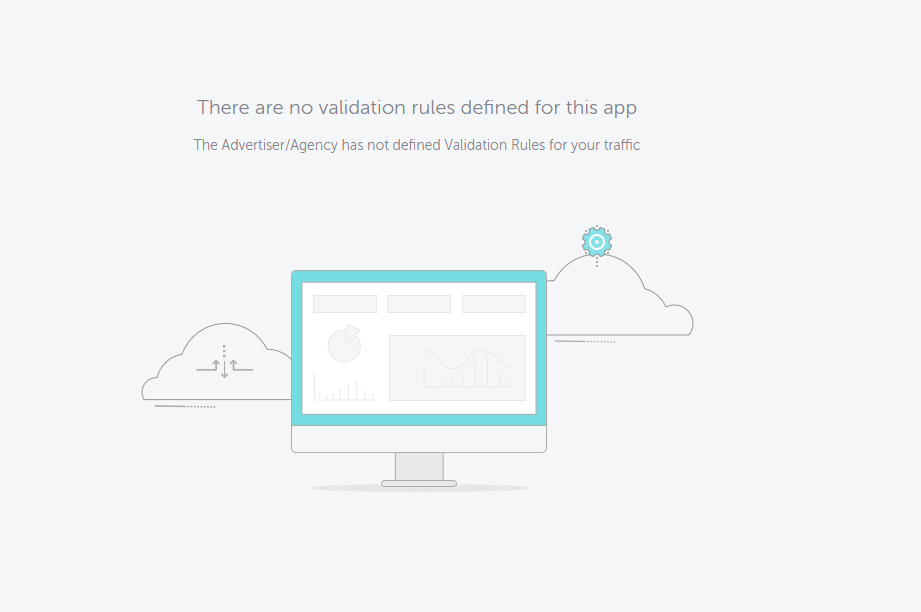 If validation rules have been defined, the following window is displayed:

| | |
| --- | --- |
| Column Name | Description |
| Ruleset Owner | The name of the ruleset owner with a link to the ruleset configuration page. The owner can be either the app owner or one of the agencies that worked on the app on behalf of the advertiser |
| Ruleset ID | Self-generated Ruleset ID that appears in rule validation raw data reports and the invalid install postbacks |
| Last Updated | The date on which the ruleset was last updated |
| Campaigns | The campaigns to which this ruleset is applied |

3.  Click on the link of the Ruleset Owner to view the validation rule that has been defined: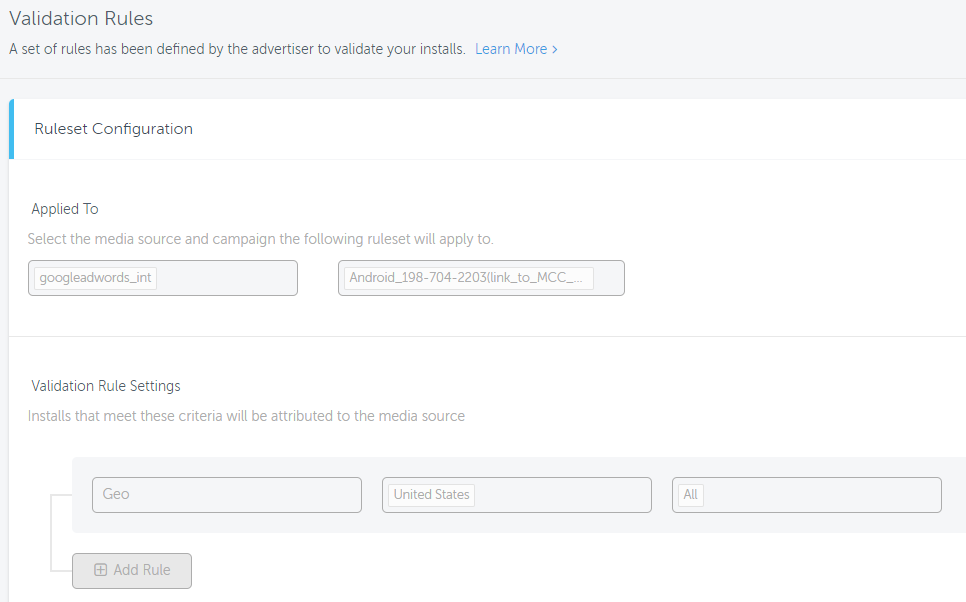 The Applied To field, displays the media source and campaign that the ruleset applies to.
The Validation Rule Settings section, displays the installs that meet the criteria to be attributed to the media source. 
In the Validation Rule Settings section, you can see:
Device Type
Geo (country and city)
OS Version
Possible operators to be selected are: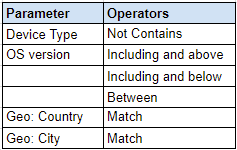 Validation Rules:  Export Data
The following Raw Data reports can be downloaded directly from the Export Data page:
Invalid Installations
Invalid Installations Postbacks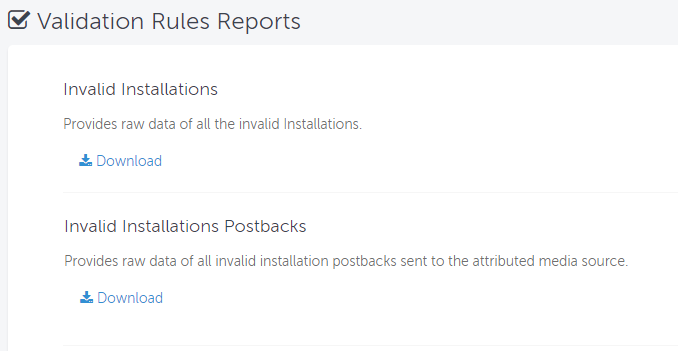 The Rejected Reason and Rejected Reason Value fields are populated in the Invalid Installations Report.  
The Rejected Reason Value includes the Ruleset ID that caused the rejection.
Validation Rules: Invalid Install Postbacks
A network can integrate with AppsFlyer and receive invalid install postbacks in real-time each time an install that should have been attributed to them, is rejected.
Contact your Partner Development representative for further details.