AppsFlyer provides advertisers the option to whitelist devices for testing purposes. This allows you to test that installs are recorded.  The reason for whitelisting a device is due to the 90-day re-attribution policy.  
If a test device previously had an app installed on it, the install is not recorded when you uninstall and reinstall the app if the device has not been whitelisted.
Adding a Device to the Whitelist:
Login to your AppsFlyer dashboard

From the user's drop-down menu click Test Devices to open the Test Devices window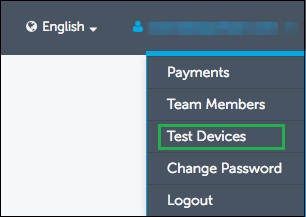 Choose the device's operating system
Enter the Device Name and ID (For iOS: IDFA.  For Android: AID, Android ID, IMEI).  For more information on this, click here. 
iOS
| | |
| --- | --- |
| Finding your IDFA | Install the app called The Identifiers.  After launching the app, you can find your device's IDFA listed in the middle of the screen.  |
Android
Download the AppsFlyer Test App, here.
Click  to display your device's whitelist parameters values - IMEI, Android ID and Google Advertising ID.
Click Send Values to send these values via email.
You can also use the method below:
Click Save only once you have completed these fields.
A green Added confirmation pop-up appears in the lower right-hand corner of the screen.
As soon as the device is added - it appears in the devices list until you delete it:

After the device is added to the whitelist and you generate a click and launch a newly installed app on the test device, you can see a new click and non-organic install on your dashboard.
NOTES:
You can whitelist up to 40 devices per account.

iOS10 Beta is currently attributed to Apple Search Ads.