You can view campaign cost data in AppsFlyer.
AppsFlyer provides ROI reports to help app marketers measure the effectiveness of their ad campaigns. By combining in-app activity and lifetime value data with ad cost and other campaign details, AppsFlyer can deliver real-time ROI reports on app install campaigns.
The ROI reports include additional data for measuring the effectiveness of your campaigns — campaign cost, clicks and in some cases impressions. Using the data, AppsFlyer also provides you with an analysis of your campaign's Return on Investment (ROI) and average Effective Cost per Installation (eCPI) over time.
Viewing the data in AppsFlyer
The cost, clicks, impressions, ROI, and average eCPI data are displayed on your dashboard in the Aggregated Performance Report table, as well as in the Partners and Partners by Date aggregated CSV reports.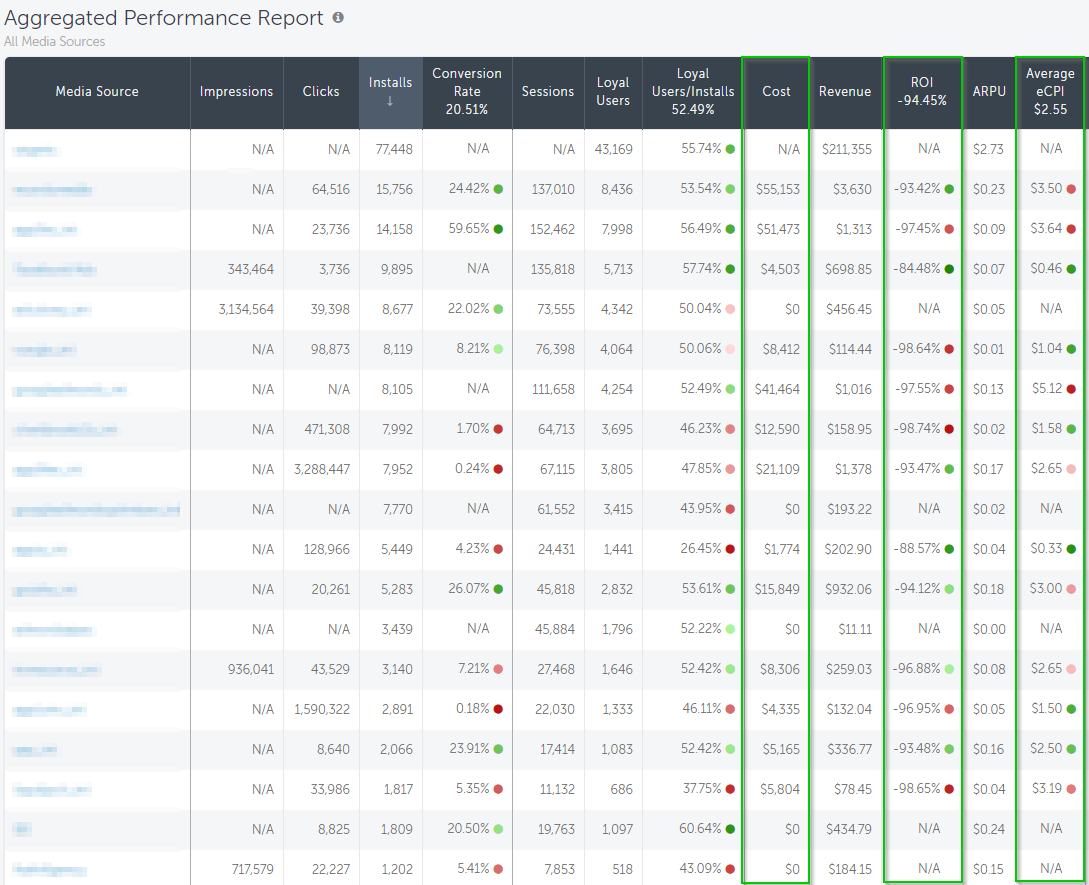 You can also filter the data by campaign: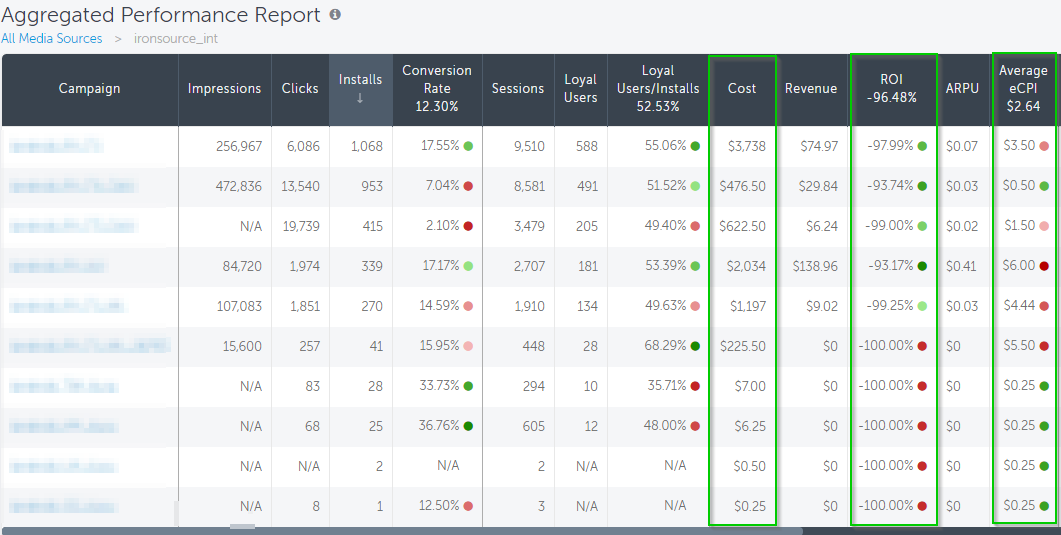 Understanding the data
Cost

The total campaign cost

ROI

The return on your investment - the difference between the total campaign revenue and the campaign cost, as a percentage of the cost

eCPI

The average effective cost per installation: the total campaign cost divided by the amount of effective installations (i.e., installations as a direct result of an ad click), as analyzed by AppsFlyer

ARPU

The average revenue per user
AppsFlyer provides campaign cost for more than 175 ad networks – among them Facebook (for more info on how to start receiving cost on AppsFlyer for your Facebook campaigns see here). For more details on configuring Google Ads, see here.
Stopping cost data
You can stop fetching the cost data by manually switching it off for the deactivated partner (where applicable).
Cost limitations
Cost data using clicks:

User level raw data is available
Only CPI is enabled as the cost model

Cost data using API:

No user level raw data is available, only aggregated data
Cost data via API enables any cost model
Caution
Once you enable cost measurement with an API media source do not change the name of the parameters listed. Doing so may cause significant discrepancies or missing cost data.
Active campaign
Ad set
Single ad
Cost currency conversion
If the cost currency that is configured in the ad network is different than the currency configured in your app, AppsFlyer converts cost to the app's currency.
AppsFlyer uses openexchangerates.org for currency conversion. The exchange rate is updated on an hourly basis. Whenever AppsFlyer performs currency conversion, it uses the exchange rate of the last known hourly update.
Ad networks supporting cost data
The following is a list of ad networks that provide AppsFlyer with cost data.
| Media source name | Logo | Supported Method | Supported Dimensions |
| --- | --- | --- | --- |
| Aarki | | API | Media source, campaign, and Geo |
| AdAction | | Click | All possible dimensions, provided they appear in the attribution link |
| Adattraction | | Click | All possible dimensions, provided they appear in the attribution link |
| Adcolony | | API | Media source, campaign, and Geo |
| | | Click | All possible dimensions, provided they appear in the attribution link |
| Adcrimson | | Click | All possible dimensions, provided they appear in the attribution link |
| Adcrops | | Click | All possible dimensions, provided they appear in the attribution link |
| AdDeals | | Click | All possible dimensions, provided they appear in the attribution link |
| AddictiveAds | | Click | All possible dimensions, provided they appear in the attribution link |
| Adison | | Click | All possible dimensions, provided they appear in the attribution link |
| Adjoe | | Click | All possible dimensions, provided they appear in the attribution link |
| Adlix | | Click | All possible dimensions, provided they appear in the attribution link |
| Adperio | | Encrypted Click | All possible dimensions, provided they appear in the attribution link |
| Adpick | | Encrypted Click | All possible dimensions, provided they appear in the attribution link |
| AdTiming | | Encrypted Click | All possible dimensions, provided they appear in the attribution link |
| AdTrial | | Click | All possible dimensions, provided they appear in the attribution link |
| Adxperience | | Click | All possible dimensions, provided they appear in the attribution link |
| Affilinet | | Click | All possible dimensions, provided they appear in the attribution link |
| Altrooz | | Click | All possible dimensions, provided they appear in the attribution link |
| AML | | Click | All possible dimensions, provided they appear in the attribution link |
| AOL Platforms | | Click | All possible dimensions, provided they appear in the attribution link |
| Appa | | Click | All possible dimensions, provided they appear in the attribution link |
| Appadvice | | Click | All possible dimensions, provided they appear in the attribution link |
| AppBrain | | Click | All possible dimensions, provided they appear in the attribution link |
| Appcoachs | | Click | All possible dimensions, provided they appear in the attribution link |
| Appflood | | Click | All possible dimensions, provided they appear in the attribution link |
| Appflood Affiliate Network | | Click | All possible dimensions, provided they appear in the attribution link |
| | | Click | All possible dimensions, provided they appear in the attribution link |
| APPKIN | | Click | All possible dimensions, provided they appear in the attribution link |
| Apple Search Ads | | API | Media source, campaign, ad set level, and Geo |
| AppLike | | Click | All possible dimensions, provided they appear in the attribution link |
| AppLovin | | API | Media source, campaign, and Geo |
| AppNext | | Click | All possible dimensions, provided they appear in the attribution link |
| APPSILON | | Click | All possible dimensions, provided they appear in the attribution link |
| AppThis | | Click | All possible dimensions, provided they appear in the attribution link |
| APUS | | Click | All possible dimensions, provided they appear in the attribution link |
| ASB | | Click | All possible dimensions, provided they appear in the attribution link |
| Aura by ironSource | | Click | All possible dimensions, provided they appear in the attribution link |
| Bebi Media | | Click | All possible dimensions, provided they appear in the attribution link |
| Beintoo | | Click | All possible dimensions, provided they appear in the attribution link |
| Bidmotion | | Click | All possible dimensions, provided they appear in the attribution link |
| Blind Ferret | | Click | All possible dimensions, provided they appear in the attribution link |
| | | Click | All possible dimensions, provided they appear in the attribution link |
| Bubbleye | | Click | All possible dimensions, provided they appear in the attribution link |
| Camera360 | | Click | All possible dimensions, provided they appear in the attribution link |
| Chartboost | | Click | All possible dimensions, provided they appear in the attribution link |
| CheBuoni | | Click | All possible dimensions, provided they appear in the attribution link |
| Cheetah Mobile | | Encrypted Click | All possible dimensions, provided they appear in the attribution link |
| Click2perform | | Click | All possible dimensions, provided they appear in the attribution link |
| ClickDealer | | Click | All possible dimensions, provided they appear in the attribution link |
| CommuteStream | | Click | All possible dimensions, provided they appear in the attribution link |
| Creative Clicks | | Click | All possible dimensions, provided they appear in the attribution link |
| Crobo | | Click | All possible dimensions, provided they appear in the attribution link |
| Cross Install | | Click | All possible dimensions, provided they appear in the attribution link |
| Curate | | Click | All possible dimensions, provided they appear in the attribution link |
| DGM | | Click | All possible dimensions, provided they appear in the attribution link |
| Digilant | | Click | All possible dimensions, provided they appear in the attribution link |
| Directagents | | Click | All possible dimensions, provided they appear in the attribution link |
| DirectFocus | | Click | All possible dimensions, provided they appear in the attribution link |
| Drawbridge | | Click | All possible dimensions, provided they appear in the attribution link |
| Digital Sunray | | Click | All possible dimensions, provided they appear in the attribution link |
| Digital Turbine | | Click | All possible dimensions, provided they appear in the attribution link |
| Discovry | | Click | All possible dimensions, provided they appear in the attribution link |
| Display.io | | Click | All possible dimensions, provided they appear in the attribution link |
| | | Encrypted Click | All possible dimensions, provided they appear in the attribution link |
| | | Click | All possible dimensions, provided they appear in the attribution link |
| Edge360 | | Click | All possible dimensions, provided they appear in the attribution link |
| Everyads | | Click | All possible dimensions, provided they appear in the attribution link |
| Exciteco | | Click | All possible dimensions, provided they appear in the attribution link |
| Facebook | | API | Media source, campaign, geo, ad Set, ad, and Channel. |
| Fizzylabs | | Click | All possible dimensions, provided they appear in the attribution link |
| Fyber | | Click | All possible dimensions, provided they appear in the attribution link |
| Gamespipe | | Click | All possible dimensions, provided they appear in the attribution link |
| Glispa Media CPI | | Encrypted Click | All possible dimensions, provided they appear in the attribution link |
| | | Encrypted Click | All possible dimensions, provided they appear in the attribution link |
| Google | | API | Media source, campaign, and geo. |
| Groundhog | | Click | All possible dimensions, provided they appear in the attribution link |
| HangMyAds | | Click | All possible dimensions, provided they appear in the attribution link |
| HAWK | | Click | All possible dimensions, provided they appear in the attribution link |
| Headway Digital (MoBrain) | | Click | All possible dimensions, provided they appear in the attribution link |
| Heyzap | | Click | All possible dimensions, provided they appear in the attribution link |
| Hopemobi | | Click | All possible dimensions, provided they appear in the attribution link |
| Iconpeak | | Click | All possible dimensions, provided they appear in the attribution link |
| Immersv | | Click | All possible dimensions, provided they appear in the attribution link |
| Implus Technology | | Click | All possible dimensions, provided they appear in the attribution link |
| Inflecto | | Encrypted Click | All possible dimensions, provided they appear in the attribution link |
| Infleux | | Click | All possible dimensions, provided they appear in the attribution link |
| Inmobi | | API | Media source, campaign, and geo. |
| Inneractive | | Click | All possible dimensions, provided they appear in the attribution link |
| Intango | | Click | All possible dimensions, provided they appear in the attribution link |
| ironSource | | Encrypted Click | All possible dimensions, provided they appear in the attribution link |
| IRONTRAFFIC | | Click | All possible dimensions, provided they appear in the attribution link |
| Jampp | | Click | All possible dimensions, provided they appear in the attribution link |
| Jump Ramp Games | | Click | All possible dimensions, provided they appear in the attribution link |
| KickAssOffers | | Click | All possible dimensions, provided they appear in the attribution link |
| KissMyAds | | Click | All possible dimensions, provided they appear in the attribution link |
| Kixer | | Click | All possible dimensions, provided they appear in the attribution link |
| Lemmonet | | Encrypted Click | All possible dimensions, provided they appear in the attribution link |
| LifeStreet | | Click | All possible dimensions, provided they appear in the attribution link |
| Liftoff | | API | Media Source, campaign, and geo |
| LoopMe | | Click | All possible dimensions, provided they appear in the attribution link |
| Lunplay | | Click | All possible dimensions, provided they appear in the attribution link |
| Lyto | | Click | All possible dimensions, provided they appear in the attribution link |
| Madeviral | | Click | All possible dimensions, provided they appear in the attribution link |
| Criteo DSP (Manage) | | Click | All possible dimensions, provided they appear in the attribution link |
| MARKETIT | | Click | All possible dimensions, provided they appear in the attribution link |
| Matchmade | | Click | All possible dimensions, provided they appear in the attribution link |
| MdotM | | Click | All possible dimensions, provided they appear in the attribution link |
| Minimob | | Click | All possible dimensions, provided they appear in the attribution link |
| Mintegral | | Encrypted Click | All possible dimensions, provided they appear in the attribution link |
| MOA | | Click | All possible dimensions, provided they appear in the attribution link |
| Mobair | | Click | All possible dimensions, provided they appear in the attribution link |
| Mobcastle | | Click | All possible dimensions, provided they appear in the attribution link |
| Mobiblade | | Click | All possible dimensions, provided they appear in the attribution link |
| Mobikaka | | Click | All possible dimensions, provided they appear in the attribution link |
| Mobilda | | Encrypted Click | All possible dimensions, provided they appear in the attribution link |
| Mobile10 | | Click | All possible dimensions, provided they appear in the attribution link |
| MobilePlay | | Click | All possible dimensions, provided they appear in the attribution link |
| MobiteMedia | | Click | All possible dimensions, provided they appear in the attribution link |
| Mobonus | | Click | All possible dimensions, provided they appear in the attribution link |
| MobPartner | | Encrypted Click | All possible dimensions, provided they appear in the attribution link |
| Mobsuccess | | Click | All possible dimensions, provided they appear in the attribution link |
| Mobupps | | Click | All possible dimensions, provided they appear in the attribution link |
| Mobvista | | Encrypted Click | All possible dimensions, provided they appear in the attribution link |
| Moloco | | Click | All possible dimensions, provided they appear in the attribution link |
| Moinstall | | Click | All possible dimensions, provided they appear in the attribution link |
| Motive | | Click | All possible dimensions, provided they appear in the attribution link |
| Msales | | Click | All possible dimensions, provided they appear in the attribution link |
| myTarget | | API | Media source, campaign, and geo |
| Naranya | | Click | All possible dimensions, provided they appear in the attribution link |
| NativeX | | Encrypted Click | All possible dimensions, provided they appear in the attribution link |
| Netlion | | Click | All possible dimensions, provided they appear in the attribution link |
| | | Click | All possible dimensions, provided they appear in the attribution link |
| Octro | | Click | All possible dimensions, provided they appear in the attribution link |
| OfferToro | | Click | All possible dimensions, provided they appear in the attribution link |
| OnSeo | | Click | All possible dimensions, provided they appear in the attribution link |
| Outmarketing | | Click | All possible dimensions, provided they appear in the attribution link |
| Performance Revenues | | Encrypted Click | All possible dimensions, provided they appear in the attribution link |
| Pinterest | | API | Media source, campaign, ad set, Ad (promoted pin) |
| Playhaven | | Click | All possible dimensions, provided they appear in the attribution link |
| PMANetwork | | Click | All possible dimensions, provided they appear in the attribution link |
| Pocket Media | | Click | All possible dimensions, provided they appear in the attribution link |
| Promolta | | Click | All possible dimensions, provided they appear in the attribution link |
| Pubmint | | Click | All possible dimensions, provided they appear in the attribution link |
| Purple Friends | | Click | All possible dimensions, provided they appear in the attribution link |
| Pusic | | Click | All possible dimensions, provided they appear in the attribution link |
| rAPId:ads | | Click | All possible dimensions, provided they appear in the attribution link |
| ReevAds | | Click | All possible dimensions, provided they appear in the attribution link |
| RevMob | | Click | All possible dimensions, provided they appear in the attribution link |
| Rocket10 | | Click | All possible dimensions, provided they appear in the attribution link |
| Rootmedia | | Click | All possible dimensions, provided they appear in the attribution link |
| | | Click | All possible dimensions, provided they appear in the attribution link |
| Seads | | Click | All possible dimensions, provided they appear in the attribution link |
| SeccoSquared | | Click | All possible dimensions, provided they appear in the attribution link |
| SDM | | Click | All possible dimensions, provided they appear in the attribution link |
| Snap | | API | Media source, campaign, ad set, and ad. |
| Skrilo | | Click | All possible dimensions, provided they appear in the attribution link |
| Startapp | | Encrypted Click | All possible dimensions, provided they appear in the attribution link |
| Supersonic | | Click | All possible dimensions, provided they appear in the attribution link |
| Surikate | | Click | All possible dimensions, provided they appear in the attribution link |
| Tapjoy | | API | Media source, campaign, and Geo. |
| | | Click | All possible dimensions, provided they appear in the attribution link |
| Tapcash | | Click | All possible dimensions, provided they appear in the attribution link |
| TapCommerce | | Click | All possible dimensions, provided they appear in the attribution link |
| Tapmyads | | Click | All possible dimensions, provided they appear in the attribution link |
| Tapsense | | Encrypted Click | All possible dimensions, provided they appear in the attribution link |
| Taptica | | Click | All possible dimensions, provided they appear in the attribution link |
| Time One | | Encrypted | All possible dimensions, provided they appear in the attribution link |
| Tyroo | | Click | All possible dimensions, provided they appear in the attribution link |
| Unity Ads | | Click | All possible dimensions, provided they appear in the attribution link |
| Wisebirds | | Click | All possible dimensions, provided they appear in the attribution link |
| Vungle | | Click | All possible dimensions, provided they appear in the attribution link |
| Wagawin | | Click | All possible dimensions, provided they appear in the attribution link |
| Oath: Ad Platforms (Yahoo Gemini) | | API | Media source, campaign, ad set, ad, and geo |
| yeahmobi | | Encrypted Click | All possible dimensions, provided they appear in the attribution link |
| Yieldmo | | Click | All possible dimensions, provided they appear in the attribution link |
| Webpals | | Click | All possible dimensions, provided they appear in the attribution link |
| ZPLAY Ads | | Click | All possible dimensions, provided they appear in the attribution link |