Important!
As of late May 2018 AppsFlyer's integrated partners user interface and accompanying documentation are being gradually updated. For details about the new user interface please visit the Integrated Partners Setup guide.
This article is intended for customers who would like to send attribution data to Liquid.
Follow the instructions below in order to set up the integration with Liquid:
1. Go to Integrated Partners and search for Liquid

2. On the Liquid configuration page, enable the integration parameter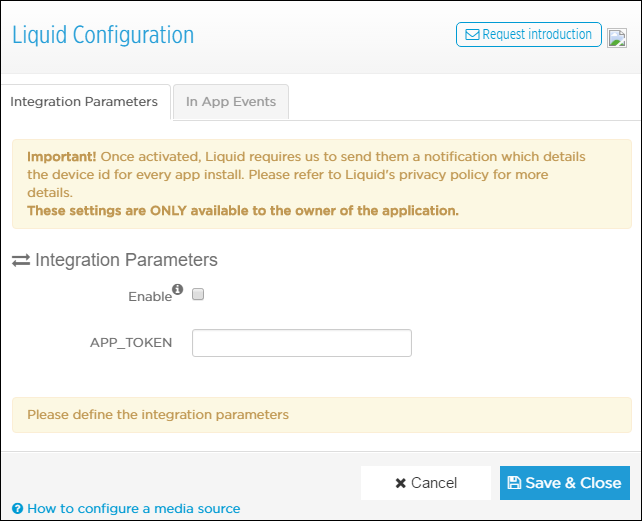 3. Insert the APP_TOKEN you received from Liquid (see section 5)
4. Click Save & Close
Once this configuration is saved, AppsFlyer will begin sending the following data to Liquid for every organic and non-organic install:
App Token

customer_user_id as set in the SDK

Media Source

Campaign name
According to Facebook's T&C, we cannot share user level data with any 3rd party. As a result, all Facebook and Twitter installs will be sent to Liquid as organic.
5. Getting the APP_TOKEN From Liquid - You can find the API token by logging into Liquid dashboard, click on settings icon, copy the Production API token.