Important!
As of late May 2018 AppsFlyer's integrated partners user interface and accompanying documentation are being gradually updated. For details about the new user interface please visit the Integrated Partners Setup guide.
What is GameAnalytics?
GameAnalytics is a powerful free tool that helps developers understand player behaviour so they can improve engagement, reduce churn and perfect monetization. It helps to visualize core gaming KPIs in one convenient view, and offers in-game benchmarking to see how your metrics stack up against more than 14,000 similar titles.
It takes just a few minutes to setup and it's totally free of charge – no usage caps or hidden premium features! If you'd rather see the platform in action before integrating it with your title, just sign up to see a demo game with pre-populated data.
The platform is trusted by more than 40,000 game developers worldwide, from indies to world-renowned studios, and handles over five billion unique events every day across 2+ billion devices. GameAnalytics is widely integrated, with SDKs for every major game engine and platform. You can sign up for free today at: https://gameanalytics.com/
Basic Integration
Follow the instructions below in order to set up the integration with GameAnalytics:
1. Go to Integrated Partners and search for GameAnalytics

2. On the GameAnalytics configuration page, enable the integration parameter
3. Insert the game_key you received from GameAnalytics
4. Click Save & Close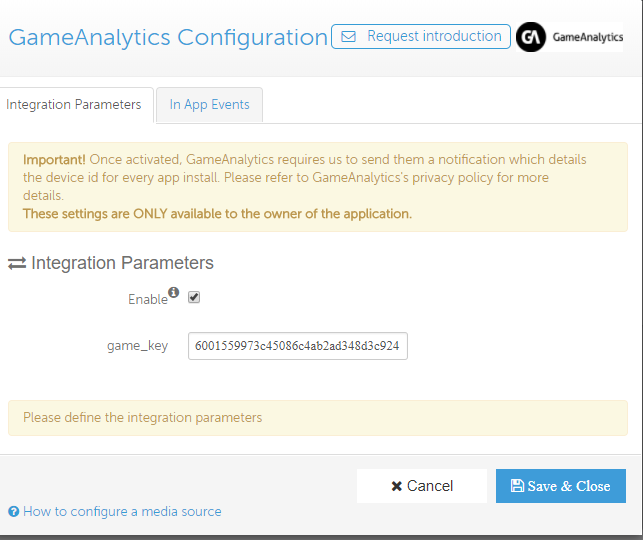 Once this configuration is saved, AppsFlyer begins sending the following data to GameAnalytics for every non-organic install:
game_key
Media Source
Campaign name
According to Facebook and Twitter's T&C, we cannot share user level data with any 3rd party. As a result, all Facebook and Twitter installs will be treated as organic.
In-App Events Mapping
1. Choose to send: All in-app events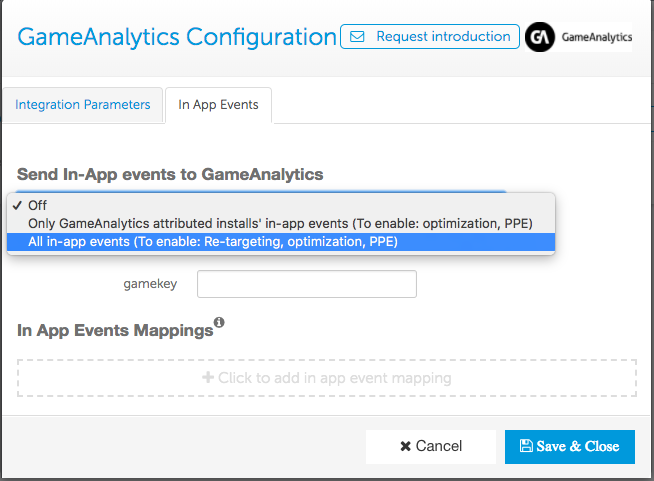 2. Insert the game_key you received from GameAnalytics
3. Click +Click to add in app event mapping and map the events you want to send to Game Analytics.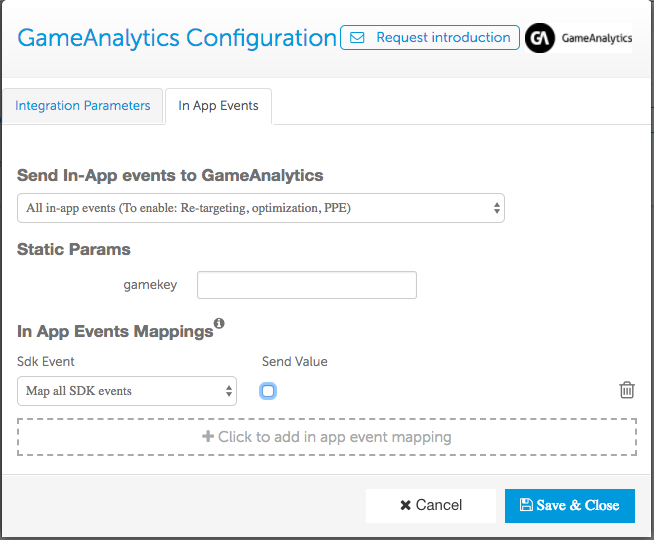 4. Click Save & Close