The Activity Report displays the app activity KPIs that occurred during a selected date range.  In the Activity Report there is no dependency between the different KPIs being looked at, but purely the events that took place during the selected time frame.  
The Activity Report figures are calculated once each day.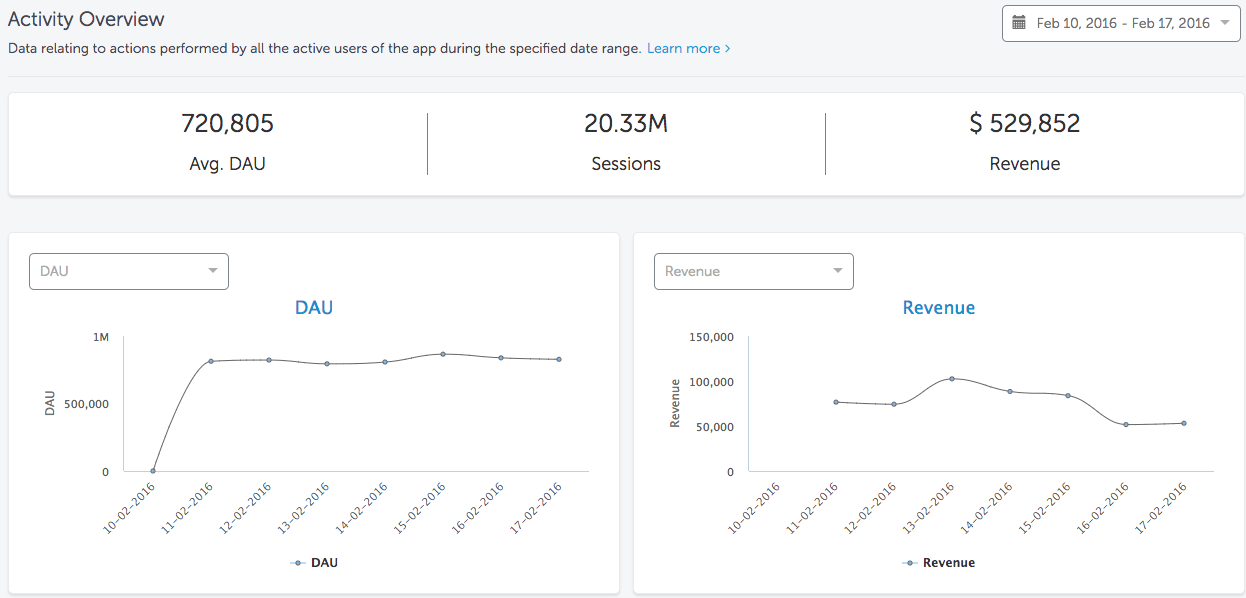 Activity Report Layout
To enter the Activity Report, click on Activity on the left of the screen:
The KPI information is for organic and non organic traffic together.  The report is divided into three sections:
Average DAU - (Daily Active Users) counts the users who had at least one session the same day. If a user has more than one session it is still counted only once. When calculating the DAU value for the date range (i.e. for more than a single day) - the Average value is displayed. Example: Sunday - 10 daily active users, Mon - 12 daily active users, Tue - 8 daily active users, Avg DAU Sunday to Tue is (10 + 12 + 8) / 3 = an average of 10 daily active users. 
Sessions - total sessions for the selected date range (if reported by the application)
Revenue - total revenue for the selected date range - combined calculation of In-App Purchases (if reported by the application) and Ad Monetization revenue.  NOTE: Ad Monetization data is calculated once a day, so the monetization data for the current day is available to view the following day. 

Metric Over Time - displayed in graphical form. The default presentation shows DAU and Revenue for apps that report revenue. For apps that do not report revenue, Sessions are shown.

Activity Summary - The metrics displayed in numerical form in daily resolution.
Viewing the Activity Report
Select the date range for which you want to view the Activity Report - the start and end date - or use the default buttons for yesterday, last 7 days, last 30 days, this month or last month.
Click Apply and the data is calculated and displayed in the Activity Report.
Changing the Metric
Select the metric that you want to view and the data is displayed in the graph.
NOTE:  Data Freshness: The data is aggregated on a daily basis.  For users in time zone UTC - (minus) it may take up to 48 hours and for users in time zone UTC + (plus) it may take up to 24 hours for the report to be populated with data.