To configure a campaign with Tencent Social Ads, follow the steps below:
1. Set Up Campaign
Once you have registered your app with AppsFlyer, you must set up up a campaign in the dashboard.
To do this, click the app that you want to advertise or select Overview from the drop-down menu.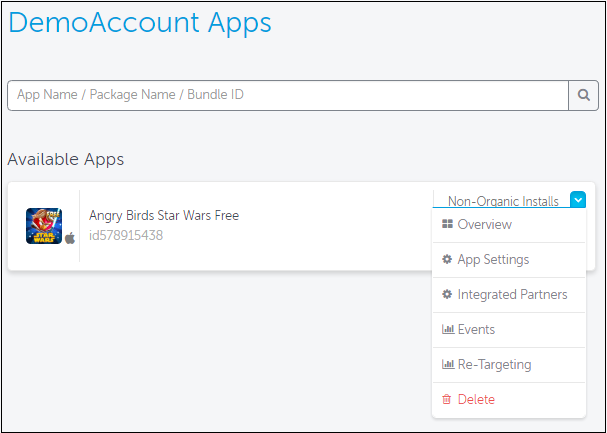 2. Configure Integrated Partner
Click Integrated Partners on the left side of the screen
3.  Select Tencent Social Ads
In the Integrated Partners page, select Tencent Social Ads as the media source.
You can do this by either scrolling down the page to Tencent Social Ads or entering Tencent Social Ads in the search box. 
4.  Generate the Tracking URL 
Click the Tencent GDT logo to open the Tencent GDT Configuration window.
5. Make sure to complete the encrypt_key and sign_id field as Tencent Social Ads integration requires this. 
6. Copy the tracking link and send it to your Tencent Social Ads Account Manager. 
Tencent Social Ads Platform
Tencent operates the leading social, media and mobile utilities properties in China.
Tencent Social Ads enables marketers to run app install campaigns on Weixin / WeChat, the company's mobile communication platform with over 800 million combined monthly active users; QQ, its instant messaging service with nearly 900 million monthly active users; and other Tencent properties including QQ Music, QQ Browser, Myapp and others.
For Ad Networks using the Tencent Social Ads platform and who would like to integrate with AppsFlyer.
1.  Click Tools in the Tencent Social Ads Management platform.
2.  Then click Conversion Assist.
3.  Click Create New Conversions.
4.  Define the Conversion Name.
5.  Select Conversion Source.
6.  Complete the necessary including Platform / App Name / Conversion Type.
7.  Select API Solution1.
8.  Enter the Feedback URL taken from AppsFlyer dashboard by the form
http://app.appsflyer.com/appid?pid=tencentgdt_int&redirect=false
9.  Click Submit when complete.
10.  Click Connect to test.
Once you get the successful notice from the system, it means that the test of the Tracking URL is successful.
11.  Create regular campaigns according to your promotion plans.
NOTE: If you want to promote your android app with Tencent Social Ads, it request you to upload the android apk with AppsFlyer SDK to Myapp(An android apk store operated by Tencent) first, and process to send IMEI to AppsFlyer SDK according to the introduction 2.5 in AppsFlyer SDK Integration - Android. Google Play service is blocked in China, IMEI is the most popular android device id for ads tracking.