Important!
As of late May 2018 AppsFlyer's integrated partners user interface and accompanying documentation are being gradually updated. For details about the new user interface please visit the Integrated Partners Setup guide.
To configure a campaign with Woobi, follow the steps below:
1. Set Up Campaign
Once you have registered your app with AppsFlyer, you must set up a campaign in the dashboard.
To do this, click the app that you want to advertise or select Overview from the drop-down menu.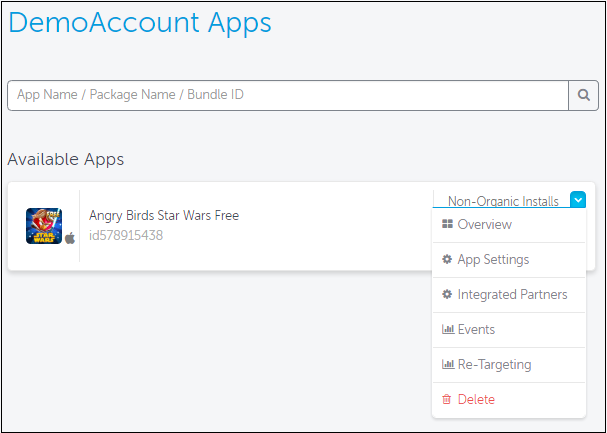 2. Configure Integrated Partner
Click Integrated Partners on the left side of the screen
3.  Select Woobi
In the Integrated Partner page, select Woobi as the media source.
You can do this by either scrolling down the page to Woobi or entering Woobi in the search box. 
Click the Woobi logo to open the Woobi Configuration window.
4.  Generate the Tracking URL 
The window opens in the Integration Parameters tab.
5. Enter the name your campaign in the Campaign text field. This is optional.
6. Set the time frame of the Click Attribution Lookback Window according to your agreement with Woobi.
7. Copy the tracking link and send to your Woobi account manager.
8. Click Save & Close.
Configure In-App Events
1. Choose sending only Woobi attributed installs' in-app events.
2. Click +Click to add in app event mapping and map the events you want to send Woobi.
3. Click Save & Close.