Important!
As of late May 2018 AppsFlyer's integrated partners user interface and accompanying documentation are being gradually updated. For details about the new user interface please visit the Integrated Partners Setup guide.
IBM Universal Behavior Exchange, a feature of the IBM Marketing Cloud and other IBM Commerce offerings, allows marketers to take control of all their customer data integration with an easy-to-use console. This open data exchange capability provides a contextual view of customer buying behaviors across all channels, devices and interactions, so marketers can quickly design and deploy effective campaigns, delivering meaningful experiences in an instant, while driving ROI.
The first step in setting up a generic AppsFlyer event publisher endpoint is to create a blank endpoint in the UBX interface.
To do this, first log into your UBX account and navigate to the Endpoints tab

Next, click Register new endpoint

Next, select AppsFlyer and click Next.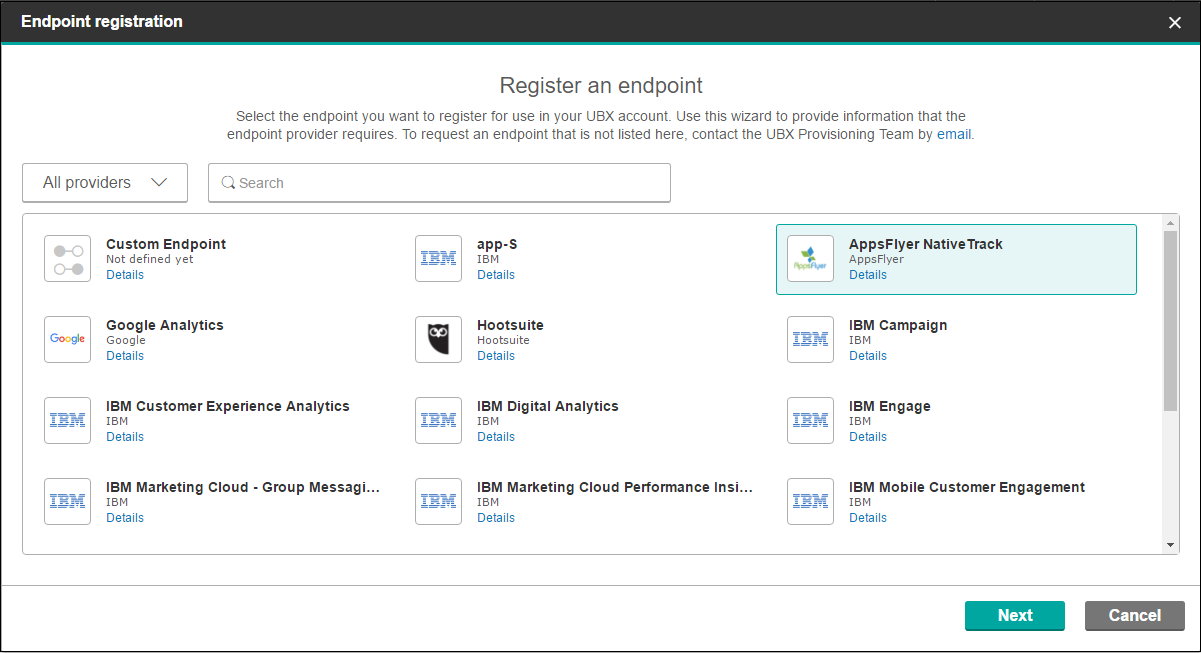 Click Next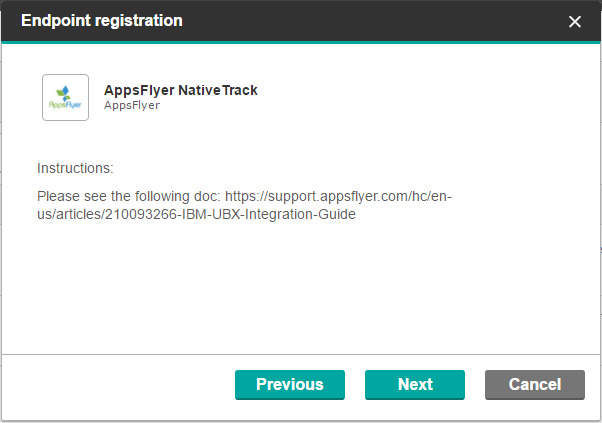 Click on the 3 dots on the right side in the newly generated AppsFlyer endpoint and click endpoint details.

Copy the Authentication key: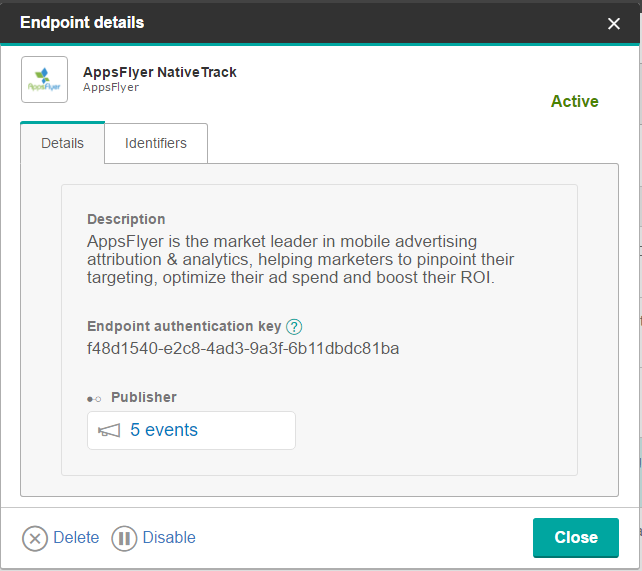 Go to the Integrated Partners page in AppsFlyer dashboard and search for IBM:

In the IBM Configuration page, select Enable.
Paste the UBX Authentication key
Click Save and Close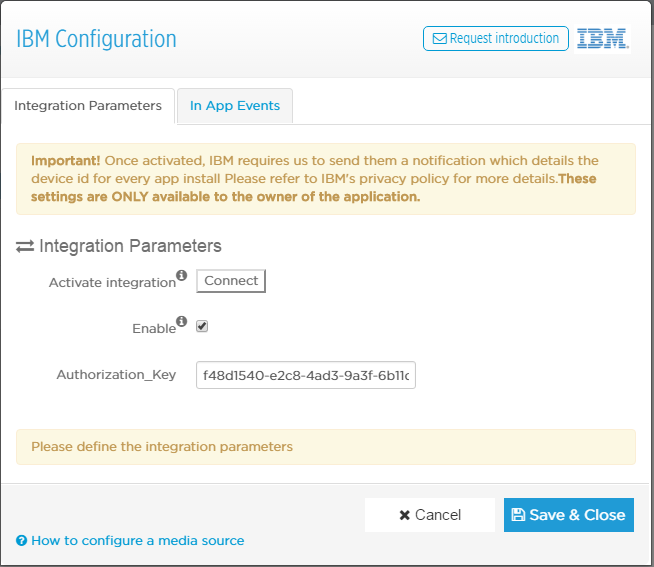 Open the IBM configuration page again and click Connect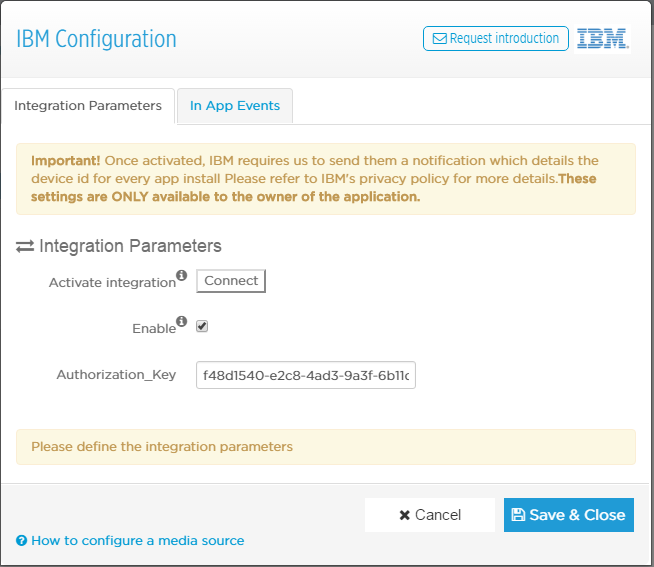 From this point AppsFlyer sends every App install event to UBX.
Sending App Open and Purchase In-App Events to UBX
In IBM media source configuration page go to the In App Events tab and choose all in-app events in the dropdown menu: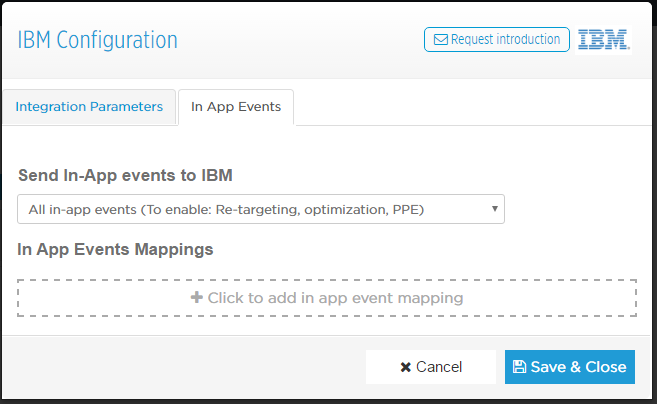 Paste the UBX authorization key and map the SDK App Open and Purchase events to the IBM event tag. Enable the send Value check box if you want to send the revenue value as part of the purchase event: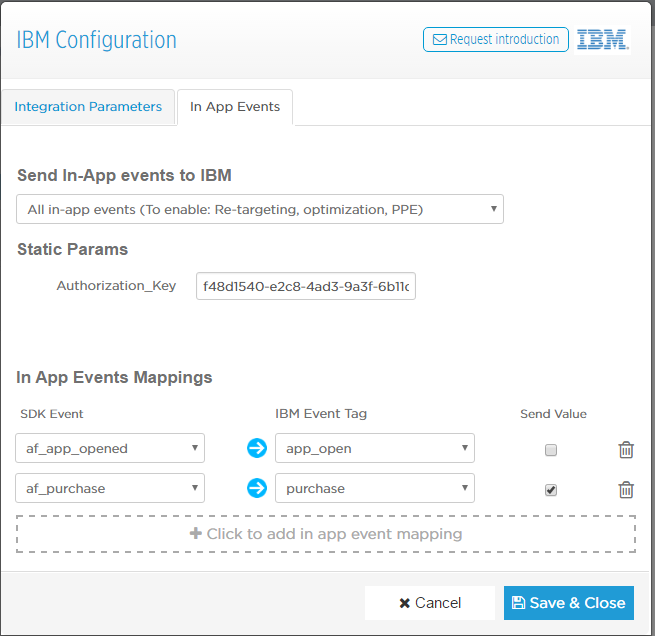 Click Save & Close
You are now sending App open and purchase events to UBX