Introduction
To configure a campaign with Yahoo Gemini, follow the steps below:
Configuring the Integrated Partner
Click Integrated Partners on the left side of the screen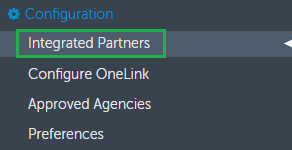 Selecting Yahoo Gemini
In the Integrated Partners page, select Yahoo Gemini as the media source.
You can do this by either scrolling down the page to Yahoo Gemini or entering Yahoo Gemini in the search box. 

Enabling The Attribution


 Note
Once activated, Yahoo Gemini require us to send them a notification which details the device for every app install.

4. Set the Click Attribution Lookback Window, as required.
5. Check the Enable View-Through Attribution checkbox and and set up the time frame of the View-Through Attribution Lookback Window according to your agreement with Yahoo.
In-App Events Configuration
1. Click on the In-App Events tab
Select one of the options: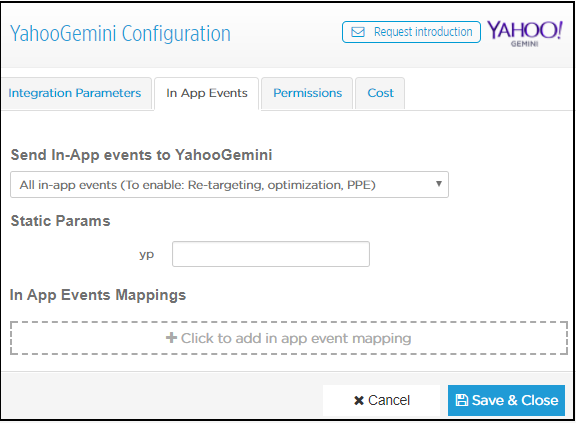 1. Off (to stop sending In-App events to Yahoo Gemini).
2. To send only Yahoo Gemini Attributed In-App Events.
3. Send All In-App Events (organic and non organic) to Yahoo Gemini (For sending all In-App events to Yahoo Gemini regardless of which media source generated them).
2. Submit the yp parameter provided by Yahoo Gemini.
Go to settings and choose View tag code.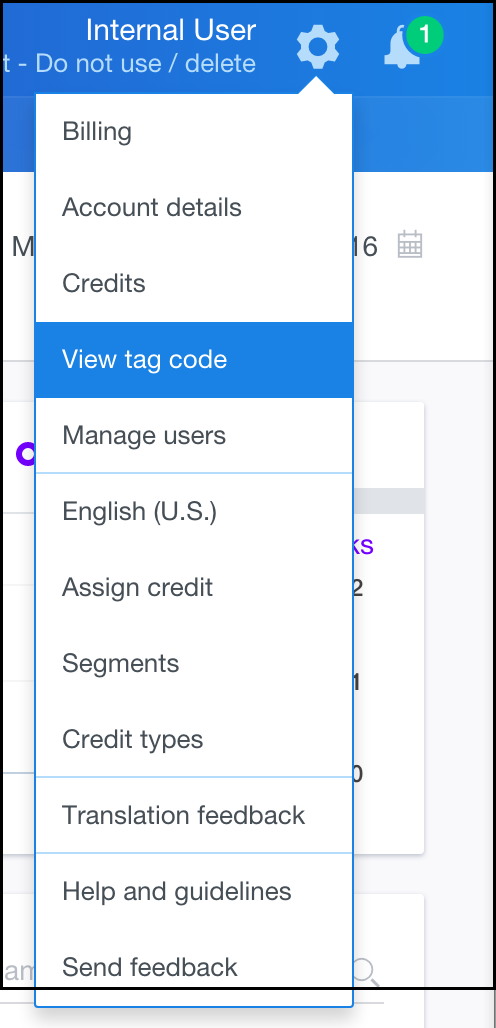 In the Image section you are then able to see the yp.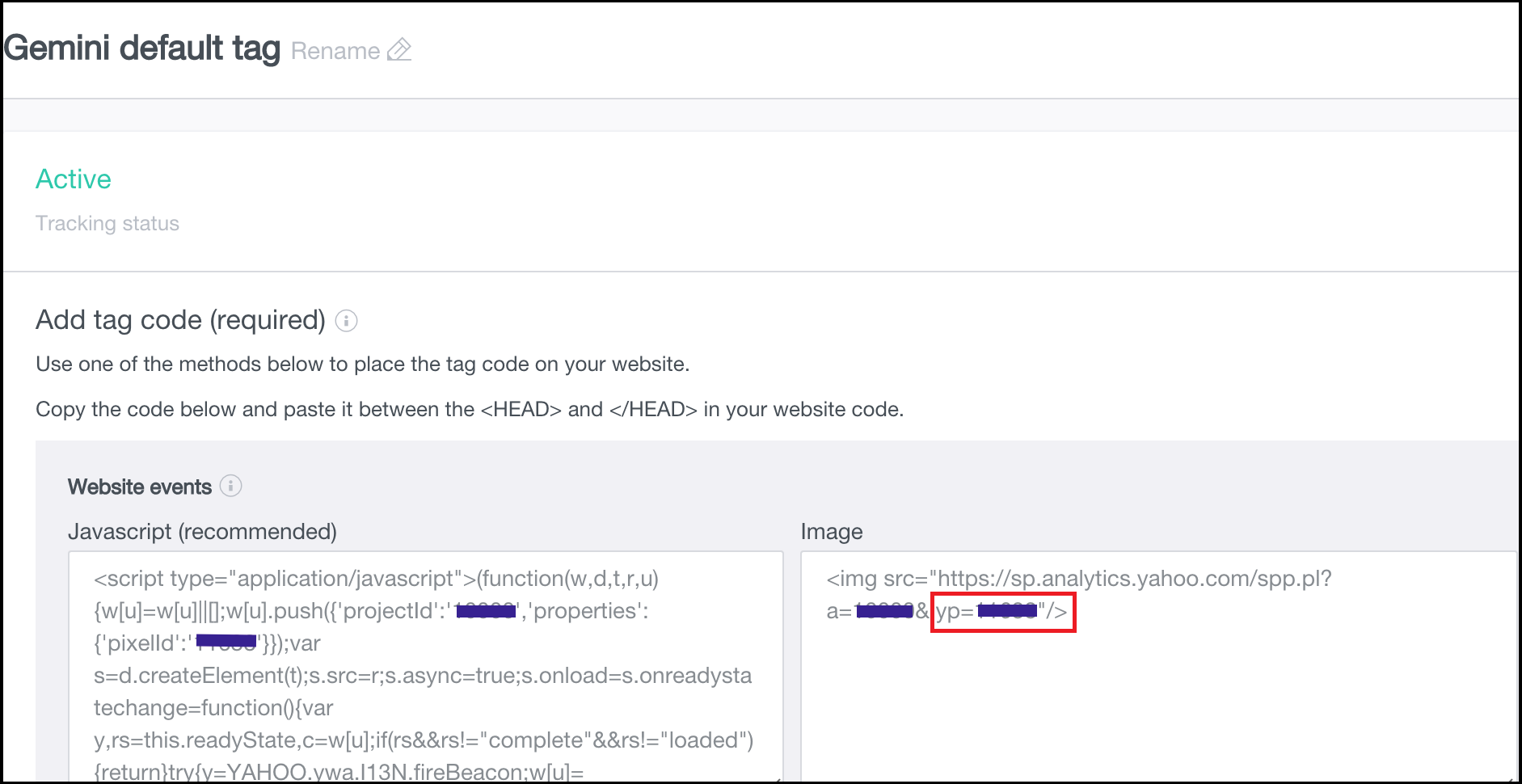 3. In-App Events Mapping:
Using the dropdown, select the event you would like to post to Yahoo Gemini and then choose the event as predefined by Yahoo Gemini. You can select Send Value if you want to send the Yahoo Gemini-supported event values as well.
For Example: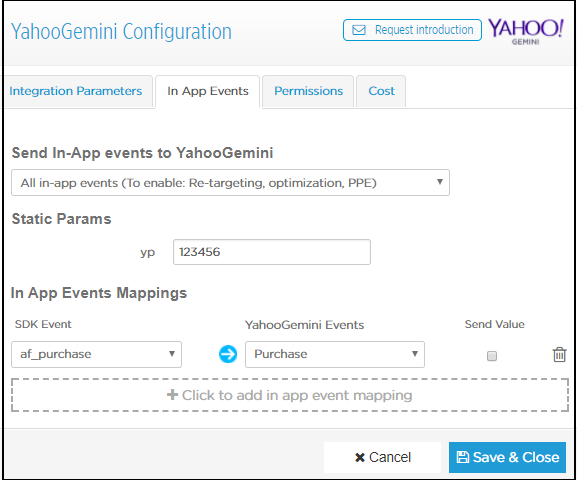 Configuring Cost
1.  Open the Cost tab.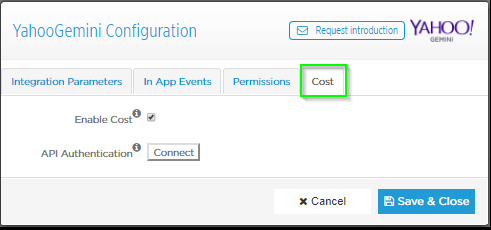 2. Check the Enable Cost check box.
3. Check the Connect button which will redirect you to your Yahoo account. If you are not signed in please do so and then press the below highlighted Agree button.
Make sure that you log in to the Yahoo account that you are running the campaigns from.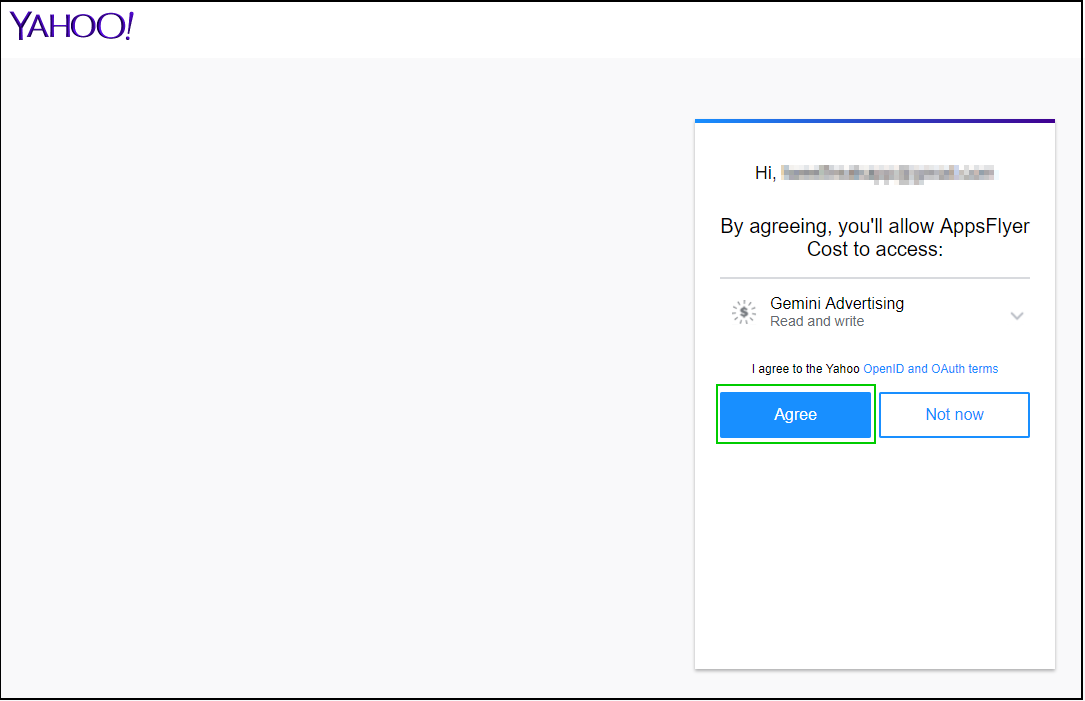 If the connection was successful you will see the following message in your browser:
You have successfully connected Yahoo Gemini cost data.
Close this tab to return to the AppsFlyer dashboard.
4. On AppsFlyer Press Save & Close.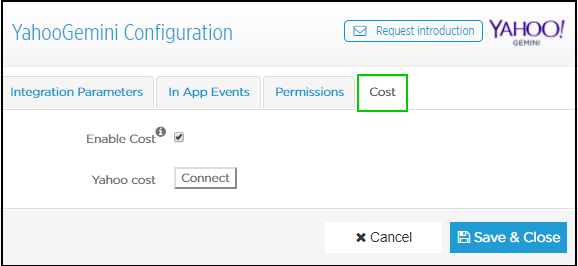 Notes
When you set up S2S tracking first time, it takes up to 4 hours to be reflected in the Yahoo Gemini UI.
Agencies are not able to run campaigns on Yahoo via AppsFlyer.
Yahoo Gemini Raw Report
AppsFlyer receives the following parameters from Yahoo Gemini and map them to the following fields in the raw reports.
| Yahoo Gemini Parameters | AppsFlyer Raw Report Parameters |
| --- | --- |
| Creative ID | Ad ID |
| Creative Name | Ad |
| Adgroup ID | Adset ID |
| Adgroup Name | Adset |
| Campaign ID | Campaign ID |
| Campaign Name | Campaign |
| Site ID | Site ID |