To configure a campaign with Bidalgo, follow the steps below:
1. Set Up Campaign
Once you have registered your app with AppsFlyer, you must set up a campaign in the dashboard.
To do this, click the app that you want to advertise or select Overview from the drop-down menu.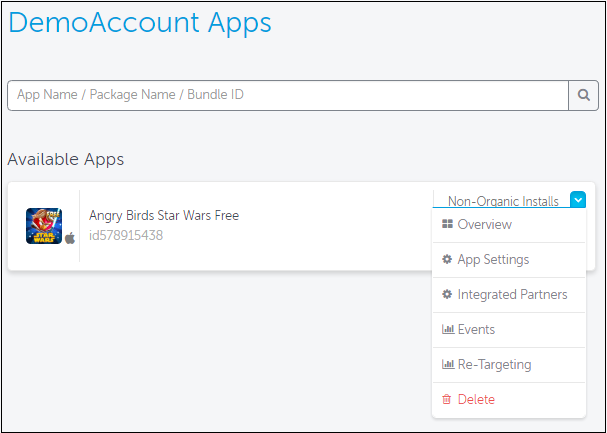 2. Configure Integrated Partner
Click Integrated Partners on the left side of the screen
3.  Select Bidalgo
In the Integrated Partners page, select Bidalgo as the media source.
You can do this by either scrolling down the page to Bidalgo or entering Bidalgo in the search box. 

Integration Parameters
When working with Bidalgo on Facebook, add the Facebook mob_channel naming (it is recommended to use "appname_channel", for example com.king.candycrushsaga_android or ID4855269985_ios).
This will allow Bidalgo to receive install postbacks from AppsFlyer.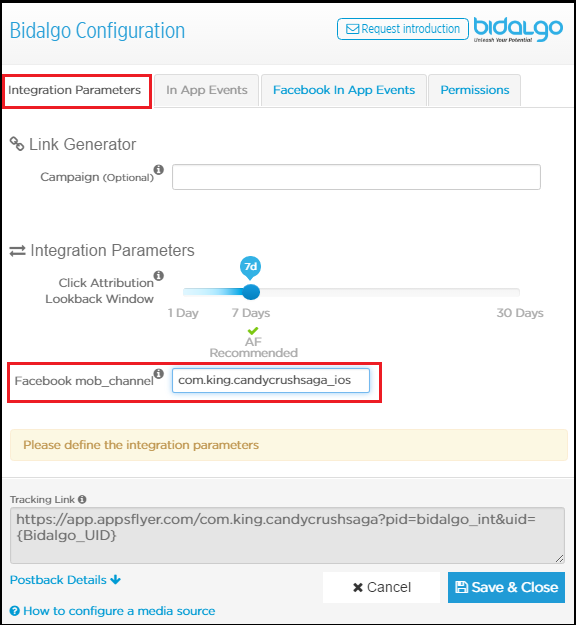 Unlike most other media sources for Facebook there is no need to generate a Tracking URL as this is not needed in AppsFlyer's integration with Facebook.
Facebook In App Events:
1. To allow Bidalgo to receive data on Facebook in app events please press the Facebook In App Events tab.
2. Fill in the mob-channel text box with the same name as in the Integration Parameters tab.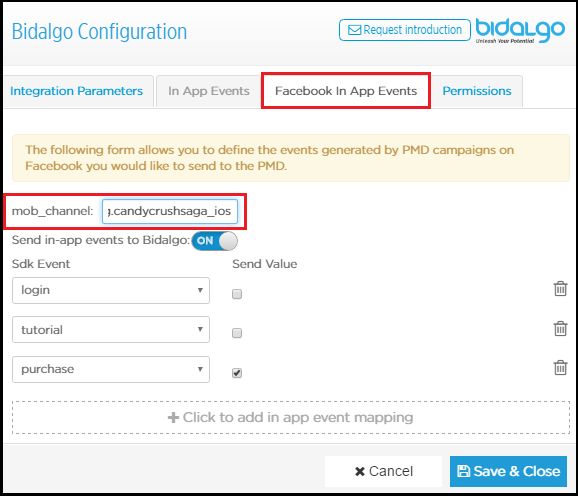 3. Turn on the Send in-app events to Bidalgo button.
4. Map the SDK Events (chose from the drop down menu created according to the events created by you in the AppsFlyer SDK) you want to send to Bidalgo.
5. Click the Send Value check box if the in app event has a monetary value that you wish to send to Bidalgo.
6. You can add as many SDK events as you want by clicking the +Click to add in app event mapping.
7. Click Save & Close.
Permissions
1. To connect your app to Bidalgo's account press the Permissions tab and switch the Grant Partner Access button from off to on.
If you further require that Bidalgo can see Facebook data please send an email to support@appsflyer.com detailing:
1. Your name
2. The app ID or slug name of the app/s
3. The email address you use when logging in to AppsFlyer
4. That you wish to connect the above app/s to Bidalgo's account on AppsFlyer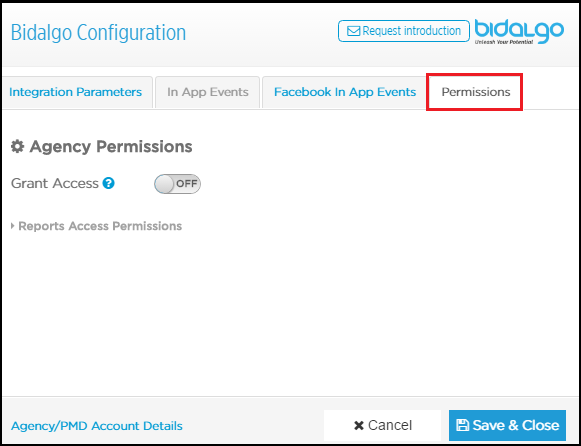 2. Press Save & Close.