AppsFlyer collects and stores data from various sources in real-time. However, different types of data require longer collection periods and time to analyze. The purpose of this article is to explain when AppsFlyer's dashboard and reports data are updated and displayed.
Definitions
Real-Time

Data appears within 1-2 minutes from the action. Most displayed data on AppsFlyer's dashboard is presented in real-time.

Report Production

Report data may take up to 15 minutes to fully produce from the occurrence of the action. Reports and API calls to their data, raw or aggregated, take the report production time to produce.

Daily

Analyzed data is calculated on a daily basis and related reports (like retention and cohort reports) are updated once a day. AppsFlyer aggregates data for whole days, and therefore there are differences in the latest data timing according to the configured time zone of the app.

 Example

The ad revenue report is generated daily at midnight UTC +0. For apps having an app-specific time zone of say New York (UTC -5), the data is aggregated at 7:00 PM, while for apps with an app-specific time zone of China (UTC +8) which  is on 8:00 AM. On Tuesdays, Chinese marketers see data up to Monday (included), while New Yorkers see data up to Sunday at the same time.
 Tip
In some of the reports the last update time is displayed in the top right-hand corner of the page.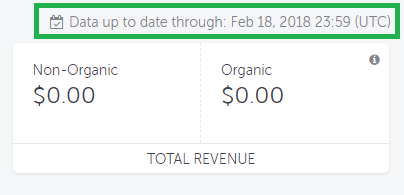 Dashboard overview page
Component
Update Rate
Installs
Real-Time
Revenue (in-apps)
Real-Time
Revenue (ad revenue)
Daily - shows data from previous day (midnight UTC +0)

AppsFlyer calls the partner's API and fetches the previous day's revenue per GEO.
Sessions
Real-Time
Loyal Users
Real-Time
Clicks + Impressions + Cost using AppsFlyer attribution link

Real-time.

In some cases cost data is collected periodically via API in bulk.

 

 

Clicks + Impressions + Cost from SRNs

Generally, SRNs' cost, click and impression data is updated in the dashboard 6 times a day every 4 hours.

Uninstalls

Daily (morning UTC +0).

AppsFlyer pings the store every 24 hours. The event time of the uninstall represents the time AppsFlyer pinged the silent push notification and discovered the app was uninstalled. It is not the actual time of when the uninstall occurred.

In-App Events (non-organic)
Real-Time
In-App Events (organic)
Real-Time
More dashboard pages
Location
Update Rate

Protect360 page

Daily. Updates at midnight UTC +0.

Activity page

Daily. Updates at midnight UTC +0.

Events page

Real-Time

Retargeting page

Real-Time

Retention page

Daily. Updates at midnight UTC +0.

Retention can be calculated for up to 30 days or 12 weeks
Weekly retention is calculated every Monday at midday, and spans from Monday to Sunday

Cohort 

Daily. Updates at midnight UTC +0.

Cohort data can be calculated having the earliest date (install or retarget) of December 5, 2018 and can contain data in windows of up to 30 days. 

Custom dashboard page

Real-Time except for KPIs that are calculated daily (e.g. uninstalls)
Reports
Data Type
Component
Update Rate

Export data

Performance Report
Report Production
Raw Data Reports
Retargeting Reports
Blocked Fraud Reports
Targeting Validation Rules Reports

Invalid actions appear in real time.
Networks/Partners receive the postback Rule ID for rejected installs in real-time

Scheduled reports

 

Daily emails are sent during morning.

Only available for Installs and In-App Event Raw Reports

Pivot page / master API

Aggregated Data

Daily.

Localization is not supported in Pivot but is supported in Master API

Localization is not supported in Weekly Retention KPIs for Master API
Difference between overview page and daily API reports
You can use the Pivot table or Master API to daily collect the same LTV metrics as displayed in the dashboard's overview page. For example, the revenue and in-app events data in the Pivot table should be very similar to that of the overview page. 
However, the Pivot and Master API's information is being aggregated only once a day. For users in time zone UTC - (minus) it may take up to 48 hours and for users in time zone UTC + (plus) it may take up to 24 hours for the report to be populated with data. The overview page's data is updated in real time.
Therefore, when comparing the overview page's event metrics with Master API/Pivot reports, expect the former to have slightly higher figures, as it also includes today's data. 
Configuration
Location
Update Rate

Live alerts page

Daily at 7:00 AM local time.

Regular KPIs (alerts not based on Protect 360 KPIs) are checked daily at Midnight, spanning the whole day beforehand. Alerts are sent at 7:00 AM.
Apps that are subscribed to the advanced Live Alerts package, receive alerts on an hourly basis.
Protect 360 Alerts are updated daily.
Integration
Location
Update Rate

Audiences

The Audience user-base updates on a daily basis and contains device data up to 90 days backwards.

When an account configures Audiences for the first time (e.g. on Monday):

Until the following Sunday, AppsFlyer provides the customer with data for first days only (Monday to Saturday).
Once Sunday arrives (6 days later) AppsFlyer loads historical data of the previous 90 days including the previous 6 days.

The push of an audience update to the partners is performed once a day, between 10:00-14:00 UTC +0.

SDK information page

Updates before noon UTC +0.

Data is activity-based. Counts unique sessions per SDK version.

API access

Push API: Real-Time

Pull API:

Raw data pull - Report Production
Aggregated data pull - Report Production

Data locker

Daily at around 6.00 AM UTC +0.
Other
Data Type
Update Rate

Postbacks

Real-Time

Server-to-server in-app events

Configurable. You can send the server-to-server events in real-time or in batch mode.

In batch mode, for events to be recorded with their real-time stamps, they must all be sent to AppsFlyer by 02:00 AM UTC +0 of the following day
Events with past-time stamps, which are not sent by 2:00 AM, are recorded under the time that they were sent.