Introduction
Advertisers can work with Facebook Marketing Partners (FMPs) to optimize campaigns on Facebook. When configured, AppsFlyer sends postbacks to the configured FMPs.
Configuring Facebook Marketing Partners
1.  Click Integrated Partners from the left sidebar.



2.  Enter the name of the Facebook Marketing Partner you would like to work with in the search box. 
 Tip
Enter "Facebook Marketing Partner" in the integrated partners field to receive the list of FMPs. 

3.  Click the logo of the FMP to open their unique configuration window: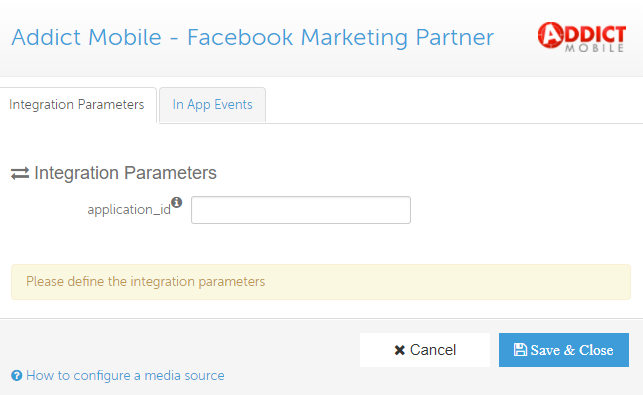 4. Enter the relevant configuration parameters, if relevant.  (This may vary according to the FMP selected).
In-App Events
1. Click the In-App Events tab to configure the events for sending postbacks to the FMP
2. Check the Send Value box to include the revenue value too, if it was sent via the af_revenue field in the in-app event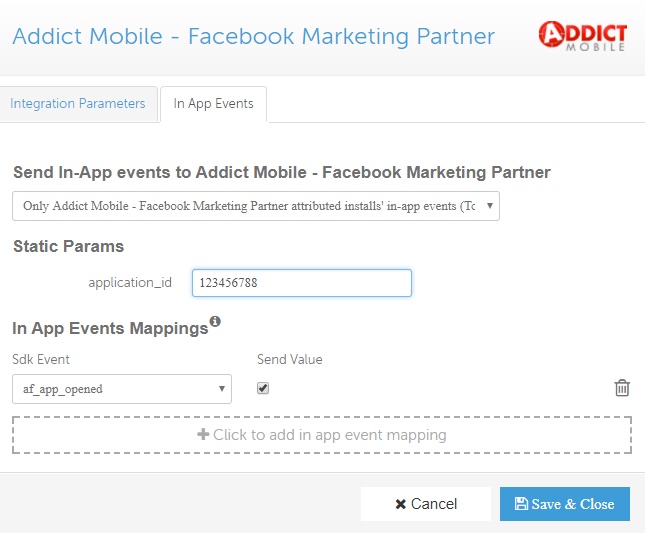 3. Click Save & Close. 
 Important Notes
1. Disabling attribution for Facebook prevents sending postbacks to FMPs
2. The in-app events mapping with the FMP, or lack of, does not affect the sending of in-app events to Facebook directly from the advertiser's account.
3. In-app events mapping may require different setup parameters depending on the FMP.