At a glance: Measure the impact of marketing efforts to drive effective website traffic. With granular web attribution data, learn which media sources, types, and channels are responsible for visits and specific conversion events. Uncover performance metrics down to the ad level.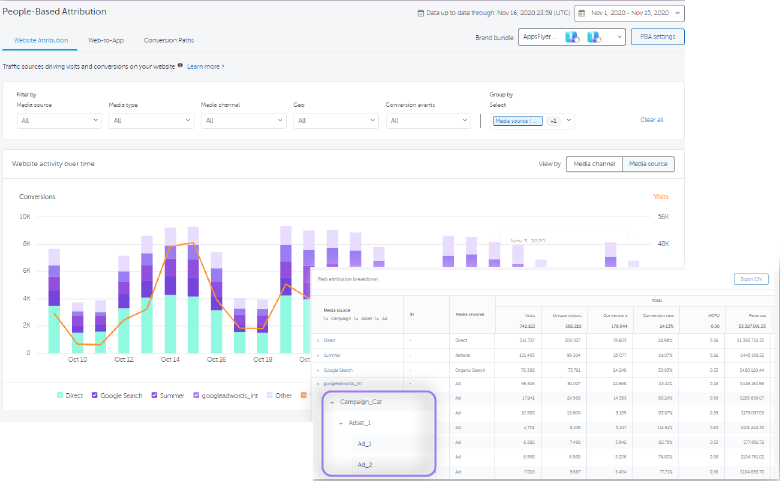 PBA dashboards available | Web-to-App | Conversion Paths
PBA Website Attribution
Using the Website Attribution dashboard advertisers gain an insight as to the media sources driving visitors and conversions.
Use the trend chart to view the overall trend and contribution breakdown by media source and media channel.
Get granular details down to the ad/adset level, and view performance metrics for every conversion event.
Marketers use the dashboard to answer questions like:
Performance

What media sources and campaigns drive the most visits, conversions, and value on my website?

Effectiveness

Which acquisition channels deliver the best performance KPIs—such as conversion rate or ARPU?

Comparative analysis

How do my paid campaigns compare to my owned channels and earned traffic? On which device types and platforms do my web users convert?
Dashboard reference
To go to PBA dashboards do one of the following:
Go to Dashboard > People-Based Attribution.
Go to My Apps > View brand bundles. Click PBA dashboards. Go to Website Attribution tab.
Component
Description
Date picker and filters

Select the attribution date range, filter, and grouping options.
Filter by: Media source, media type, media channel, geo, conversion event
Group by: Media source/campaign, media type, media channel, device type, platform.

Chart

Website activity over time

Display the sources of visits and conversions for a given period.
View by options: Media channel, media source

Table

Attribution table

Metrics are available for the website as a whole with a breakdown per conversion event.
Drill down from the media source to the ad level to uncover specific media sources and ads driving traffic to the website.
Compare ad performance in driving traffic and generating conversions

| Total metrics | Description |
| --- | --- |
| Visits | Sessions of users visiting the website |
| Unique visitors | Unique visitors to the site |
| Conversions | Number of conversion events performed |
| Conversion rate | Formula: Conversions / Visits * 100 |
| ACPU | The average number of Conversions per Unique visitor. Formula: Conversions / Unique visitors |
| Revenue | Revenue from all events combined |
| ARPU | Average Revenue per User. Formula: Revenue / Unique users |

| Conversion event metrics | Description |
| --- | --- |
| Event count | Number of times the event was performed |
| Unique users | Unique users performing the conversion event |
| Revenue | Revenue associated with this conversion event |
| ARPE | Average Revenue per Conversion Event. Formula: Revenue / Event count |

Export CSV

Click Export CSV, to export the table