At a glance: Use People-based attribution (PBA) to get a complete picture of campaign performance across web and mobile platforms.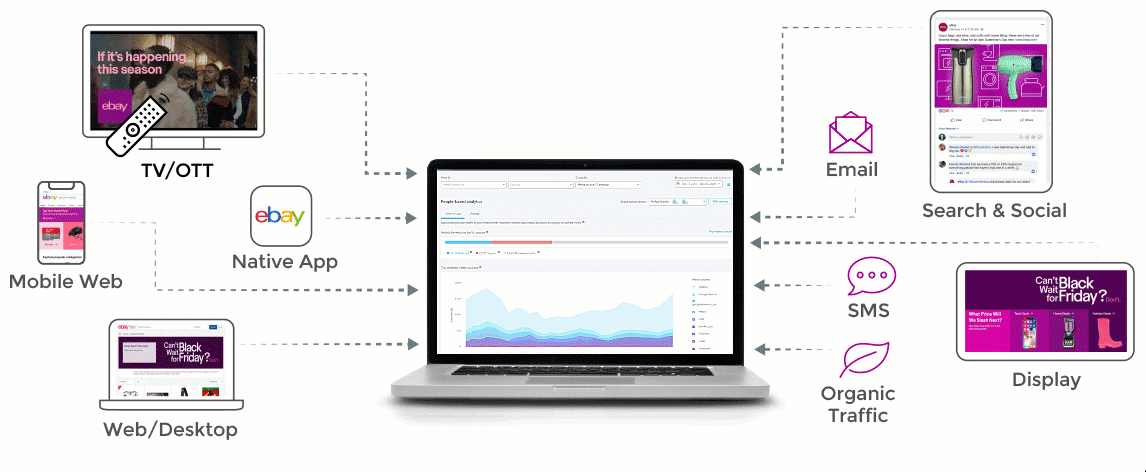 Implementing PBA requires defining Brand bundles in the platform and integrating the web SDK into your website. Once done, AppsFlyer collects and attributes PBA data enabling you to analyze complete user journeys and to optimize campaigns.
PBA consolidates web data with mobile data giving you a holistic view of campaign performance across your brand's digital properties.
Setting up PBA
Setup brand bundles:

Brand bundles are an AppsFlyer dashboard entity combining apps and a website having a common brand.
Use the bundle to analyze installs, web conversions, revenue, and the user activity data of the brand as a whole

Report user events to PBA by using:
PBA analytic dashboards and raw-data
Having implemented PBA, you can access and analyze the data in several ways.
PBA dashboards:

Activity

Offers a complete picture of user acquisition and conversion flows across platforms, devices, and marketing channels.
The dashboard includes a table summarising the data collected about campaigns driving app installs and web conversions.
Use this to focus on specific metrics and filter or group data according to location, device type, media sources, campaigns, etc.

Web-to-App analytics analyzes how web traffic contributes to app installs.

If one of your marketing goals is to convert users from web to app, web-to-app analysis lets you analyze conversion rates and media source contributions.
This type of analysis lets you understand where potential app users come from on the web. Use it to analyze web campaign results to identify where resources should be invested to grow your mobile user base.

Conversion Paths analysis:

Analyze the web and mobile touchpoints users encounter on their path to conversion. Uncover how different media sources, types, channels, platforms, and devices interact and drive users to convert.

PBA raw-data: For in-depth insights. Data regarding website visits and user activity is available in raw-data reports. Analyze the data with BI tools to gain more insights. You can also merge PBA raw-data with mobile app raw data.