At a glance: Use Web-To-App (W2A) analysis to uncover the ultimate unattributed source of visitors to your website.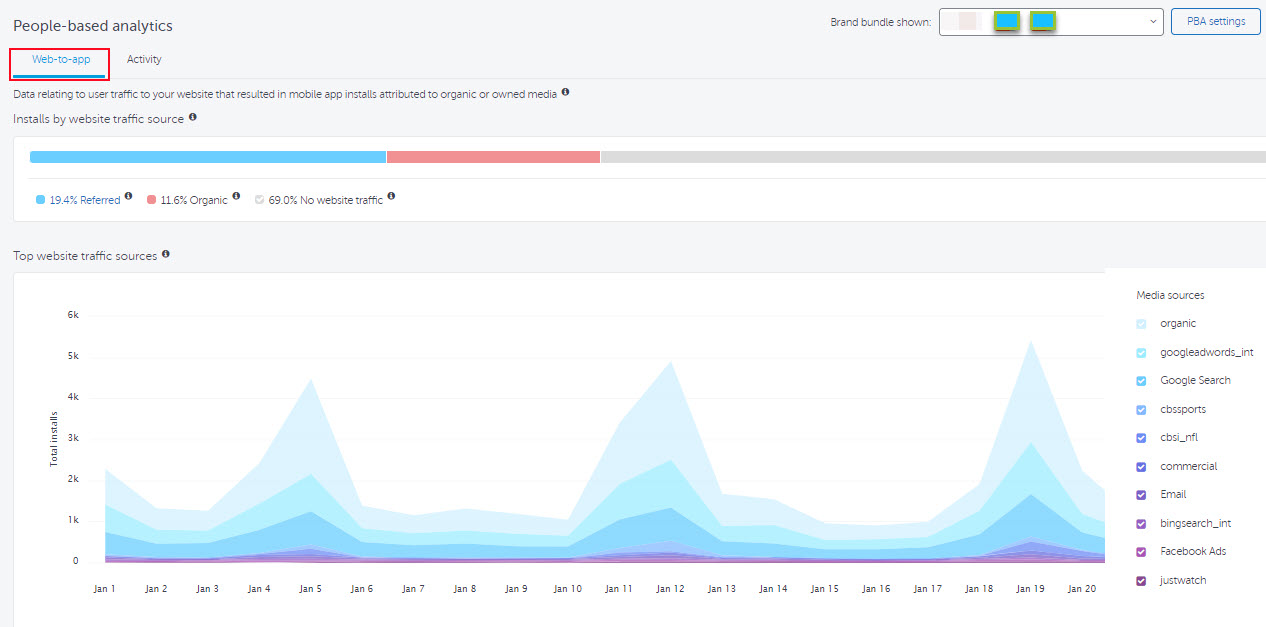 Learn more about the other PBA dashboards | Activity | Conversion Paths
To go to PBA dashboards:
My Apps > View brand bundles.
Click Actions > People-based analytics.
Principles of W2A analysis
W2A analysis determines the website user's ultimate media source and how that source impacts app installs. This media source, whilst responsible is not the attributed media source.
W2A performs analysis of app installs attributed to organic and owned media sources like email, smart banners, and custom attribution links
W2A doesn't analyze installs from AppsFlyer integrated partners
W2A traffic types
Install type
Included in W2A dashboard

Organic
Referred installs: custom link, Smart Banner

Yes

Click from an AppsFlyer integrated partner

No

Traffic included in the PBA W2A dashboard
Website traffic sources
Total website traffic sources

Total installs (for the selected period) are broken down by website traffic source:
No website traffic: Installs without preceding traffic to your website.
Organic: Install made after direct user traffic to your website.
Referred: Installs following user traffic from media sources to your website.

Click Top media sources to see the breakdown.

Daily website traffic sources
The Top website traffic sources chart shows the source of web traffic that converted to an install. The data grouped by install date and media source.
In the W2A dashboard, hover over a day to see the number installs brought by each media source.
To exclude traffic sources, clear select, media source name.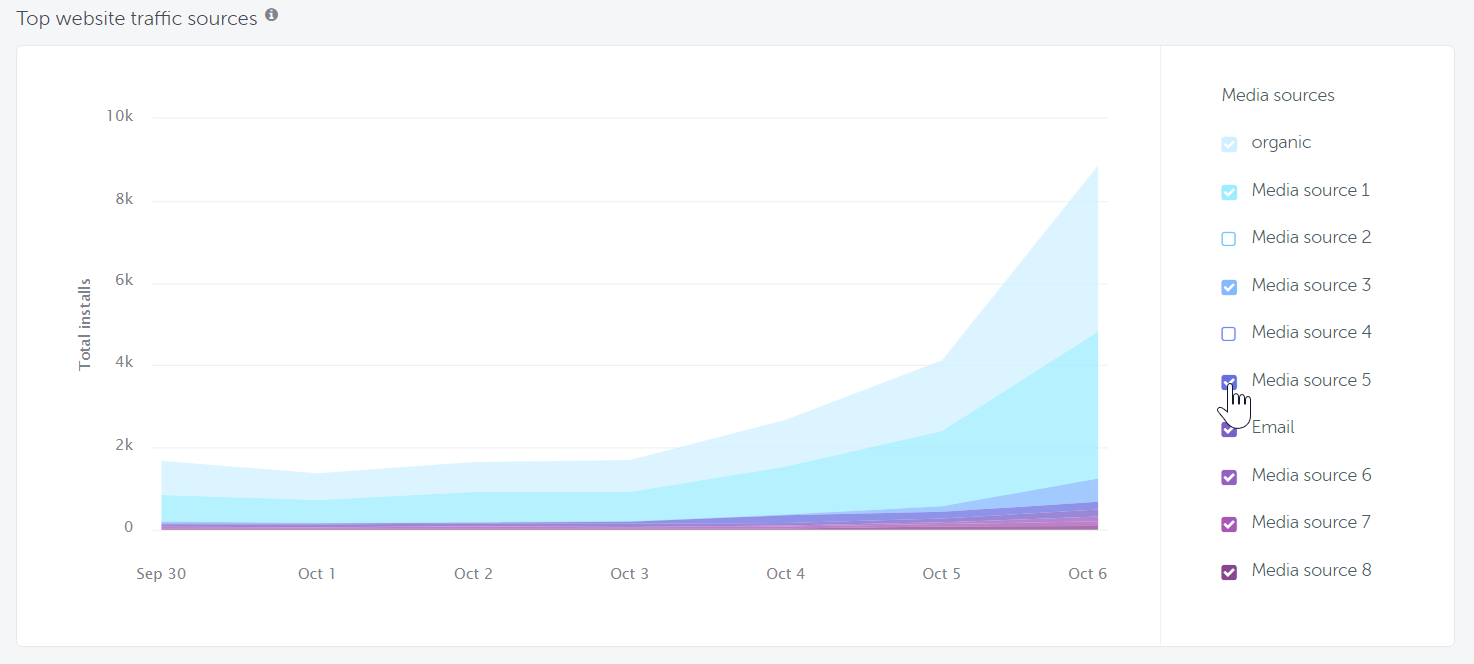 Media source analysis
The media sources table dissects the web media source's contribution to an install.
Web media-sources table

Data in the table is available at the media-source and campaign levels:
Installs:

Total: Sum of single and last sources.
Single source: Only this media source involved in the install.
Last source: If multiple media sources were involved, this media source was the last media source touched before the install.

Assists:

Intermediate source: Media source touched during the user journey but not the first or last source.
First source: Media source touched first on a user journey.

Total impact: Sum of installs and assists.
Impact ratio: Installs + assists / installs.

Use the impact ratio to understand the wider contribution of a web-media source.
Use to quickly assess the positive lift of a media source—how it assists other media sources to convert users.
View mobile and web media sources together
A web media source is only considered a contributing factor in the user journey towards an install. A mobile media source always gets the attribution.
To add mobile media sources as an additional dimension, enable Show mobile sources.
Mobile and web media sources

Export data
W2A media sources table can be exported to a CSV file.
To export: Click Export CSV.