AppsFlyer's localization feature makes it easier than ever to put your data to work for you. Set the time zone for your app, and all of your dashboards and reports are automatically converted to match your preference.
Until now, by default, your time zone was set to UTC (GMT).
Changing the Default Time Zone
You can now change the default time zone via your App Settings page, under Localization.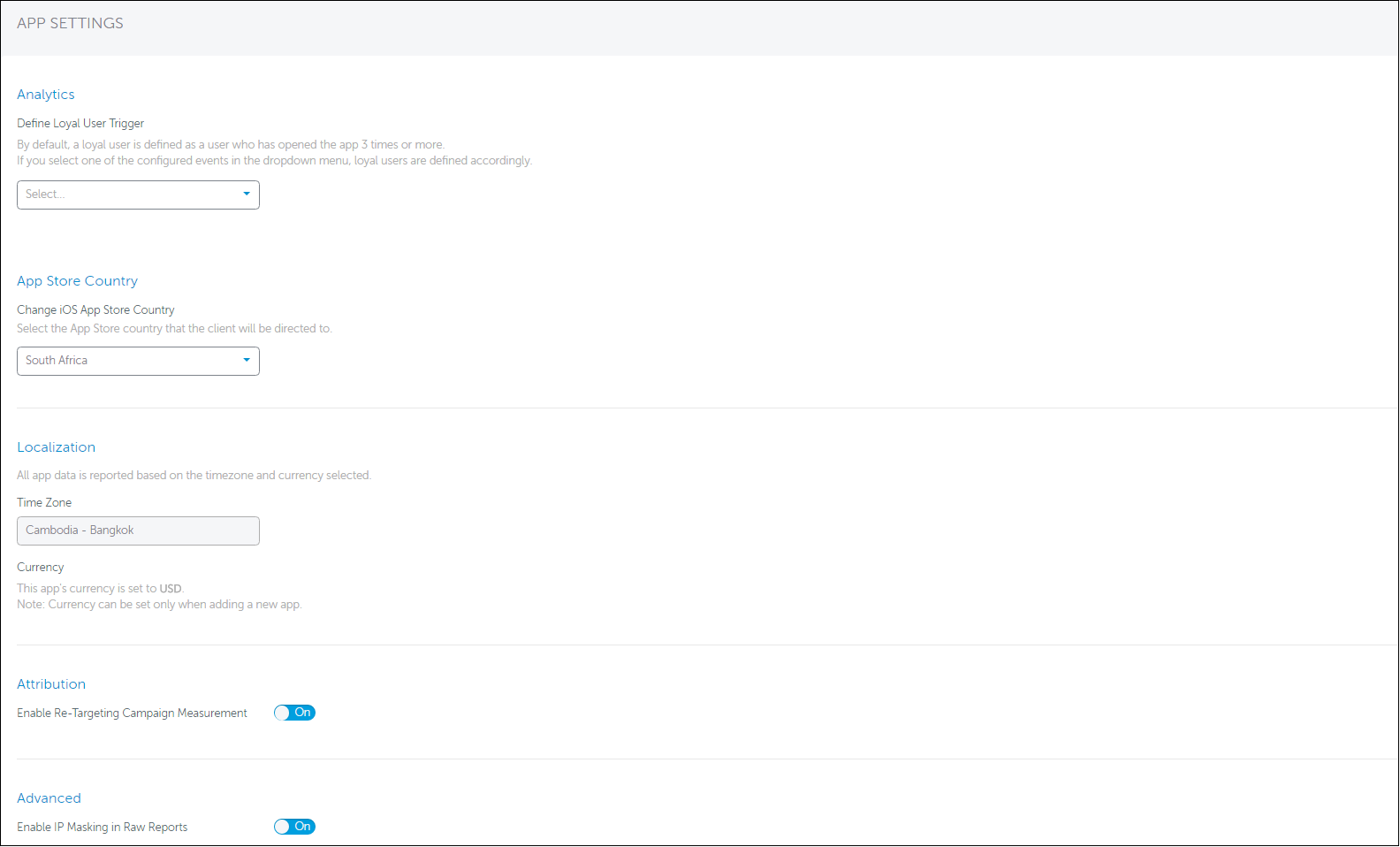 Once this process is complete, all of your data is presented in your selected time zone.
Presentation of the Data
Set out below are the ways in which the data is presented.
Dashboard and Raw Reports
The dashboard and Raw Reports present all of your data in your selected time zone.
Important:
For Facebook and Google Cost, the amounts shown are in the time zone selected in the Facebook or Google interface.
NOTE:  It is highly recommended to set the same time zone in both the Facebook or Google interfaces and the AppsFlyer dashboard to avoid any data discrepancies.
Cohort, Retention and Activity Reports all support time zone as well. 
Push API
The Push API shows:
Selected time zone
The UTC time zone
Pull API
The Pull API shows, by default the time zone in UTC.
To change this data to the selected time zone, add the following parameter to the Pull API link: (Pacific/Tahiti is an example)
&timezone=Pacific/Tahiti*

* the value must be populated with your selected time zone from the Canonical ID Column of this list. 
NOTES:
The time zone preference takes effect and is visible from 00:00 GMT of that day.
For aggregated reports, the timezone must be the selected time zone of the app.
When you want to change the selected time zone, you must first change to the time zone to UTC, wait 24 hours and then you can select a different time zone from the dropdown list. The full list of available time zones is available only after 24 hours.
Daytime saving is supported.
If the time zone is changed at some point after the app was added to the dashboard, when executing Raw Installs or In-App Events reports for dates preceding the date of the time zone change, the result appears according to the current selected time zone. The aggregated reports and dashboard are according to the GMT timezone.