At a glance: MoEngage, an AppsFlyer integrated partner, is an Intelligent Marketing Cloud, built for the Mobile-first world.
Setting up MoEngage
Go to the dashboard of your app and click on Integrated Partners on the left bar.

Enter "MoEngage" in the search field and click on its logo to open the MoEngage configuration window.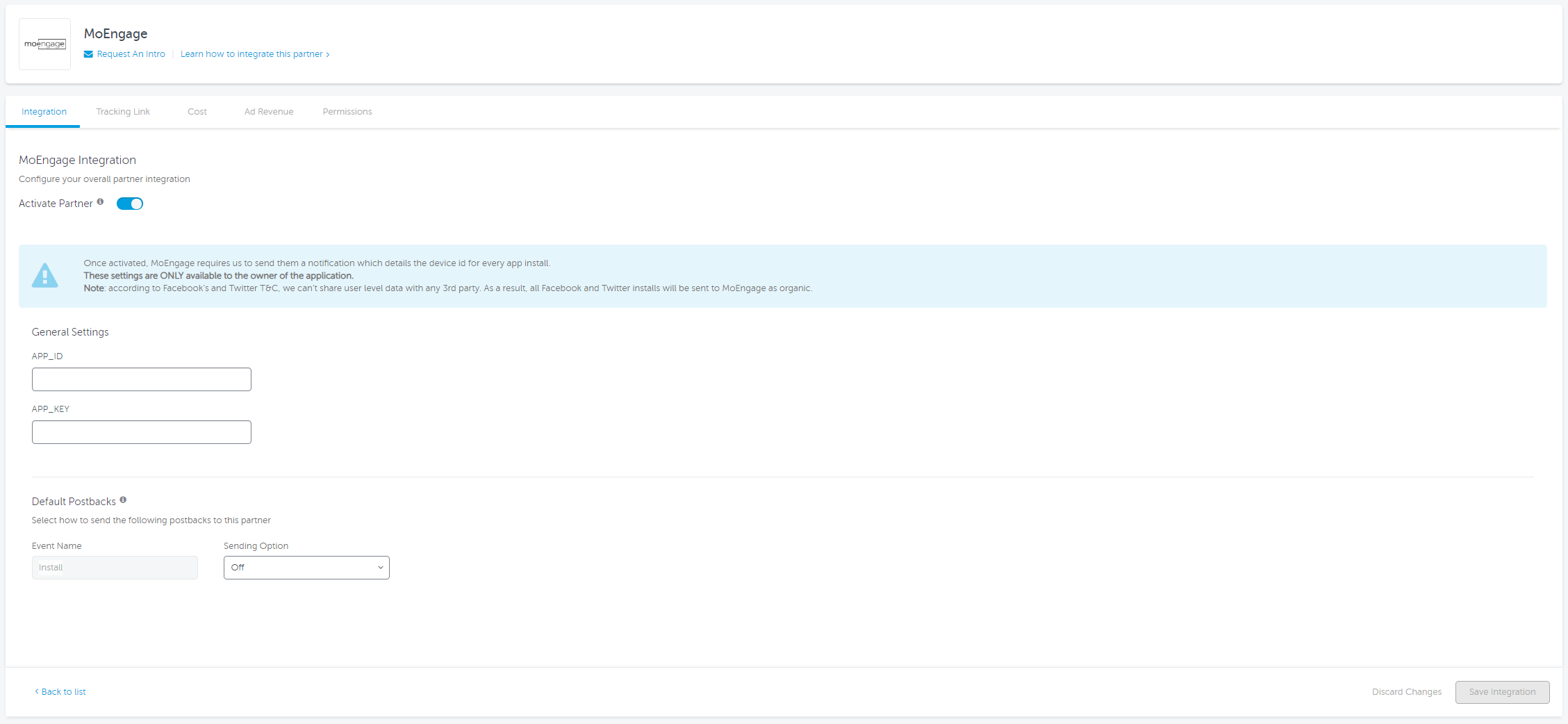 MoEngage's configuration window only makes use of the Integration tab.
For a detailed description of the Partner Configuration Window Header, click here.
Tip
The General Settings step in the Integration tab is mandatory for all partners
All the rest of the steps are either descriptive or optional
Integration tab
The Integration tab is divided into different sections as described below.
Activate partner
On the first visit here, you must toggle ON the Activate Partner button to enable the set up of the Integration tab parameters. The toggle MUST be ON for as long as you work with the partner.
For more details about partner activation please click here.
Note
As an ALL-Installs network, MoEngage prefers to receive postbacks for all new installs of your app from ANY source, including organic. It is recommended to select Events attributed to any partner to send all install postbacks to MoEngage.
General settings
MoEngage connects with AppsFlyer via a unique App ID and App Key. If you don't already have the App ID and App Key you must obtain the first to continue with the integration:
To obtain the APP_ID, login to your MoEngage account, click on Settings in the left menu and select App Settings, here we show the APP ID of your app.
To obtain the APP_KEY, go to Settings > Analytics under your MoEngage account.
Under Acquisition Settings, turn on Acquisition Tracking, and select AppsFlyer from the dropdown list. By default, this generates an App Key.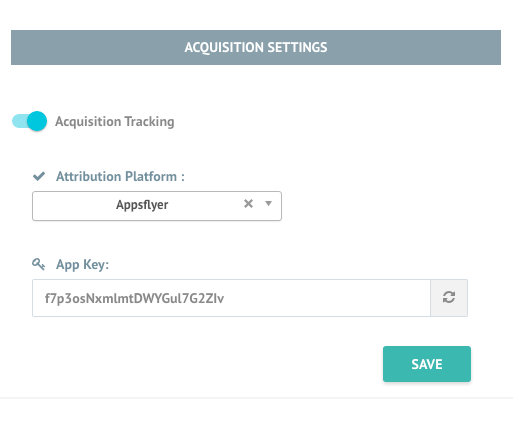 Default postbacks
AppsFlyer can send automatic postbacks to MoEngage following user installs and re-engagements. Use this section to define the source of the users that allow sending these postbacks.

Select Events attributed to any partner or organic to have your entire user base available to be reported to MoEngage.
Attribution link tab
Attribution Link is not supported in the integration with this partner.
Cost tab
Cost data is not supported in the integration with this partner.
Ad revenue tab
Ad Revenue is not supported in the integration with this partner.
Permissions tab
Permission configuration is not supported in the integration with this partner.