At a glance: Convertro, an AppsFlyer integrated partner, strives to be the leading automated tool for marketers to truly understand the performance of their advertising choices and activate upon these insights as quickly as possible. They've built a technology that not only gathers granular information about the customer path to conversion, but is also able to scientifically optimize marketing mix and automatically understand how to shift spend to maximize ROI.
Important!
Some media sources restrict sharing data with 3rd parties. AppsFlyer cannot share user level data of users acquired through these media sources with 3rd party platforms or services. All installs from such media sources are therefore sent as organic.
For more details and a list of media sources that restrict sharing data with 3rd parties, click here.
Setting up Convertro
Go to the dashboard of your app and click on Integrated Partners on the left bar.

Enter "Convertro" in the search field and click on its logo to open the Convertro configuration window.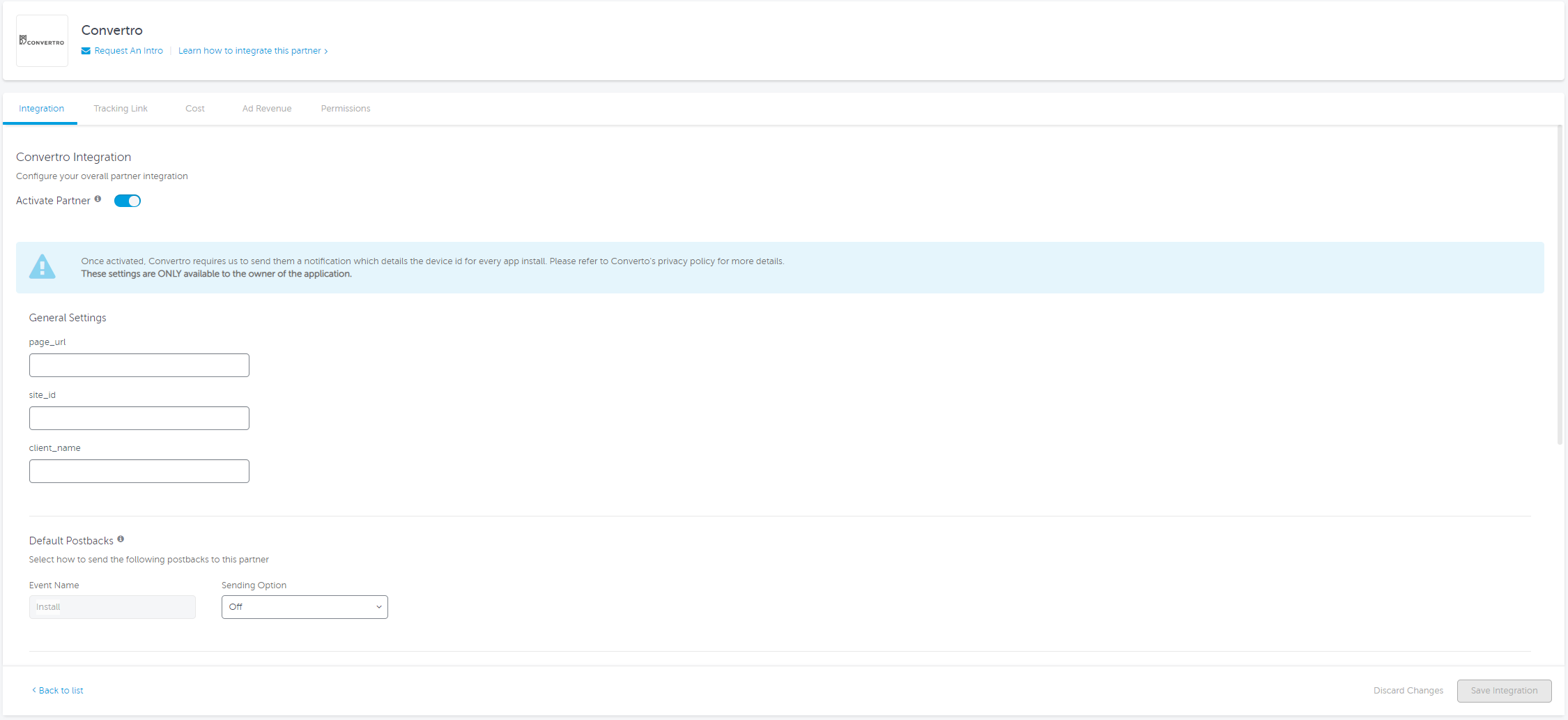 The Convertro configuration window only makes use of the Integration tab.
For a detailed description of the Partner Configuration Window Header, click here.
Integration tab
The Integration Tab is divided into different sections as described below.
Activate partner
On the first visit here, you will need to toggle below. ON the Activate Partner button to enable setup of the integration tab's parameters. The toggle MUST be ON for as long as you work with the partner.
For more details about partner activation please click here.
General settings
Page URL, Site ID and Client Name
Convertro connects with AppsFlyer via a unique Page URL, Site ID and Client Name. If you don't already have them, you must obtain them from Convertro to continue with the integration or follow the instructions below.

Obtaining the "Client Name, Page URL & Site ID" From the Convertro Platform
To obtain the Client Name, Page URL and Site ID, login to the Convertro dashboard:
Page URL: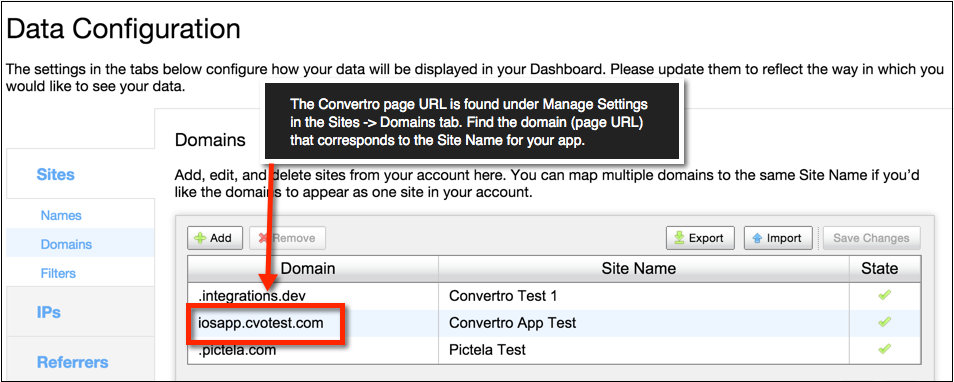 Site ID: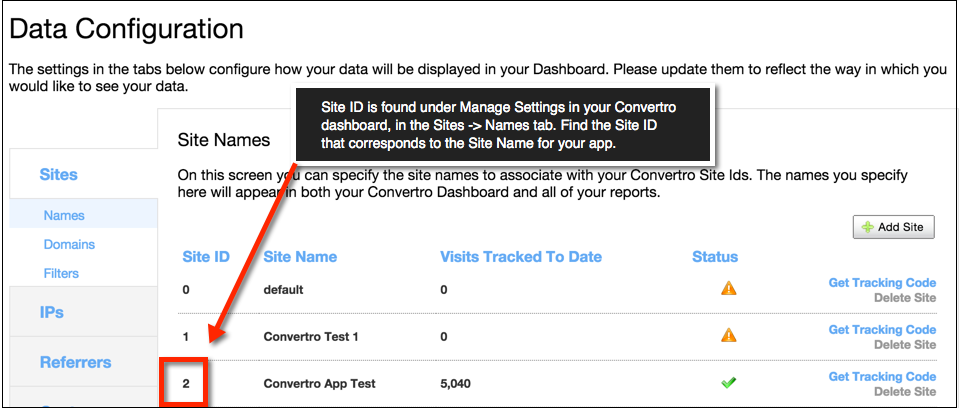 Client Name: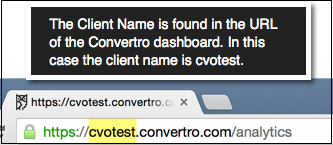 Default postbacks
AppsFlyer can send automatic postbacks to Convertro user installs. Use this section to define sending these postbacks.

Select Events attributed to any partner or organic to send postbacks for any user that downloads the app to Convertro or select Off.
Click Save.
In-app event settings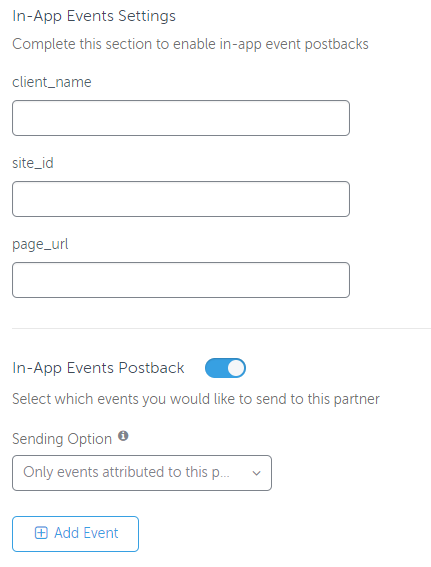 In this section you can map your AppsFlyer events with Convertro via postbacks.
Enter the Client Name, Site ID and Page URL again.
Toggle In-App Event Postbacks to ON
Select the Sending Option for all SDK defined events.
- Only events attributed to this partner for events coming only from users attributed to this partner
- Events attributed to any partner or organic to have your entire user base available to be reported to the partner
Click Add Event to add an SDK Event to the list
Complete the following parameters:
Parameter Name
Description
SDK Event Name
The name of the event, as received by AppsFlyer either from the SDK integrated in your app, or from server to server events.
Tip - If you don't see the event you want in the list, make sure to activate the event on a device with a non-organic installation and recheck.
Partner Event Identifier
The unique name or ID of each event as defined on Convertro's side.
Obtain the corresponding Event ID from Convertro and set in the text field.
Send Revenue
When unchecked - AppsFlyer sends all the parameters of the rich in-app event to the partner, except for the revenue parameter, which is contained in the af_revenue parameter.
When checked - AppsFlyer sends all the parameters including the revenue value (if it exists in the event).
Click Save.
Once this configuration is saved, AppsFlyer begins sending the following data to Convertro for every organic and non-organic install:
Converto Parameters
Device ID for Android and iOS
Media Source
Campaign name
Click Time
User IP
User Agent
Customer User ID (optional, if configured)
Attribution link tab
Attribution Links are not available for Convertro.
Cost tab
Cost data is not supported in the integration with this partner.
Ad revenue tab
Ad Revenue is not supported in the integration with this partner.
Permissions tab
Permissions are not available for Convertro.