At a glance: Braze, an AppsFlyer integrated partner, offers a lifecycle engagement platform for marketing, growth, and engagement teams. The platform enables marketers to connect human-to-human, at scale, with their customers, driving deep engagement and ROI. The center of our platform is the holistic user profile that offers a single view of the customer.
Learn more at braze.com.
Important!
Some media sources (for example, Facebook, Snapchat) restrict sharing data with 3rd parties. AppsFlyer cannot share user-level data of users acquired through these media sources with 3rd party platforms or services. All installs from these media sources are therefore sent as organic. Currently, Braze doesn't internally use organic user data.
When using Braze for email engagements see Braze email campaigns.
Integration overview
Follow the instructions below to configure the integration with Braze.
Minimum requirements - AppsFlyer SDK:
On Android, integrating with Braze requires that the Braze Device ID (Braze unique user identifier) is populated in AppsFlyer Android SDK. This parameter is sent with every postback and enables the identification of each user. To perform this you must insert the following strings to your app code:
Important Note
Make sure the lines of code are inserted at the correct place – after Braze SDK was launched and before the initialization code for AppsFlyer SDK (see the Initializing the SDK section in our Android SDK Integration Guide).
HashMap<String, Object> customData = new HashMap<String,Object>();
String deviceId =(Braze.getInstance(MyActivity.this).getInstallTrackingId());
customData.put("brazeCustomerId", deviceId);
AppsFlyerLib.setAdditionalData(customData);

Braze SDK must have IDFA collection enabled. For details of how to do this, click here.
Copy the API key from the Braze dashboard (available under App Settings > 3rd Party Integrations > Attribution

Appboy.AppboyBinding.GetInstallTrackingId()
Dictionary<string, string> customData = new Dictionary<string, string>();
customData.Add("brazeCustomerId", Appboy.AppboyBinding.GetInstallTrackingId());
AppsFlyer.setAdditionalData(customData);
Setting up Braze
Go to the dashboard of your app and click on Integrated Partners on the left bar.
Enter Braze in the search field and click on its logo to open the Braze configuration window.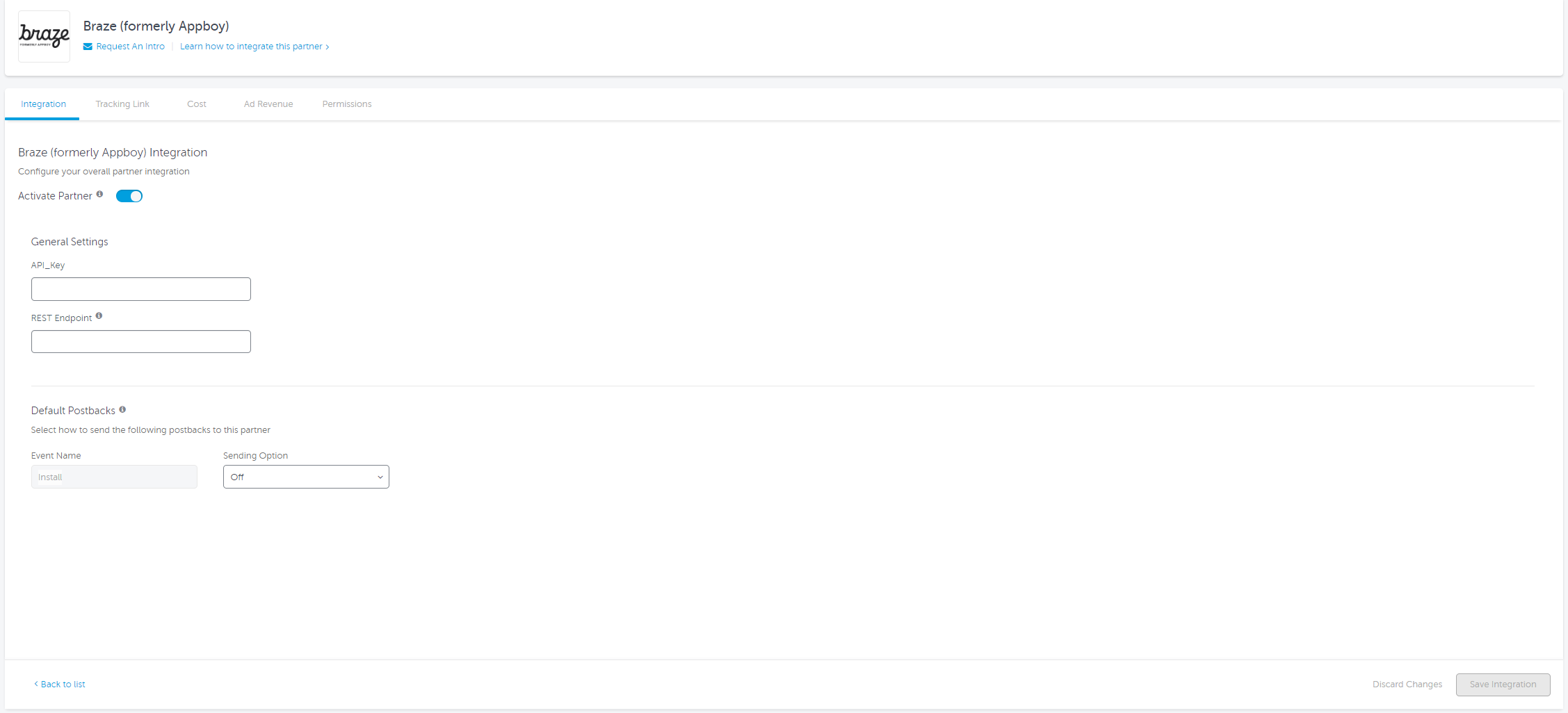 The Braze configuration window only makes use of the Integration tab.
For a detailed description of the Partner Configuration Window Header, click here.
Integration tab
The Integration Tab is divided into different sections as described below.
Activate partner
On the first visit here, you must Activate the Partner to enable the setup of the integration tab parameters. The toggle MUST be ON for as long as you work with the partner.
For more details about partner activation please click here.
General settings
Braze connects with AppsFlyer via a unique API Key and REST Endpoint.
To get Braze's API Key and REST endpoint:
In your Braze account, under Technology Partners, go to Attribution.
Select AppsFlyer.


Under Data Import for Install Attribution, click Generate API Key.

Copy the generated API Key and the REST endpoint.

In AppsFlyer, insert the Braze API Key and the REST endpoint.


Click Save and Close
Once you have saved the configuration, AppsFlyer sends the following data to Braze for every organic and non-organic install:
Braze Dev_ID
Media Source
Campaign name
Adgroup name
Ad name
Default postbacks
AppsFlyer can send automatic postbacks to Braze user installs. Use this section to define sending these postbacks.

Select Events attributed to any partner or organic to send postbacks to Braze for any user that downloads the app.
Click Save.
Note
Although all events are sent by AppsFlyer, organic installs are not counted by Braze and therefore are ignored by the Braze API.
Attribution link tab
Attribution Links are not available for Braze.
Cost tab
Cost data is not supported in the integration with this partner.
Ad revenue tab
Ad Revenue is not supported in the integration with this partner.
Permissions tab
Permissions are not available for Braze.
Viewing user attribution data in Braze
Your user base can be segmented by attribution data in the Braze dashboard using the Install Attribution filters.

Additionally, attribution data for a particular user is available on each user's profile in the Braze dashboard.