At a glance: Many app owners have owned media assets such as websites, banners, social media posts, user emails, and telephone numbers. OneLink is a single link technology that converts owned media users into mobile app users, regardless of device, operating system, channel, or platform.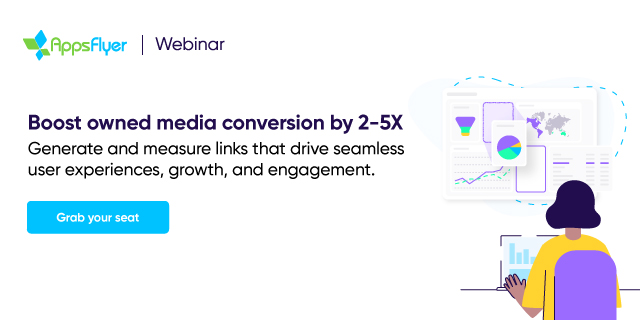 About OneLink
Helps marketers engage their users by providing links that work across all owned media marketing channels.
Redirects users to the correct app store (e.g. App Store or Google Play), landing page, or app (if users already have the app installed).
Opens the app to the default activity (using App Links, Universal Links, and URI scheme, as set in the OneLink template).
Drastically increases user engagements and conversions by deep linking existing users, or by using deferred deep linking for new users, to specific content and experiences within the app (as set in the OneLink custom link and implemented by the developer).
OneLink setup has 2 components: A OneLink template, and a OneLink custom link.
A OneLink

template

represents the routing logic at the core of your links, to redirect users to the correct app store and open the app. A OneLink

template

is not a clickable link for your end-users; it is the foundation for generating many custom links. Based on the template, you can create many OneLink custom links for the users to click on. A single OneLink

template

can be the basis for creating many links. It is rare to need more than one or two OneLink

template

s in the lifetime of an app (outside of testing).
Free of charge to all account plans.
Introduction video
OneLink setup
Setting up OneLink requires two different roles within an organization to work together:
Role
Tasks
Resources

Marketer/product manager

Set up OneLink
Use OneLink custom links
in marketing campaigns

AppsFlyer dashboard
Help center docs

Mobile developers

Implement OneLink functionality
in mobile apps
OneLink four-part guide for marketers
Marketers should follow the four-part guide to fully setup OneLink. The guides include clear indications on when to involve developers (who use the developer hub and sample app).
Click the guide images that follow to visit them.
Using OneLink to detect the user's device type upon click and redirect them to the correct destination.

For example, Android users are redirected to Google Play, iOS users to the App Store, desktop users to a webpage.

Using OneLink to directly send existing app users who click your link to the default activity in the app (set in the OneLink template).

Clicks (and future in-app events) are correctly attributed using retargeting.

Using OneLink during retargeting campaigns to directly serve existing app users who click your link with personalized content in the app (set in the OneLink custom link).
Using OneLink during retargeting campaigns to serve new installing app users who click your link with personalized content in the app (set in the OneLink custom link).
Advanced OneLink options
After completing some or all of the four-part guides, consider implementing the advanced OneLink options described below.
Smart Banners
The majority of all website traffic worldwide is generated through mobile phones. Marketers can utilize OneLink to power website campaigns to convert visitors into mobile app users.
AppsFlyer offers a free tool called Smart Banners that enables marketers to easily create mobile website campaigns, without the need for web developers.
If you plan to convert your website visitors into mobile app users, take 20 minutes to do it with Smart Banners.
OneLink API
AppsFlyer lets you easily create OneLinks for any campaign that you want to run. However, sometimes you want to scale and run multiple campaigns at once, or run campaigns that comprise thousands of ads and creatives.
Instead of manually creating every single OneLink for every campaign or ad creative, you can use OneLink API. OneLink API allows you to create thousands of OneLinks quickly and easily, saving you time and effort, and letting focus on your campaign and marketing efforts instead.
See the OneLink API guide to learn more.
Best practices
Avoid the typical issues advertisers face with deep linking and check out the best practices guide for deep linking.
Owned media sources
The owned media section contains articles for specific OneLink use-cases:
Email service providers (ESPs)
ESP email campaigns for mobile app users can cause attribution and deep linking issues.
To overcome those issues and work with the ESPs, you must follow their exact integration steps.
Find the list of articles for supported ESPs here.
Limitations
OneLink is not supported by the Facebook mobile app install objective, where only Facebook App Links are accepted.