At a glance: OneLink is a link with attribution, redirection, and deep linking capabilities. Use OneLink to create the best experience for your users, no matter which of your owned media sources they convert from: websites, banners, social media posts, user emails, and phone numbers. OneLink is a single link technology that converts owned media users into mobile app users, regardless of device, operating system, channel, or platform.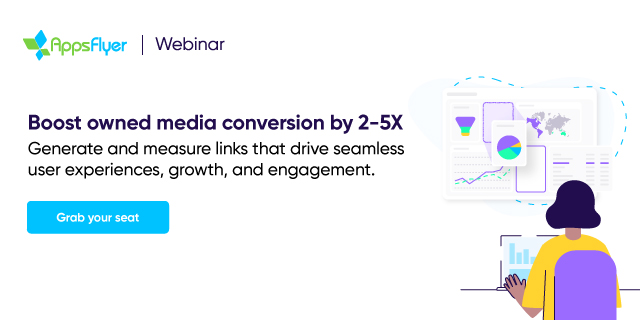 OneLink experiences
Your customers interact with your brand across many different online and offline touchpoints. OneLink allows you to create, manage, and measure mobile marketing campaigns across every major channel, including email, social media, mobile web, QR codes, and more. Use OneLink to build the best experiences for your users and provide them with the best user journey from click to app install:
Social-to-app:

Engage your users on social media and send them

from social media feeds to your app. Follow the OneLink setup instructions to get started.
Web-to-app:

Convert your mobile website visitors into new mobile app users using Smart Banners or Smart Script.

QR-to-app:

Use QR codes to drive app installs by having users

scan a QR code at key points during their offline customer experience. You can also

put QR codes on your desktop site, or on TV and CTV ads to route users to your app.

Email-to-app: Use email service providers (ESPs) to engage users via email and send them from their inbox to your app.
Text-to-app:

Create

links for your SMS and messaging campaigns and e

ngage users via texts messages.

Referral-to-app:

Create user invite links that allow users or influencers to invite others to your app or share specific in-app content, for example, an article.

Other:

No matter where your users come from, whether via desktop or mobile, online or offline, owned or paid media, use OneLink to easily send your users to the right place.
Whichever experience and user journey you want to build for your users, OneLink:
Helps marketers engage their users by providing links that work across all media marketing channels.
Redirects users to the correct app store (e.g. App Store or Google Play), landing page, or app (if users already have the app installed).
Opens the app for existing users to the default activity (using App Links, Universal Links, and URI scheme, as set in the OneLink template).
Drastically increases user engagements and conversions by deep linking existing users, or by using deferred deep linking for new users, to specific content and experiences within the app (as set in the OneLink custom link and implemented by the developer).
OneLink setup has 2 components: A OneLink template, and a OneLink custom link.
A OneLink template represents the routing logic at the core of your links, to redirect users to the correct app store and open the app. A OneLink template is not a clickable link for your end-users; it is the foundation for generating many custom links. Based on the template, you can create many OneLink custom links for the users to click on. A single OneLink template can be the basis for creating many links. It is rare to need more than one or two OneLink templates in the lifetime of an app (outside of testing).
Is free of charge to all account plans.
Introduction video
OneLink setup
Setting up OneLink requires two different roles within an organization to work together:
Role
Tasks
Resources

Marketer/product manager

Set up OneLink
Use OneLink custom links
in marketing campaigns

AppsFlyer dashboard
Help center docs

Mobile developers

Implement OneLink functionality
in mobile apps
OneLink four-part guide for marketers
Marketers should follow the four-part guide to fully setup OneLink. The guides include clear indications on when to involve developers (who use the developer hub and sample app).
Click the guide images that follow to visit them.
Using OneLink to detect the user's device type upon click and redirect them to the correct destination.

For example, Android users are redirected to Google Play, iOS users to the App Store, desktop users to a webpage.

Using OneLink to directly send existing app users who click your link to the default activity in the app (set in the OneLink template).

Clicks (and future in-app events) are correctly attributed using retargeting.

Using OneLink during retargeting campaigns to directly serve existing app users who click your link with personalized content in the app (set in the OneLink custom link).
Using OneLink during retargeting campaigns to serve new installing app users who click your link with personalized content in the app (set in the OneLink custom link).
Additional OneLink options
After completing some or all of the four-part guides, consider implementing the additional OneLink features described below.
Note: All features are included as part of the AppsFlyer Zero and Growth plans, except OneLink API, which is a premium feature.
Troubleshooting and FAQ
Quickly find solutions for testing and debugging OneLink custom link redirection/behavior issues with our OneLink troubleshooting guide.
Limitations
OneLink is not supported by the Facebook mobile app install objective, where only Facebook App Links are accepted.