At a glance: Convert desktop website visitors into mobile app users by using QR codes generated with OneLink.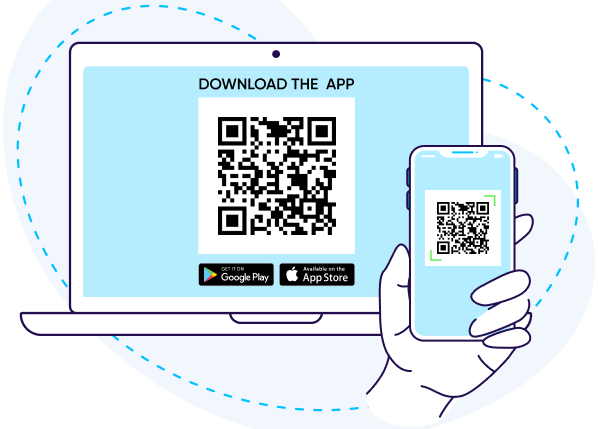 Converting desktop web traffic to mobile app users
Posting OneLink-generated QR codes on your website provides the following benefits:
Desktop web users can quickly and easily scan the code with their mobile device to download and install your app.
Users save the time and effort required to go to the app store and search for your app, which greatly increases desktop-to-app install conversion rates.
Privacy is protected, as this conversion method bypasses SMS, and users don't need to provide a phone number and request "text me the app."
Set up desktop-to-app conversion
Prerequisites:
An AppsFlyer account with at least one app.

For attribution:

The AppsFlyer SDK already integrated

in each of your mobile apps.

If the SDK is not yet installed in your apps, it is still possible to create a working redirection link, but it will not be possible to deep link, deferred deep link, or measure installs in your dashboard.

A OneLink template set up.
To set up a QR code for desktop-to-app conversion:
Create a OneLink custom link.

[Recommended] Create a new link and in the Attribution tab, set the custom media source to desktop_web.
Using a QR code from an existing link works. However, for reporting purposes, we recommend not sharing media sources with another link. Instead, use a separate link with the dedicated media source desktop_web.
After you click

Generate Link

, a

short URL and long URL are displayed, each with a corresponding QR code.

Click the QR code to download it in full resolution.
Add the QR code to your desktop website, the same way you would add any other image/content.
To test your QR code:
Prerequisites: If the SDK is installed in your app, you need a registered test device without the app. If you aren't using the SDK, and only want to test redirection, any device works.
Go to the desktop website with the QR code.
Scan the QR code with the mobile device.
You should be redirected based on your OneLink settings. For example, a device without the app should lead to the app store to download the app.
Measure desktop-to-app conversions
You can measure the performance of your QR code and its placement on different web pages, by comparing impressions (desktop pageviews), clicks (QR code scans), and app installs.
To measure desktop-to-app conversions:
In AppsFlyer, check the Overview dashboard or other AppsFlyer analytics tools, and record the total clicks and installs with media source desktop_web.
Record the total desktop page views (impressions) using your web analytics software.
Measure performance:
Best practices
The following are tips to maximize desktop-to-app conversions.
Build a separate page on your website to place the QR code.

Pick a URL slug for the page such as /app, /download-app, or /mobile-app.
Make the page viewable only for desktop/large screen width.

On your webpage:

Make the QR code on your webpage large and high-resolution, so that it is easily scannable.
Add prominently situated Download from App Store and Download from Google Play badges as visual triggers (not as links).
Consider adding instructions on how to scan the QR code.