Introduction
Advertisers can allow agencies to run campaigns on their behalf using the New Google AdWords integration.
Both advertisers and agencies must actively configure the system. The video below describes what steps need to be taken by the advertiser and the agency in order for the agency to track mobile traffic it gets to the advertiser's app on Adwords.
Setting-Up Google Adwords Tracking for Agencies
To start agency tracking of Google Adwords campaigns with AppsFlyer, follow these steps:
To watch the video "Setting-Up Google Adwords Tracking for Advertisers" click here. 
Prerequisite Advertiser Actions
The following describes the prerequisites for advertiser actions.
Granting Agency Permission to the App
The advertiser must grant the agency access to the app by following the instructions detailed here.
Sharing your Google AdWords Link ID
For an advertiser to work with an agency, the advertiser must share his link ID with the agency, generated from the advertiser's Google AdWords account only. 
Since the link ID must be shared among all the Google AdWords accounts that promote the app, the control of the link ID should be in the hands of the advertiser, and not by the agency.
Agency Actions on AppsFlyer
The agency logs into the AppsFlyer dashboard and selects the specific app they want to promote on Google AdWords.
1.  Click Integrated Partners from the left sidebar.
2. Enter Google AdWords in the search field.
3. Click the logo of Google AdWords to open the configuration page.
 4. Enter all of the AdWords Customer IDs of the Google AdWords account that you are running campaigns for the advertiser's app.
*** Important! ***
Import the first-open and in-app actions to Google AdWords to begin accruing conversions in Google AdWords and in your AppsFlyer dashboard.
NOTES:
An agency can work with up to 10 different Google AdWords accounts running campaigns for the same app.
If an agency works with an MCC account and the app is promoted via several MCC sub-accounts all sub-accounts must be configured in AdWords customer id field (as seen on above screen shot). 
In such a case there is no need to configure the customer id of the MCC account.
You can find the Google AdWords Customer ID by clicking on the arrow in the top left corner and thereby opening the Navigation Panel.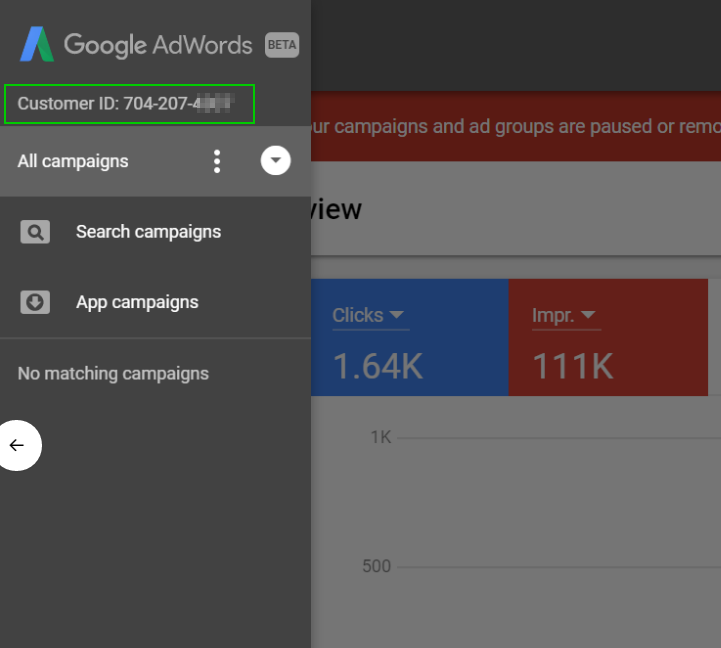 5. The Click Attribution Lookback Window default is set up to 30 days but the agency can change this.
6. The agency can retrieve cost data from Google AdWords by clicking the Connect button.
NOTE: The cost is shown both on the agency and advertiser dashboards at campaign level.
7. Click Save & Close. 
For iOS apps the Google AdWords configuration window contains a link generator and a tracking link section.
This is because Google iOS Search attribution is done via tracking links.
Search iOS campaigns are not part of this API. To track them you must switch back to the Adwords old UI and then follow the setup instructions here.