Introduction

Click Lookback Window

Maximum period of time after an ad is clicked within which an install can be attributed to the ad

View-Through Lookback Window

Maximum period of time after an ad is viewed within which an install can be attributed to the ad
AppsFlyer's configurable attribution lookback window allows you to customize the attribution period based on the relationship you have established with your media sources.
By configuring different attribution lookback windows for different media sources, AppsFlyer ensures that attribution is carried out according to the agreed-upon terms.
For each of the supported media sources you can configure the attribution lookback window, based on the attribution type and method.  
The table below details each recommended and default type and method.
Attribution Type

 

Attribution Method

 

Clicks Lookback Window 

Range

Recommended 
(default)

Click-Through

(All Media Sources)

 

Referrer, ID Matching

1 – 30 Days OR
1 - 23 Hours

7 Days

Fingerprinting

Fixed*

1 Day

View-Through

(Selected Media Sources)

ID Matching

1 Hour - 7 Days

1 Day
* In order to ensure fingerprint uniqueness and maintain a high level of accuracy, the lookback window for fingerprinting is much shorter than the referrer and ID matching windows. The click fingerprinting attribution lookback window is limited to a maximum of 24 hours on iOS. Android apps on Google Play have up to one hour, and out-of-store android apps have up to 24 hours. 
Attribution Lookback Window

Setup

1.  From your AppsFlyer dashboard go to Integrated Partners.

2.  Search and select a partner.

3.  By default the View-Through attribution is activated.  In the Integration Parameters section of the Integrated Partners window select Enable View-Through Attribution, this opens the configurable lookback field.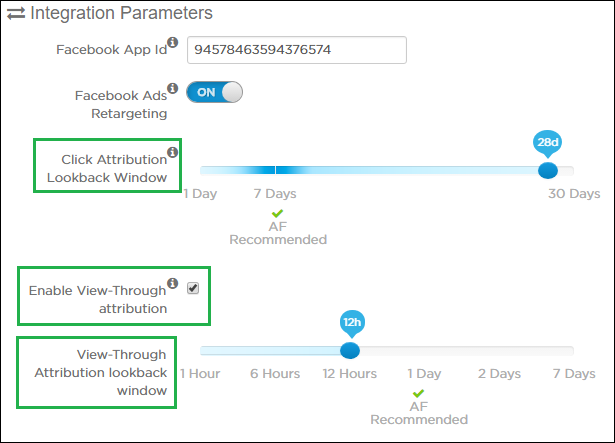 4.  Select the time frame required from the Click Attribution Lookback Window field.
Currently, the slider allows you to set a time from 1 day up to 30 days.  If you prefer to count this time in hours (rather than the pre-set times) you can copy the tracking link and manually change the time shown in the af_click_lookback= and in the af_viewthrough_lookback= parameter in hours, starting from one hour, and then send it separately to your media source.
5.  The selected time frame is automatically reflected in the Tracking Link. 

6.  Copy the Tracking Link and apply it to your relevant media source campaign.
7.  Click Save & Close.
For details of AppsFlyer's Retargeting Attribution, click here.