AppsFlyer's configurable attribution lookback window allows you to customize the attribution period based on the relationship you have established with your media sources.
By configuring different attribution lookback windows for different media sources, AppsFlyer ensures that attribution is carried out according to the agreed-upon terms.
For each of the supported media sources you can configure the attribution lookback window, based on the attribution type and method.  
The table below details each recommended and default type and method.
Attribution Type

 

Attribution Method

 

Clicks Lookback Window 

Range

Recommended 
(default)

Click-Through

(All Media Sources)

 

Referrer, ID Matching

1 – 30 Days

7 Days

Fingerprint*

Fixed

1 Day

View-Through

(Selected Media Sources)

ID Matching

1 Hour - 7 Days

1 Day
*The click fingerprinting attribution lookback window is limited to a maximum of 24 hours.  It is based on fingerprint uniqueness and is used to maintain a high level of accuracy.
Configuring the Attribution Lookback Window for acquisition and re-targeting campaigns:
1.  From your AppsFlyer dashboard go to Integrated Partners.
2.  Search and select a partner.
3.  By default the View-Through attribution is activated.  In the Integration Parameters section of the Integrated Partners window select Enable View-Through Attribution, this opens the configurable lookback field.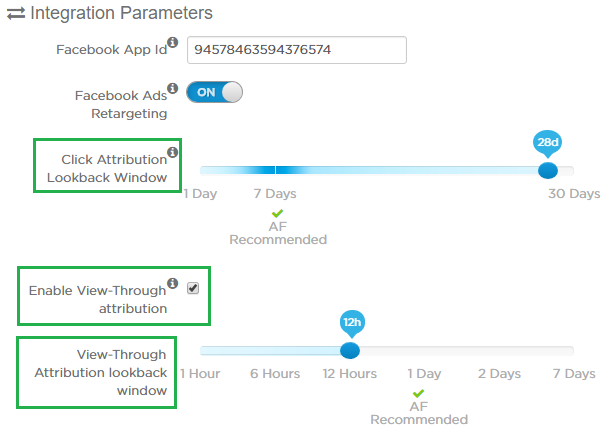 4.  Select the time frame required from the Click Attribution Lookback Window field.
5.  The selected time frame is automatically reflected in the Tracking Link. 

6.  Copy the Tracking Link and apply it to your relevant media source campaign.
7.  Click Save & Close.
For details of AppsFlyer's Re-Targeting Attribution, click here.