At a glance: Use your mobile website to convert mobile web visitors into new mobile app users.
Mobile web-to-app attribution solutions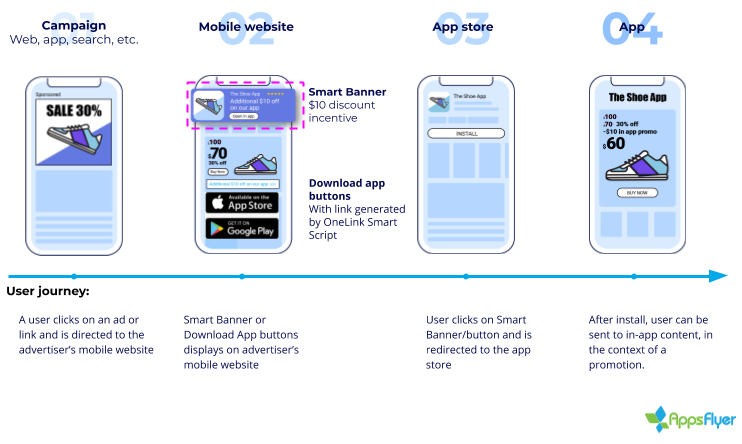 Benefits of web-to-app campaigns
Using web-to-app campaigns helps you:
Convert mobile web visitors into app users. See also web-assisted installs.

Use web or landing pages to increase your users' understanding of your product/service before they download the app.

Find your best- and least- converting web/landing pages.

Build more specific offerings to retarget your mobile web users, who are also your app users.

Seamlessly deep link users from the site to a specific page in the app.
Attribution solutions
For mobile web-to-app users, since there are two clicks (the first that directs to the web page and the second that directs from the web page to the app store), attribution and deep linking are problematic. Users who eventually download the app may be wrongfully attributed, or attributed as organic, even if the first click comes from an ad network, Google click, or owned media source.
AppsFlyer provides the following solutions for accurate web-to-app attribution:
Add a web SDK into your website, and then create dynamic banners on the AppsFlyer dashboard.
When a user clicks a URL and is directed to your mobile website, a Smart Banner pops up with a CTA to download the app from the app store.
The Smart Banner URL is populated based on the parameters/UTMs in the incoming link, and is used for attribution.
Runs a script on your mobile website.
When a user clicks a URL and is directed to your mobile website, they land on a page with buttons urging them to download your app.
The script on the web page dynamically generates the outgoing URLs on these buttons based on the incoming URL, which is used for attribution.
Replaces the previous mobile landing page attribution script. If you are still using the previous script, you should migrate.
Both solutions bridge the gap between the incoming campaign URLs to your website, and the outgoing OneLink URL created for correct attribution and deep linking of the mobile website users.
The following table compares the two solutions so that you can choose and implement the one most suitable for your needs. Note: You can implement both solutions and use them in tandem.
Smart Banner vs OneLink Smart Script
Characteristic
Smart Banners
OneLink Smart Script
Media sources supported

All media sources supported:

Incoming links with pid or UTM params (including SRNs)
Organic visitors

All media sources supported:

Incoming links (including SRNs)
Organic visitors

Change attribution link parameters

Fast change in AppsFlyer dashboard/wizard access.

Requires developer implementation in the script, but is totally flexible.

Desktop users

Not supported

Supported

Marketer setup

Uses wizard to set up Smart Banners.

Decides parameters and values to be set on the incoming and outgoing URLs (default values are supplied).

Developer setup
Ongoing campaign setup
For click ad networks, set up web campaign-to-app link.
Follow the instructions per media source type.
Availability

Depends on your AppsFlyer account plan

Depends on your AppsFlyer account plan
Web-assisted installs
Web-Assisted Installs occur when users download your app, but not necessarily because of a specific campaign. Before they download your app, they visited your website for whatever reason, perhaps days or weeks earlier. Use PBA Web-Assisted Installs to see a general breakdown of these assist touchpoints that eventually lead to the app install.
Web-to-app solutions vs. Web-Assisted Installs
| Characteristic | Mobile web-to-app solutions | Web-Assisted Installs (PBA) |
| --- | --- | --- |
| Purpose | Gives you tools to run campaigns designed to directly convert web visitors into app users, while attributing the media source responsible for the web visit. | See a breakdown of installs preceded by web visits. |
| Flows | Direct flow from web to app download. | Direct, deferred, or disjointed flows. Installs can be predated by a web visit (up to 30 days). |
| User devices | Same device | Same or cross-device |