At a glance: Admins issue API tokens to enable team members to access their AppsFlyer data.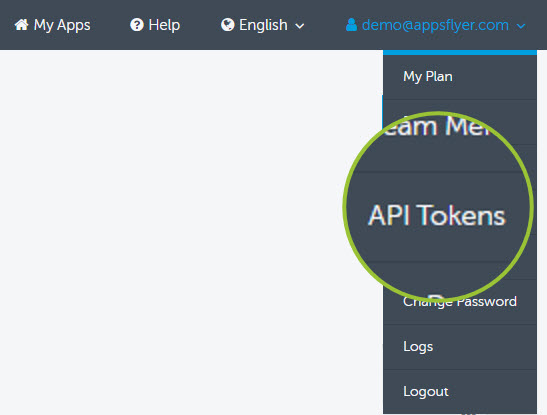 Retrieve and reset API tokens
In the API tokens page, retrieve or reset the following tokens types:
To ensure your data security, only the admin can view the API tokens page. This means that team members and partners have no access to the token page.
Caution
If you reset a token, then the current token becomes invalid and a replacement token is issued.
To avoid data loss, embed the replacement token in your scripts and automated processes.
Keep your tokens safe as they enable access to your data. Don't publish tokens in public code repositories.
To retrieve a token:
Click the email address located on the right side of the header bar.
Select API tokens.
The available tokens (V1.0, V2.0, or both) are displayed.
Copy the required token.
To reset a token:
Click the email address drop-down and select API tokens.
Identify which token to reset and click its Reset token link.
If you want to continue, click Reset token in the dialog box.
Copy the new token.
Embed the replacement token in scripts and automated processes that require a token.
Token type required per API
V1.0 token—Advertiser APIs
V2.0 token—Advertiser APIs
V2.0 token—Ad network APIs
Troubleshooting
Only the admin can see and access the API tokens option in the drop-down menu.