At a glance: Xiaomi, an AppsFlyer ad network integrated partner, operates the Xiaomi Android App Store which ranks in the Top 5 Android App Distribution Platforms in China, with 5 billion app downloads per month. In addition to click-based mobile attribution, Xiaomi also offers view-through attribution, which you can record with AppsFlyer.
Setting up Xiaomi
Go to the dashboard of your app and click on Integrated Partners on the left bar.

Enter "Xiaomi" in the search field and click on its logo to open Xiaomi's configuration window.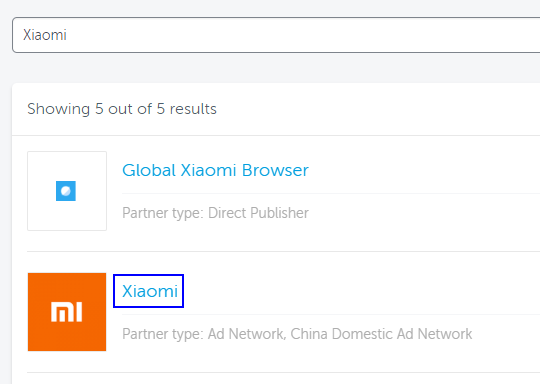 Xiaomi's configuration window includes 3 active tabs: Integration, Attribution link and Permissions. Click on the items below to read about the tabs setup.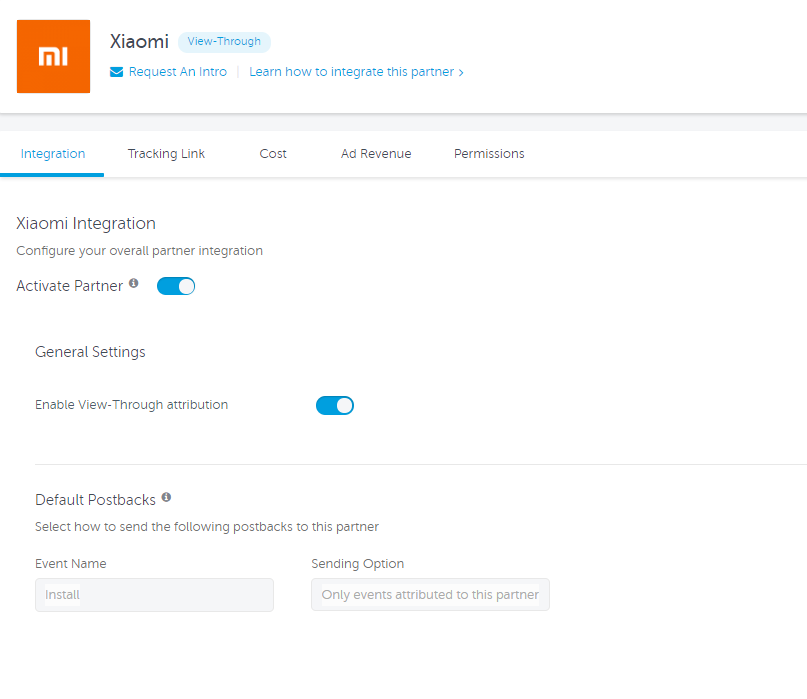 For a detailed description of the Partner Configuration Window Header, click here.
Tip
The General Settings step in the Integration tab is mandatory for all partners
All the rest of the steps are either descriptive or optional
Integration tab
Activate partner
On the first visit, you will need to toggle ON the Activate Partner button to enable setup of the integration tab's parameters. The toggle MUST be ON for as long as you work with the partner.
For more details about partner activation please click here.
General Settings
Enable View-Through attribution
Toggle this to ON if you want to attribute view-through installs from Xiaomi. The view-through lookback slider is available on the attribution link tab (described below).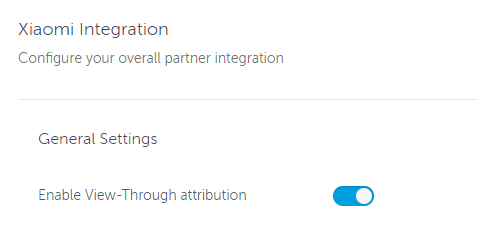 Default postbacks
AppsFlyer can send automatic postbacks to Xiaomi following user installs and re-engagements. Use this section to define the source of the users that allow sending these postbacks.

Cost tab
Cost data integration is currently not supported with Xiaomi.
Ad revenue tab
Ad revenue integration is currently not supported with Xiaomi.
Permissions tab
In this tab, you can select the permissions to grant Xiaomi, whether the partner acts as an ad network, agency or even both. Note that even if attribution is disabled for Xiaomi, the permissions tab is active and you can grant control to Xiaomi.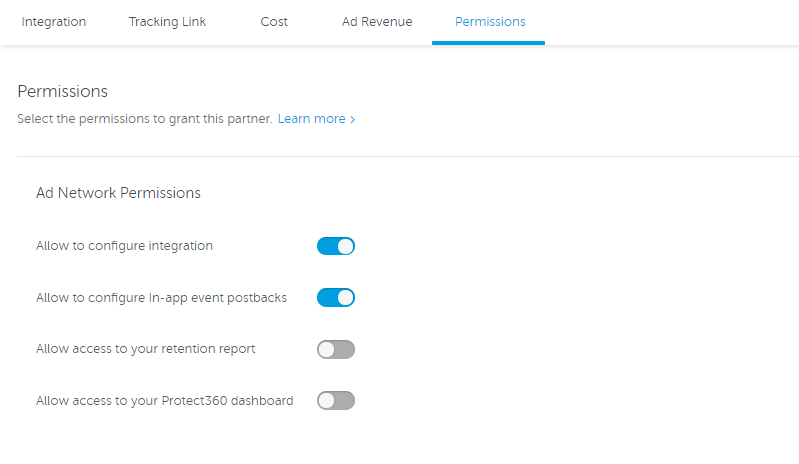 Use these toggles to give the ad network permissions to handle its own configuration for your app:
Ad network permissions
Allow to configure integration - permit the partner to setup the integration tab (except in-app event postbacks)
Allow to configure in-app event postbacks - permit the partner to setup in-app event postbacks mapping to itself on the integration tab
Allow access to your retention report - only to the partner's own retention data
Allow access to your aggregate loyal user data - only to the partner's own loyal user data
Allow access to your aggregate in-app events data - only to the partner's own in-app events data
Allow access to your aggregate revenue data - only to the revenue data attributed to the partner
Allow access to your Protect360 dashboard - only to the partner's own Protect360 data, and providing the feature is enabled for the advertiser
Learn more about granting ad network permissions.