Baidu App Ads (baitong.baidu.com) is one of the biggest App promotion and distribution platforms in China domestic market, integrating the mobile traffic of App Stores( Baidu Mobile Assistant, Android Market, 91 Mobile Assistant,etc.), Baidu Mobile Search, Super App, Baidu Affiliates. 
Prerequisite:
If you want to promote your Android Apps with Baidu App Ads, it request you to upload the android apk with AppsFlyer SDK to Baidu App Developer Platform, and process to send IMEI to AppsFlyer SDK according to the introduction 2.5 in AppsFlyer SDK Integration - Android. Google Play service is blocked in China, IMEI is the most popular android device id for ad tracking.
To configure a campaign with Baidu App Ads, follow the steps below:
Set Up Campaign
Once you have registered your app with AppsFlyer, you must set up a campaign in the dashboard.
To do this, click the app that you want to advertise or select Overview from the drop-down menu.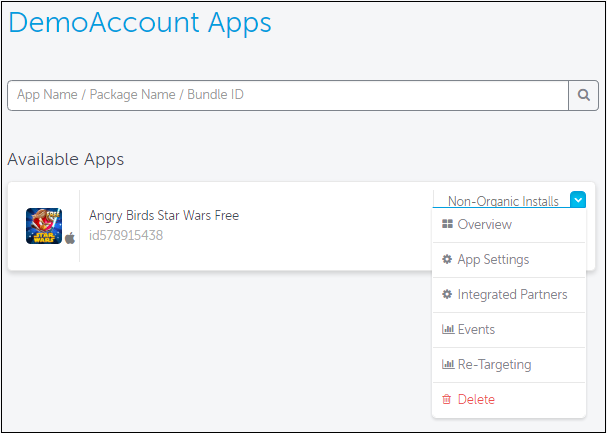 Configure Integrated Partner
Click Integrated Partners on the left side of the screen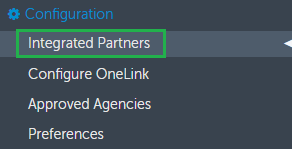 Select Baidu App Ads
In the Integrated Partners page, select Baidu App Ads as the media source.
Enter Baidu App Ads the search box

Generate the Tracking URL
Click on the Baidu App Ads logo to open the  configuration page and copy the Tracking Link.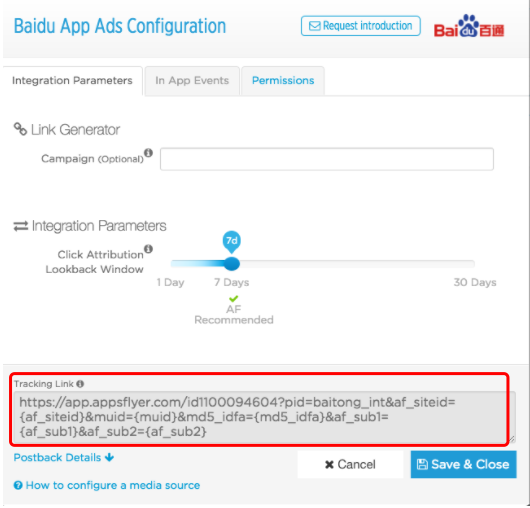 Set up your Baidu App Ads campaign with AppsFlyer Tracking Link.  
Android App
APK Type

Channel

Ad Tracking Setting

Non-Game App

App Stores, Ad Network, Mobile Search

 

 

Send the Tracking Link to Baidu Account Manager

Joint-Operation Game  

App Stores

Non Joint-Operation Game

App Stores

iOS App
| | | |
| --- | --- | --- |
| APK Type | Channel | Ad Tracking Setting |
| iTunes App | 91 iOS App Store,etc | Send the Tracking Link to Baidu Account Manager |
Appendix
1.The Traffic in Baidu App Ads ( CPD resources support AppsFlyer tracking):
Pricing Model

Channel

Description

CPD

(cost per download)

App Stores

Baidu App Store, 91 App Store, iOS APK stores,etc

Ad Network

Super app,  Baidu Affiliates

Mobile Search

Mobile search traffic

2.You can click Request introduction button at AppsFlyer- Baidu App Ads configuration window to get contact information.