The activity report contains app activity KPIs for events that take place during a selected date range. The KPIs are independent of one another. This means that each KPI is stand alone. KPIs are calculated using both organic and non-organic traffic.
The report is divided into two tabs:
Opening the activity report
To open the activity report: Go to Dashboard > Activity.
Activity metric descriptions
DAU

Daily active users counts the unique users who performed an app session on a particular day, additional sessions performed on that day are not counted. When calculating the DAU value for a date range (i.e. for more than a single day) - the average value is displayed.

Example

Sunday - 10 daily active users, Mon - 12 daily active users, Tue - 8 daily active users, Avg DAU Sunday to Tue is (10+12+8)/3 = an average of 10 daily active users.

MAU

Monthly active users - There are two types of MAU calculation. On the Detailed tab in the dashboard, the MAU calculation is as follows: Each day we count the number of unique users. We sum the number of unique users during the previous 30 days. On the High Level tab, we count the distinct number of users based on a specific calendar month.

DAU/MAU Rate

Stickiness a snapshot of retention. This KPI presents a view of the rate of your returning users. DAU/MAU rate of 50% would mean that the average user of your app is using it 15 out of 30 days that month.

Revenue

Total revenue for the selected date range - combined calculation of In-App Purchases (if reported by the application) and Ad Monetization revenue.

ARPDAU

The average revenue per daily active user is the sum of the daily user average revenue divided by the number of days. Daily user average revenue = revenue per day/DAU.

Example: Calculation of ARPDAU

| Day | Revenue on day $ | DAU | Daily user average revenue $ |
| --- | --- | --- | --- |
| Day 1 | 10 | 5 | 2 |
| Day 2 | 16 | 4 | 4 |
| Day 3 | 30 | 5 | 6 |
| | | Total: | 12 |
| | | Number of days | 3 |
| | | ARPDAU | 4 |

Sessions

Total sessions for the selected date range (if reported by the application).

Installs

The number of installs within the selected date range.

Activity Trend

Displayed in graphical form. The default presentation shows DAU but you can also select MAU, DAU/MAU Rate, Revenue or Sessions.
Activity report limitations
While working with the Activity Dashboard, you should keep in mind the following:
Data availability
Activity data is available from the first date of the app definition on AppsFlyer or from January 2016. For the High Level dashboard, data is available from 1 July 2017 only.

The maximum displayed date range for the activity report is two months. When selecting a wider date range the range is automatically narrowed down to two months and the following message is displayed:

The available dimensions prior to 1 March 2017 are limited to GEO and Data only.
Data freshness
Ad Monetization data is calculated once a day and is available a day later. Hence, the monetization data for a selected day will reflect the data of the day before for UTC +0 and UTC - (minus), and two days before for UTC + (plus) time zone.

The data is aggregated on a daily basis. For users in time zone UTC -, it may take up to 48 hours and for users in time zone UTC + it may take up to 24 hours for the report to be populated with data.

MAU data is supported based on UTC +0 only.
Data presentation
The data displayed in the Activity Summary table shows media sources with any kind of Activity sessions, including in-app events and installs. However, it is limited to the top 50 media sources, sorted by the number of sessions. To see all the data, you can use Master API or Pivot.

Any Activity shown here is related to its primary attribution, i.e all retargeting activity is included but not presented separately.

Example

A user installs an app after clicking on a Network A's ad. After a while, she sees a retargeting campaign ad for this app on Network B and clicks on it. Then she makes a purchase through this app.



In case the purchase is made within Network B's Re-engagement window, the purchase event would appear under Network B in the Activity report — because Network B gets primary attribution for this purchase.

Activity dashboard doesn't show uninstalls.
Detailed analysis
The detailed analysis helps the advertiser understand trends and insights regarding the acquisition channels and its app status.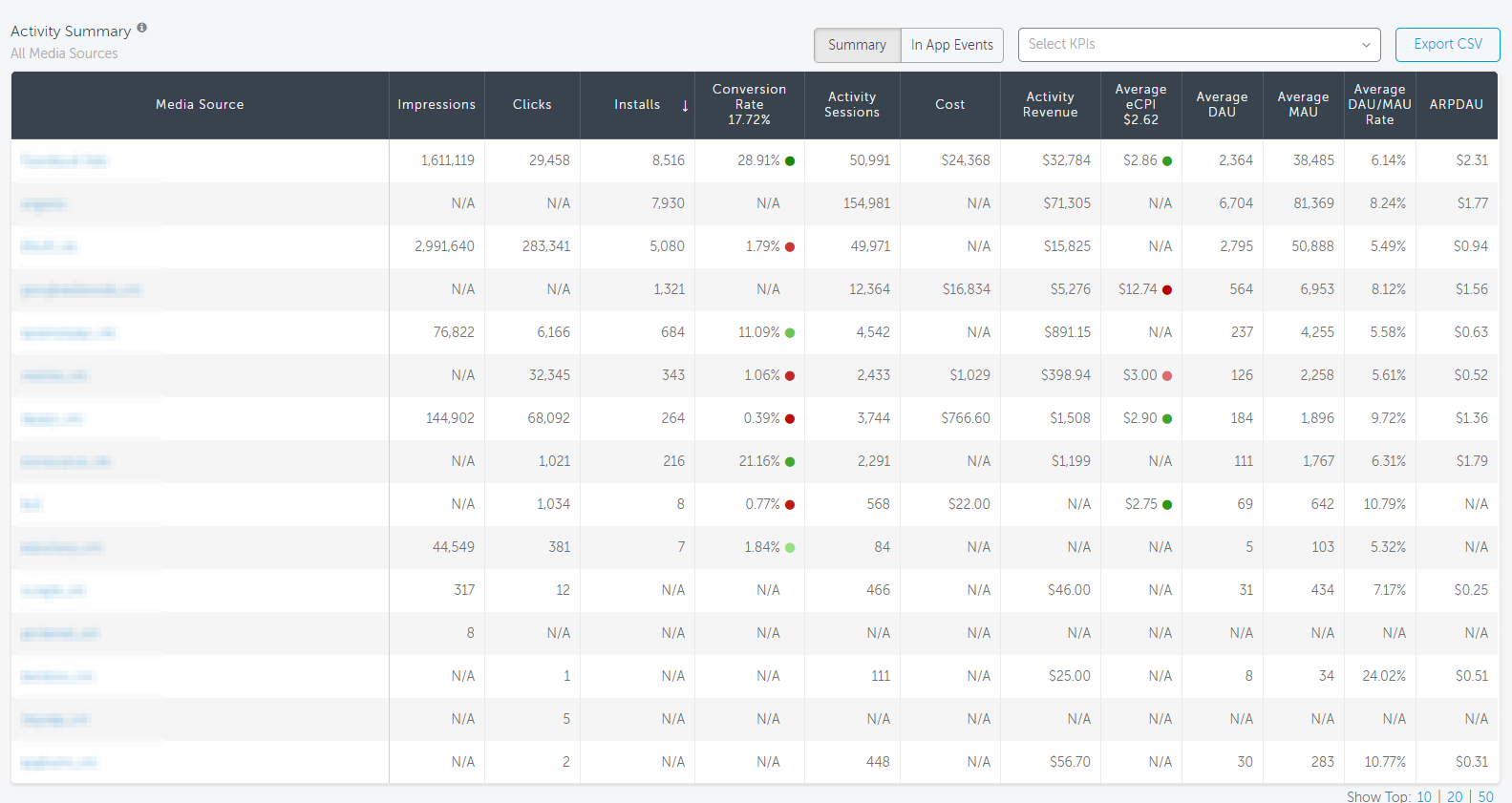 The Detailed Analysis is divided into three sections:
Metrics

Average Active Users

Avg. DAU - the average number of daily active users in the selected time range
Avg. MAU - the average number of monthly active users in the selected time range (each day holds the active users of its own previous 30 days).
Tip - to see a month's MAU value (e.g. March) , set the date range to the first day after that month (e.g. April 1) and look at the Avg. MAU value.

Total Installs

Non-Organic Installs - in the selected date range
Organic Installs - in the selected date range

Sessions

Non-Organic Installs - in the selected date range
Organic Installs - in the selected date range

Revenue

Non-Organic Installs - in the selected date range
Organic Installs - in the selected date range
Activity trends
A trend chart displaying your most important metrics.

There are six Activity Metrics to select:
DAU

MAU

Revenue

ARPDAU

Sessions

DAU/MAU rate
For a detailed explanation of each Activity Metric, click here.
The DAU/MAU rate is a 'quality' KPI. It indicates how many users have returned on a daily basis over the past month. You can also look at it as a 'snapshot' of retention.
Activity summary
In the Activity Summary table you can see ALL data grouped by and filtered according to your selection.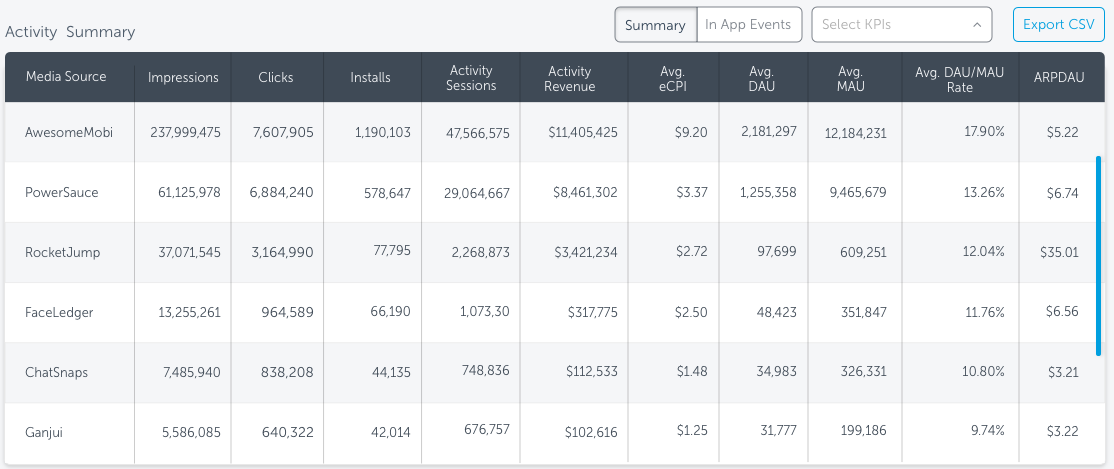 Click In-App Events to see the activity data for them. For each option, Summary or In-App Events, select the KPIs you want to view from the list.
Tip
The table is also a good way to see how many of your DAU are new and how many are existing users (DAU minus Installs).
High level
A 'bird's eye view' into the app and the success of marketing efforts. It's an annual look back using a monthly time granularity.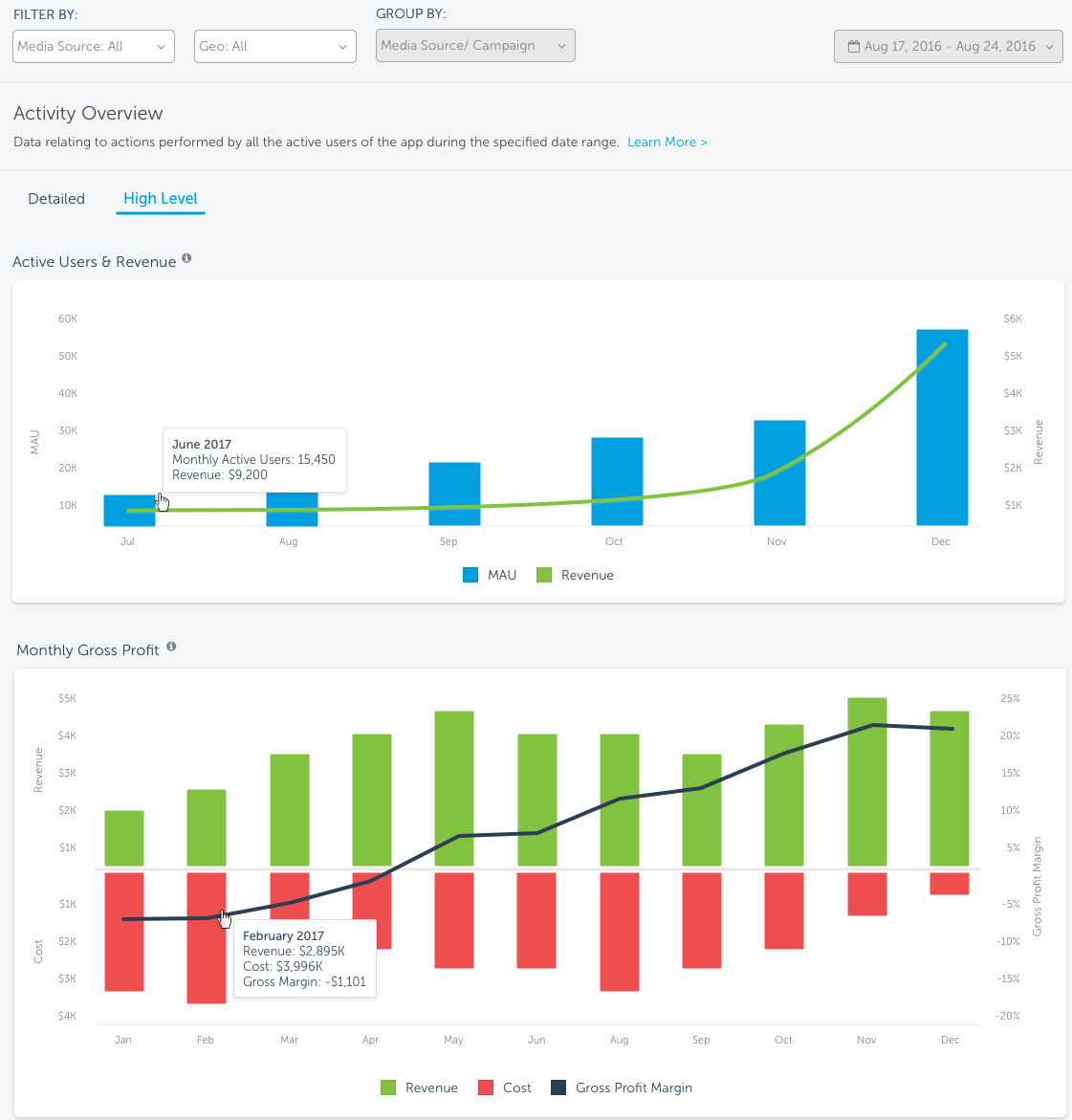 High Level is made up of two separate charts:
Active users and revenue
This graph displays the monthly active users and revenue for each month.

Monthly gross profit
This graph displays revenue vs. cost and the gross profit for each month.