Introduction
AppsFlyer's in-app events provide advertisers with the ability to track any post-install event and attribute it to a media source and campaign.  Networks and Media Sources can use this data ito optimize their advertising capabilities.  This can also enable you to create custom audiences and retargeting lists etc...
An in-app event is comprised of an event name and event parameters.  For details of the full list of available in-app events, click here.
Where possible, it is very important that in-app events are mapped to the media source in the AppsFlyer dashboard.  This should be performed using the AppsFlyer standard values for SDK in-app events.
It is important to know that the names of event tags used by AppsFlyer may differ from the name of those used by the media source.  The names must be matched so that the media source can identify the post-install event and attribute it accordingly.
Performing In-App Event Mapping
Go to the dashboard of your app and click on Integrated Partners on the left bar.

The Integrated Partners Configuration window opens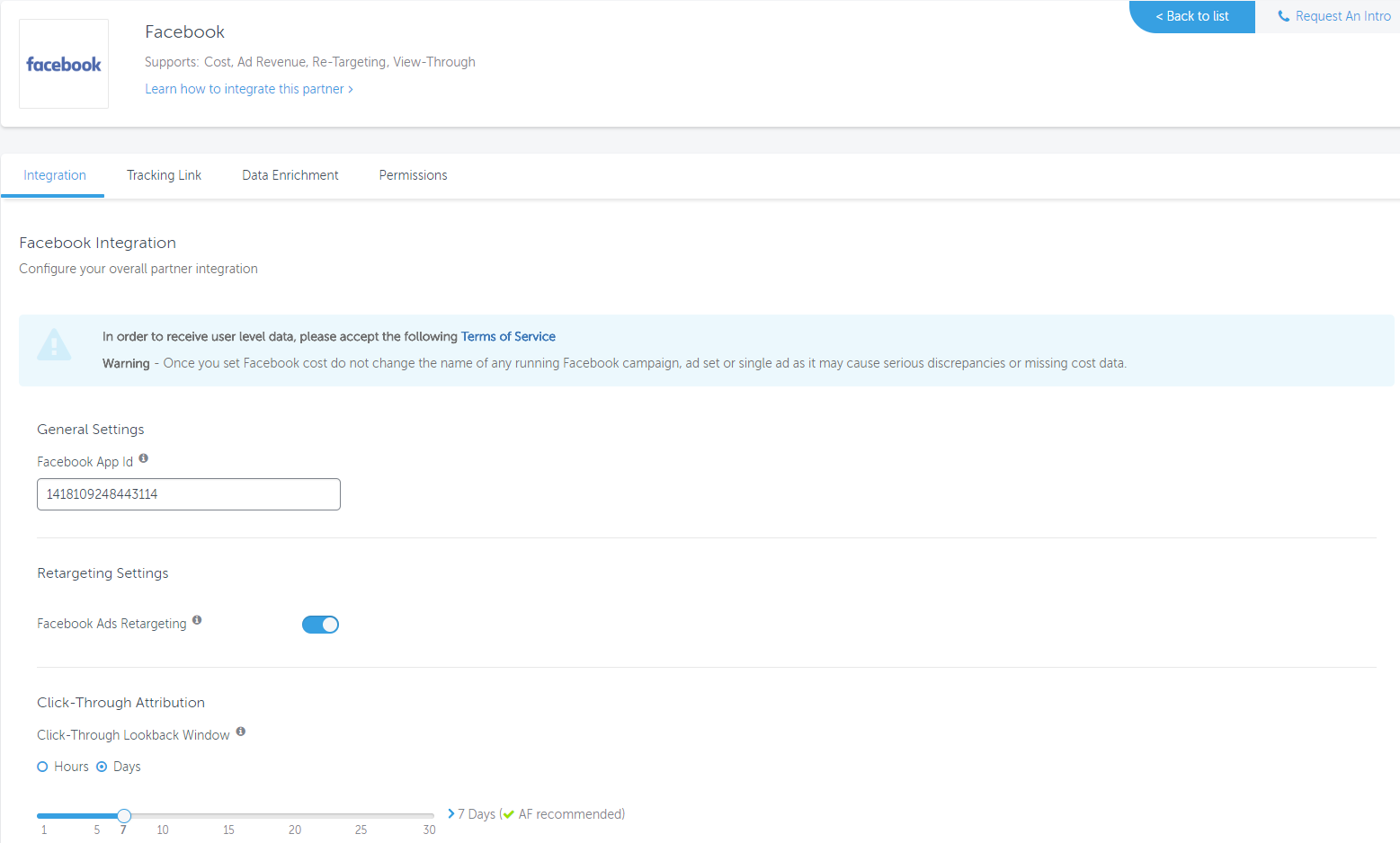 Scroll down to the In-App Events section of the window.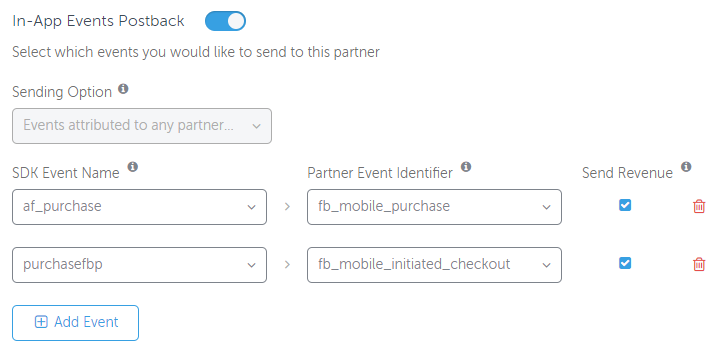 Toggle In-App Event Postbacks to ON
Select the Sending Option for all SDK defined events.
- Only events attributed to this partner for events coming only from users attributed to this partner
- Events attributed to any partner or organic to have your entire user base available to be reported to the partner
Click Add Event to add an SDK Event to the list
Complete the following parameters:
Parameter Name
Description
SDK Event Name
The name of the event, as received by AppsFlyer either from the SDK integrated in your app, or from server to server events.
Tip - If you don't see the event you want in the list, make sure to activate the event on a device with a non-organic installation and recheck.
Partner Event Identifier
The unique name or ID of each event as defined on the partner's side. 
Obtain the corresponding Event ID from the partner and set in the text field.
Send Revenue
When unchecked - AppsFlyer sends all the parameters of the rich in-app event to the partner, except for the revenue parameter, which is contained in the af_revenue parameter.
When checked - AppsFlyer sends all the parameters including the revenue value (if it exists in the event).