At a glance: Enable attribution measurement and postback sending to partners by connecting AppsFlyer to your integrated partners.
Set up an ad network partner (non-SRN)
AppsFlyer integrates with ad network partners by API. This article contains the generic instructions to set and turn on partner integrations and to generate attribution links for ad networks (AKA non-SRNs).
This guide is not applicable to SRNs. Use the SRN explicit article.
Some ad networks have dedicated articles.
Partner types in the ecosystem
The image that follows contains the different partner types that form the attribution ecosystem.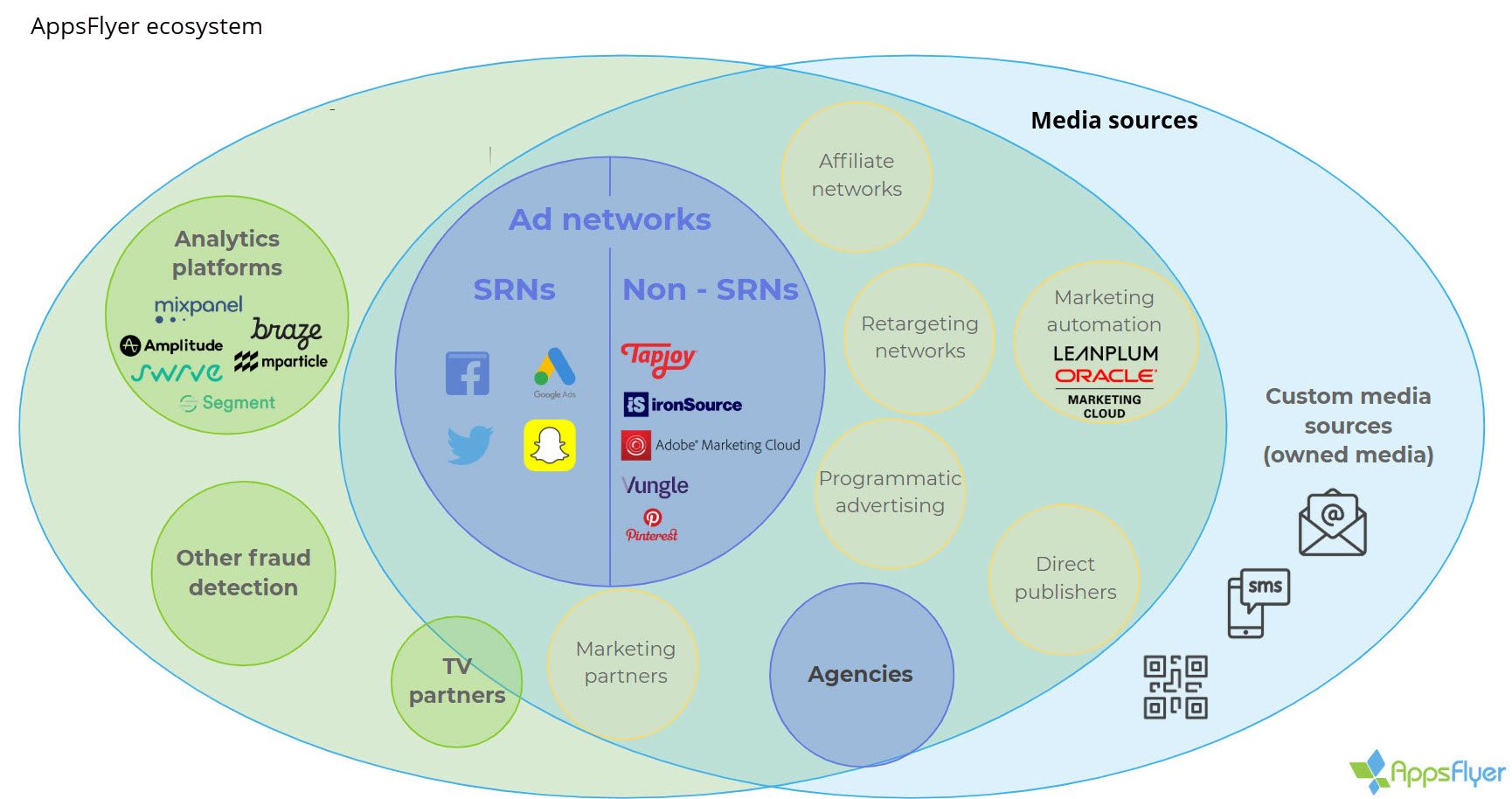 Related reading: AppsFlyer Performance Index ranks mobile media sources by category and region.
| Partner type | Description |
| --- | --- |
| Ad networks | Run campaigns on your behalf. |
| Agencies | Use their expertise to get high-quality users by running campaigns on your behalf. You can have a transparent or non-transparent relationship. |
| Marketing partners | Marketing partners specialize in working with specific ad networks. Examples: Facebook marketing partners, Apple Search Ads marketing partners, Twitter official ads partners. |
| Retargeting networks | Ad networks specializing in running retargeting campaigns |
| Third-party platforms | Provide BI-related services like analytics and marketing automation platforms. |
| TV attribution | Partners enabling more accurate attribution of new installs to aired TV ads. |
| Fraud detection | External third-party anti-fraud systems which are not part of the AppsFlyer Protect360 anti-fraud solution. |
AppsFlyer partner list
The list of AppsFlyer integrated partners is available in the dashboard. Filter the list by partner name or other attributes as described in the section that follows.
To search the integrated partner list:
In AppsFlyer, go to Configuration > Integrated Partners. Filter and view using the controls in the dashboard.
Partner list display

Partner list display options
Option
Description

A. Text search

Enter text to search for a partner
B. Review and deactivate

If you have active partner integrations that have had no conversions in the previous 30 days, a warning displays. Deactivate these partners to prevent data privacy issues.

C. Filters

All integrations - displays all available integrations according to the search text.
Active integration - displays active integrations. Active integrations are enabled for attribution, cost, ad revenue, or had at least one attribution link click in the last 7 days.
Apple Privacy: Advanced privacy and SKAdNewtork filter
Partner capability - display partners according to their capabilities:

All
View-through
Cost
Retargeting
Audiences
Ad revenue

Data richness: display all, high, medium, or low data richness levels.
Partner type: display partners according to their type.

D. Partner capability

Active partners support the following capabilities:

In the case of iOS apps use the Apple Privacy filter to select:

E. Data richness

Data richness

AppsFlyer allows advertisers to collect a variety of data points. Networks differ in terms of the data points they provide. This impacts the ability of advertisers to analyze and optimize their campaign efforts.
To help advertisers choose wisely and for ad networks to grow and improve their product, an algorithm analyses the data types provided by ad networks and calculates a data richness score.
The algorithm considers data coverage, accuracy, and granularity.
The score values available are high, medium, low, and disabled.

The analysis is ongoing. When ad networks extend or reduce their capabilities and quality of provided data, their data richness score changes accordingly.

When the amount of conversions attributed to the network in the last 7 days is too small, the data richness indicator is dimmed.

Score components

Hover over the data richness badge to see the score components:

Campaign data: Like campaign ID, campaign name.
Ad & adset data: Like adset ID, adset name, ad ID, ad name, ad type.
Publisher data:

Like site ID, subsite ID, channel.


Related reading: Data richness score calculation for partners.
Invite new partners to AppsFlyer
If the partner you are working with is not yet integrated with AppsFlyer, you can send them an invitation link. Note that:
Inviting partners can be done only through an Admin account.
This option is not available for zero-plan customers.
To invite a new partner to integrate with AppsFlyer:
In the partner list, click Invite new partner.


Enter the partner's name and relevant email address.
The partner will receive an email with a registration link to start the signup process.
Ad network settings
To open the integrated partner setup page:
[Prerequisite] Contact the ad network and open an account with them.
In AppsFlyer, go to Configuration > Integrated Partners.
Select the Integrated partner.
The integrated partner page, described in the section that follows displays.
The page is arranged in tabs.
Specific configuration details for each tab are detailed in this article.
About the integrated partner page
The page is structured as follows:
Header containing:

Integrated partner name.
Link to request an introduction to the partner.
Link to a dedicated partner article. If no dedicated article exists, this article displays.
Partner capability badges.

Settings tabs: The tabs available depend on the partner type and capabilities.
Footer:

Back to list: Return to the Integrated Partners list using the filtering options selected previously.
Status message: Current status of the tab data (for example, saving, saved, error, there are unsaved changes).
Discard Changes: Undo the last changes without saving.
Save: Save the settings of the current tab only.
Before running campaigns with a newly added partner, test the integration.
Mistakes are most likely to occur during setup. Testing in advance avoids the risk of spending considerable resources, only to discover your attribution data is missing or wrong.
Make sure to first test the app for basic SDK integration for organic and non-organic installs
Partner setup page header

Applicable settings tabs per partner type
Settings tab
Partner type
Integration
Permissions
Remarks
Media source
Y
Y

Additional tabs available: Cost, ad revenue, attribution link

Includes ad networks, affiliate networks, direct publishers, programmatic advertising, China domestic ad networks, and retargeting Networks.
For SRNs the attribution link tab is non-applicable.

Agency
N
Y
Stand-alone agencies that don't function as ad networks
Third-party
Y
N
Analytics or marketing automation platforms
Marketing partner
Y
N
Setting tabs by partner type
Settings tabs
To complete the settings tabs:
Go to the Integration tab. Complete the sections as necessary.
For non-SRN ad networks, you must complete the Attribution link tab.
[Optional] Complete the remaining settings tabs (cost, ad revenue, web-campaign-to-app, and permissions as required.
Test the integration
After integrating with an AppsFlyer partner, verify that the integration works properly according to the type of the partner.
Non-SRN ad network testing
Regular ad networks, which consist of 99.5% of integrated ad networks, use AppsFlyer attribution links. Similarly for owned media attribution, which is performed by using AppsFlyer custom attribution links.
Since correct attribution depends on the parameters on the attribution links, perform tests before you start to run a campaign with a non-SRN ad network or a custom attribution link.
To test attribution links:
Create an attribution link.
Send the new attribution link to your registered test device (via email or QR code).
Click on the link, make sure you are redirected to the app store.
Install the app.
Launch the app.
Check if the install appears in the AppsFlyer dashboard under the partner's media source name.

Allow up to 30 minutes for the install to appear in the dashboard.

Drill down to the campaign level (by selecting the partner in the Media source filter on the top of the overview page) to check the install appears under the correct campaign name.
If necessary, continue to drill down and check the ad set and single ad levels too.
SRN testing
SRNs such as Facebook, Apple Search Ads, and Google Ads don't rely on external attribution links for attribution purposes. Instead, SRNs receive queries from AppsFlyer, attribute themselves, and return the answer. Therefore, it is not feasible to test the integration separately from the network's system as with regular ad networks. You must separately test the integration with each SRN you work with.
To test SRN integration:
Perform the full SRN setup on AppsFlyer in accordance with the specific partner's setup guide: Facebook, Google Ads, Twitter, Apple Search Ads, Snapchat.
Run a new low-budget campaign with the SRN partner.
When the partner dashboard displays new installs check if they appear in the AppsFlyer dashboard under the partner's media source name.
In the Overview dashboard, drill down to the campaign level, by selecting the partner in the Media Source Filter, to check that the install appears under the correct campaign name.

Allow up to 30 minutes for the install to appear in the dashboard.

If necessary, continue to drill down to check the adset and single ad levels.
If all is well you can start running new high-budget campaigns with the partner. It is sufficient to test integration once per SRN partner. Meaning, there's no need to test on a per campaign basis.
Raw data testing
If your subscription plan with AppsFlyer includes access to raw data, you should test raw data.
To test raw data:
After performing the test mentioned previously, go to Reports > Export Data.
Select the tested media source.
Allow up to 15 minutes from the install and then download the Installs report.
Check the install records from the partner exist and include parameters such as the media source, campaign name, touch time and type, device ID (if applicable), agency name (called "Partner" in the report), and so on.
Important!
Some ad networks require special actions to enable the collection of raw user-level data.
If you see a new install on the dashboard but don't see it in the raw data, consult the specific Help Center guide for the ad network, for example - Twitter.