The AppsFlyer Reports are available on their own dedicated page titled "Export Data". 
There are up to 4 groups of reports on the page:
Performance Reports - aggregated life time value data reports with different groupings criteria, which is unlimited in time.
Raw Data Reports - activity reports of installs, events and postbacks for non-organic users, and possibly uninstalls, organic installs and events* in near real time. Allow up to 15 minutes after the occurrence of an event to appear on the raw data. 
Re-Targeting Reports* - performance and raw data reports for all re-engagements and re-attributions.
Blocked Fraud Reports* - raw data reports of blocked installs and events 
Accessing "Export Data" Reports
1. On the left bar click on "Export Data" link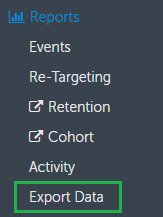 2. Filter the search criteria by selecting the Media sources and/or the date range, for which you want to produce the report. 
3. Select the report you want to get and choose the data reception method:
Download - direct download to your desktop. May take 1-2 minutes to produce depending on the size of the generated report.
By Email - automatically get the report sent to your AppsFlyer user's email
 
Scheduled Reports - for raw data installs and in-app events (More details)


The Reports
All available reports are divided into categories, as follows:
Performance Reports - unlimited time

Partners (Media Sources)
Partners by Date
Daily
Geo
Geo by Date

Raw Data Reports - up to 3 months backwards from present day

Installations (up to 2 months of data in a single query)
In-App Events (up to 1 month of data in a single query)
Uninstalls*
Installations Postbacks (up to 2 months of data in a single query)
In-App Events Postbacks (up to 1 month of data in a single query)
Organic Installations* (up to 2 months of data in a single query)
Organic In-App Events* (up to 1 month of data in a single query)

Re-Targeting Reports* 

Re-Targeting Partners (Media Sources)
Re-Targeting Partners by Date
Re-Targeting Daily
Re-Targeting Geo
Re-Targeting Geo by Date
Re-Targeting Conversions
Re-Targeting In-App Events

Blocked Fraud Reports*

Blocked Installations
Blocked In-App Events
Blocked Clicks
Blocked Installation Postbacks
* Only available for accounts with these features enabled
For details on AppsFlyer's API Policy click here