At a glance: Learn what mobile advertising attribution is and how AppsFlyer helps marketers pinpoint their targeting, optimize their ad spend, and boost ROI. 
What is app attribution?
App attribution determines which campaigns, partners, and channels drive your app installs and post-install events, such as in-app purchases. Marketers rely on these insights to measure and optimize marketing activities for both user acquisition and retargeting campaigns.
What can you do with AppsFlyer?
At a glance: How to log in to your account for the first time and how to switch between your accounts.
First login
When your user is first created, you get an email invitation to activate your account. Once activated, you can log in and the account becomes active. Note that the activation link is valid for 48 hours.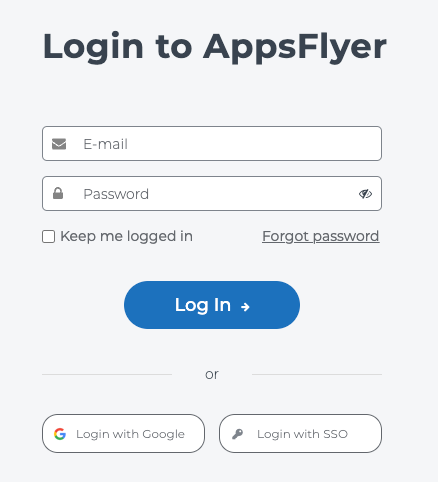 There are a number of ways to log into your AppsFlyer account:
Using credentials: Email and password

Login with Google: Log in using your Google Account
 Note
If your administrator configured a two-factor authentication (2FA) for your account, you'll be asked to verify the login using another authentication method. 
Switch between accounts
If you have more than one account, when logging into one of them you're presented with all your associated accounts. Select the account you'd like to log into. Once you're in one account you can switch to another account.
To switch between accounts:
Log out of your current account: 

From the menu bar, click the

email address dropdown

 > 

Logout.
Log in and select a different account from your list of associated accounts.

Get started
To get started with AppsFlyer, proceed to our step-by-step guide. 
Related reading: Mobile attribution | CTV attribution