Introduction
Advertisers can work with Facebook Marketing Partners (FMPs, e.g., Kenshoo, Bidalgo, Smartly) to optimize campaigns on Facebook. When configured, AppsFlyer sends postbacks to the configured FMPs.
Configuring Facebook Marketing Partners
1. Click Integrated Partners from the left sidebar.



2. Enter the name of the Facebook Marketing Partner you would like to work with in the search box.
 Tip
Enter "Facebook Marketing Partner" in the integrated partners field to receive the list of FMPs.

3. Click the logo of the FMP to open their unique configuration window: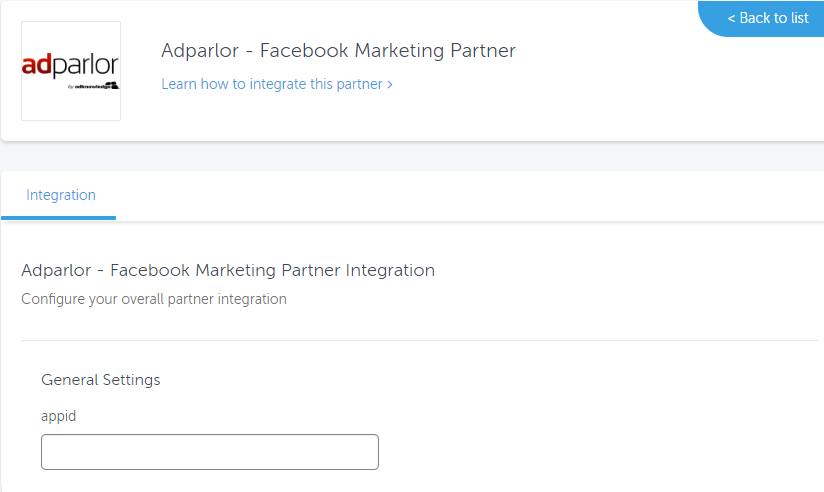 4. Enter the configuration parameters, if relevant. (This may vary according to the FMP selected).
In-App Events
1. In the In-App Events section, configure the events for sending postbacks to the FMP
2. Check the Send Value box to include the revenue value too, if it was sent via the af_revenue field in the in-app event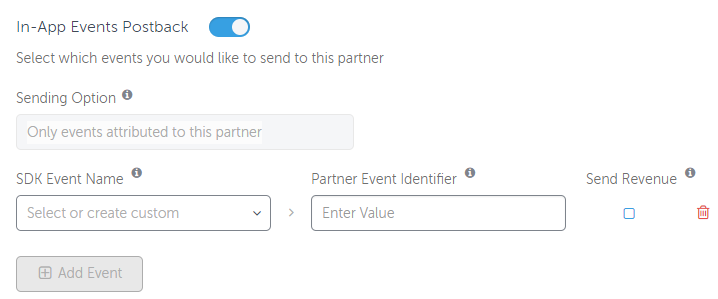 Toggle In-App Event Postbacks to ON
Select the Sending Option for all SDK defined events.
- Only events attributed to this partner for events coming only from users attributed to this partner
- Events attributed to any partner or organic to have your entire user base available to be reported to the partner
Click Add Event to add an SDK Event to the list
Fill in the following parameters:
Parameter Name
Description
SDK Event Name
The name of the event, as received by AppsFlyer either from the SDK integrated in your app, or from server to server events.
Tip - don't see the event you want in the list? Make sure to activate the event on a device with a non-organic installation and recheck.
Partner Event Identifier
The unique name or ID of each event as defined on the partner's side. There are several options here:
Text field - get the corresponding event ID from the partner.
Drop down box - select the most suitable pre-defined event for your event. Some integrations have the CUSTOM value, which enables sending your SDK event as is to the partner.
Send Revenue
When unchecked - AppsFlyer sends all the parameters of the rich in-app event to the partner, except for the revenue parameter, which is contained in the af_revenue parameter.
When checked - AppsFlyer sends all the parameters including the revenue value (if exists in the event).
3. Click Save.
 Important Notes
1. Disabling attribution for Facebook prevents sending postbacks to FMPs
2. The in-app events mapping with the FMP, or lack of, does not affect the sending of in-app events to Facebook directly from the advertiser's account.
3. In-app events mapping may require different setup parameters depending on the FMP.
4. All Facebook and Twitter campaigns must start with the Agency account name (as defined in the AppsFlyer platform) followed by "_". Campaigns, which are not named as mentioned, become visible to the advertiser, but remain invisible to the agency account. The agency name is CASE SENSITIVE.