At a glance: Brand bundles consolidate the attribution, events, visits, and revenue of brand-related apps and websites. Use the brand bundle settings page to mark conversion events, integrate with Google Ads, and more.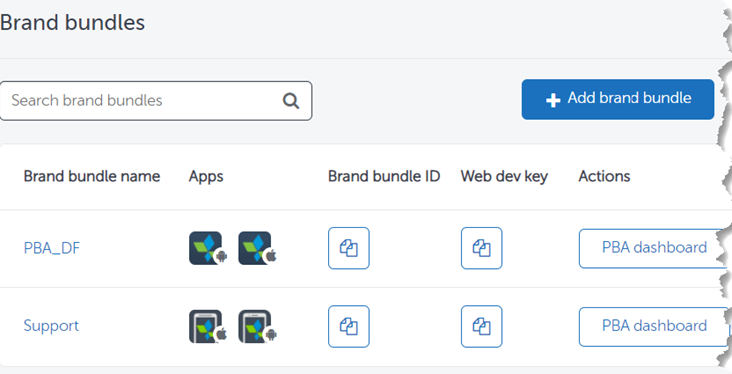 Related reading: Onboarding guide to PBA, PBA getting started
About brand bundles
Brands operate in an ecosystem encompassing both web and mobile properties. As an advertiser, a full picture of brand performance across platforms–web and mobile–is needed. In PBA, brand bundles consolidate the data of mobile and web properties into a single entity for purposes of analytics and raw data.
Brand bundle principles
A brand bundle contains a website domain and optionally consists of 1 or more mobile apps.
An app can belong to a single bundle.
Apps can't be moved from one bundle to a different bundle without deleting the current bundle. On deletion, AppsFlyer stops attributing data, and access to historical data is no longer possible.
Managing brand bundles
Go to Configuration > Brand bundles or Go to My Apps > View brand bandles
In the brand bundles page, select one of the following.

Option
Details
Add a brand bundle
Procedure
PBA dashboard
Opens the brand dashboard.
Brand bundle ID
To copy the brand bundle ID.
Web dev key
To get the web dev key.
Select an existing bundle to update brand bundle settings and options

Options available:

Mark events as conversion events:
FAQ
Answering your questions
Can I include the same app in more than one bundle?
No. Once an app is added to a bundle, it can't be added to another bundle.
Can I add or remove apps after creating a bundle?
No. Once a bundle is created, the apps associated with it cannot change.
Why?

Because each app has its own data and AppsFlyer uses this data to analyze the user journey across platforms (web and app).
If an app changed, this would involve a different set of data that is not compatible with the previous data.
How do I add or remove (delete) apps from the bundle?
To change the app's bundle, create a different bundle that contains the required apps.
What happens if I delete a bundle?
AppsFlyer stops attributing the bundle.
The bundle data is retained (meaning, it's not permanently deleted) but the bundle itself can't be restored (in order to view the data).
A new bundle uses a different web dev key so, even if it includes the same apps, the original bundle is not restored.
I want to create a bundle but can't add some apps.
Team member: It depends on your team-member permissions. Permissions are set by the admin.
Admin: If you can't select apps when creating bundles, add the app to the account.