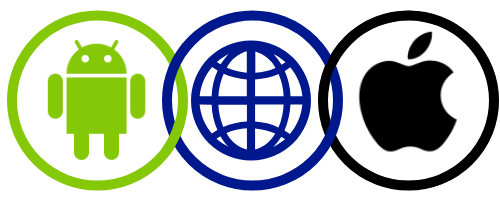 Introduction
Many brands today operate in an ecosystem that encompasses both web and mobile apps. As an advertiser, you want to get a full picture of your brand's performance in both web and mobile platforms.
AppsFlyer allows you to do just that with Brand Bundles. Brand Bundles consolidate the attribution, activity, and revenue data of brand-related apps, web and mobile alike.
You don't have to gather and analyze data about your brand's performance separately for web and mobile apps. Brand Bundles do that for you.
Such data consolidation gives you a wider and more accurate picture of how your brand performs across the ecosystem.
Example
Your company manages a service that allows people to book flights and accommodation. Your service runs under a brand that has both a website and mobile apps.
With Brand Bundles, you eliminate the fragmentation that is often the case in marketing analysis of different platforms.
You can see if your website performs better than your mobile apps or the other way around.
You can highlight user journey and funnel to see if your website leads to app installs.
If an app performs worse than other apps, you can analyze the data to see how your marketing for that app can be improved.
Brand Bundles make it easier for you to analyze your brand performance. They save you the time required for merging datasets and give you one platform where you can get marketing data for your brand.
Creating a bundle
In your dashboard, click on Brand Bundles under Configuration.
Click Add A New Brand Bundle.



In the Brand Bundle Name field, enter the bundle name.


Note

Bundle names must be unique. It's not possible to create more than one bundle with the same name.

Select the iOS and Android versions of your app.
Add a domain name in the Domain field (the website domain where the web SDK is implemented). The domain is used to prevent the website from being considered a media source (self-attribution).


Click Create Bundle.
A confirmation message appears with the web dev key that is associated with the bundle. This web dev key is required when implementing the web SDK.


Important!
Each bundle has its own web dev key.
Once the bundle is created, you should see the following:

Additional actions
The following additional actions are available for brand bundles:
View the bundle's People Based Analysis page
Create Smart Banners
Edit Bundle
Copy Dev Key to the clipboard
In the right-hand side of the bundle, click on the three dots. Choose the action you wish to perform.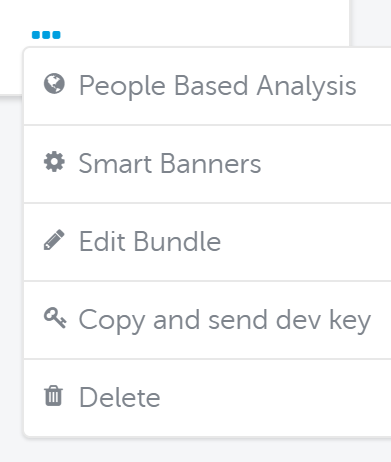 Marking events as conversion events
Note: Only account owners can mark events as conversions events.
Some events that you send to AppsFlyer are conversion events. For example, purchase or subscribe events. You can mark these events as conversion events. When you mark events as conversion events, they are considered when evaluating web conversions. You can see web conversions in the PBA analysis dashboard.
To mark events as conversions:
In the PBA analysis dashboard, click PBA Settings on the right-hand side.

The next screen shows all the events that took place up to yesterday.
If you don't see any events, wait 24 hours or check that the events are sent. For more information, see here.

For each event that you want to mark as conversion, toggle Mark as conversion event.
Click Update Bundle.
Marking events as conversion events is not retroactive. Only events sent after you set them as conversion events are counted as such.
How many apps can I include in a bundle?
You can include one iOS app and one Android app.
There is no limitation on web apps since you can implement the web SDK in as many web apps as you need.
Can I include the same app in more than one bundle?
No. Once an app is added to a bundle, it's not possible to add it in a different bundle.
Can I change apps after creating a bundle?
No. Once you create a bundle, you cannot change the apps associated with it. This because each app has its own data and we use this data to analyze user journey across platforms (web and app). If you change the app, you introduce a different set of data into the process and this data is not compatible with previous data.
If you want to change apps, you need to create a different bundle that contains the desired apps.
Can team members access brand bundles page?
No. Only account owners can access the brand bundles page. Team members, even if being granted admin permissions, can't access the page.
What happens if I delete a bundle?
If you delete a bundle, AppsFlyer stops attribution for that bundle. The data is retained but you cannot restore the bundle to view the data.
Creating a new bundle with the same apps that the deleted bundle had, is not the same as restoring the bundle. If you create a bundle using the same apps, a new bundle is created and this bundle has a new web dev key.
Likewise, data that is associated with the deleted bundle is not shown in the table of the new bundle.
I'm trying to create a bundle but I cannot add certain apps
The ability to add apps to bundles depends on your account permissions.
The account owner
determines your level of permissions
when he or she adds you as a team member.
If the account owner doesn't grant you permissions to view and edit certain apps, you cannot select them when creating or editing bundles.
If you are the account owner and still cannot select the apps when creating bundles, make sure to add the app to the account.
Some bundles are missing
If a member of your team creates a bundle with an app to which you have no permissions, you cannot view or edit this bundle.