Introduction
AppsFlyer's Audiences tool is designed to enable advertisers to easily segment and create groups of mobile users, organic and non-organic, directly from within the AppsFlyer platform. Audiences can be shared with integrated partners (or uploaded to a 3rd party such as Amazon S3 or Slack), primarily for the purpose of running personalized retargeting campaigns and to power 'lookalike' targeting campaigns and exclusion lists.
AppsFlyer's Audiences tool allows you to build complex user segments across multiple time ranges, event values and dimensions, while getting accurate size estimations almost instantly.
Every day, your configured Audiences are updated with the latest user data, and uploaded to your selected partners. This allows you to create an Audience only once, while having its data is constantly updated to fit the filters previously chosen.
Audiences can be found under Integration in the AppsFlyer dashboard left-hand toolbar:
Creating Audiences
To create an audience, follow these steps:
1. Click Add Audience from the Audiences window.
The Audience Builder is displayed where you can configure and connect the Audience:
2. Set a unique Audience Name  
3. Select whether this audience is an Android or iOS based audience
4. Create a new ruleset (see Creating Rulesets below) or select a pre-defined one
5. If additional criteria are required, step 4 can be repeated multiple times. 
6. You can have multiple rulesets, new or previously defined, to define your audiences. The rulesets can be connected with Or, AND or EXCLUDE logical connections.
7. The Audience Builder provides an accurate estimate of the audience size in real-time.
8. When completed, click Save Audience and Proceed.
Creating Rulesets
To create new rulesets follow these instructions:
1. Select an app for the new ruleset's user base.
The drop down box contains either the Android or iOS apps in your AppsFlyer account, depending on your selection. 
2. Set the first filter (mandatory) according to users, that engaged with your ad, or installed or launched the app. Each filtering rule applies to users from either the last day, 2, 7, 14, 30, 60, 90 or 120 days.
3. Click 
 to add a secondary filter (optional).
Secondary filters have a lot more options for filtering the users base, besides installs, App Launches or views and Clicks. You can filter according to performed or unperformed In-app events, Uninstalls, total revenue generated, countries, metro codes, app version, OS version, Device Brand, Device Model or Carrier.
4. If a filtered event contains attributes, click Add Event Attribute
 Notes
Did Event and Did Not Do Event allows you to select an in-app event and criteria of "at least", "exactly" or "at most" number of in the last 1,2,7,14,30,60, 90 or 120 days (eg. did af_purchase at least 3 times in the last 7 days)
Event Attributes allows you to select in-app event values conditions Is, greater than or lower than.
Total revenue is the sum of all purchases per device, which are reported to AppsFlyer under af_revenue (revenue generating events).
T​otal revenue ​is calculated based on the Audience's selected date range (1-120 days back).
Country criteria options are Is or Is Not from a list of predefined countries
Metros are regions larger than cities that may cross state lines.
App version and OS version options are Is or Is Not from a list of values from the app data 
5. You can add multiple attributes filters for the same event
 Example
Using your own event attributes can create amazing laser sharp audiences for your campaigns. This ruleset above defines an audience of users that have made at least 1 purchase of 1 item, that cost over $10, in the last 120 days.
Overlapped Audiences
Users are likely to belong to more than a single audience ruleset. When you define more than one ruleset the Overlap widget appears, which shows the different audience groups created by your rulesets, and how they relate among themselves.
 Tip
Use the Overlap widget to engage your clients with the most suitable marketing message. Choose the best ads to show to users, who belong to more than one audience ruleset.
Connecting and Uploading Audiences To Partners
To automatically upload audiences to integrated partners, you must first establish a connection with the partner once. The connection remains every day when the audience's devices list updates. 
1. Click the Connect Tab on the top of the Audience builder:
2. Click the partner that you want to connect with: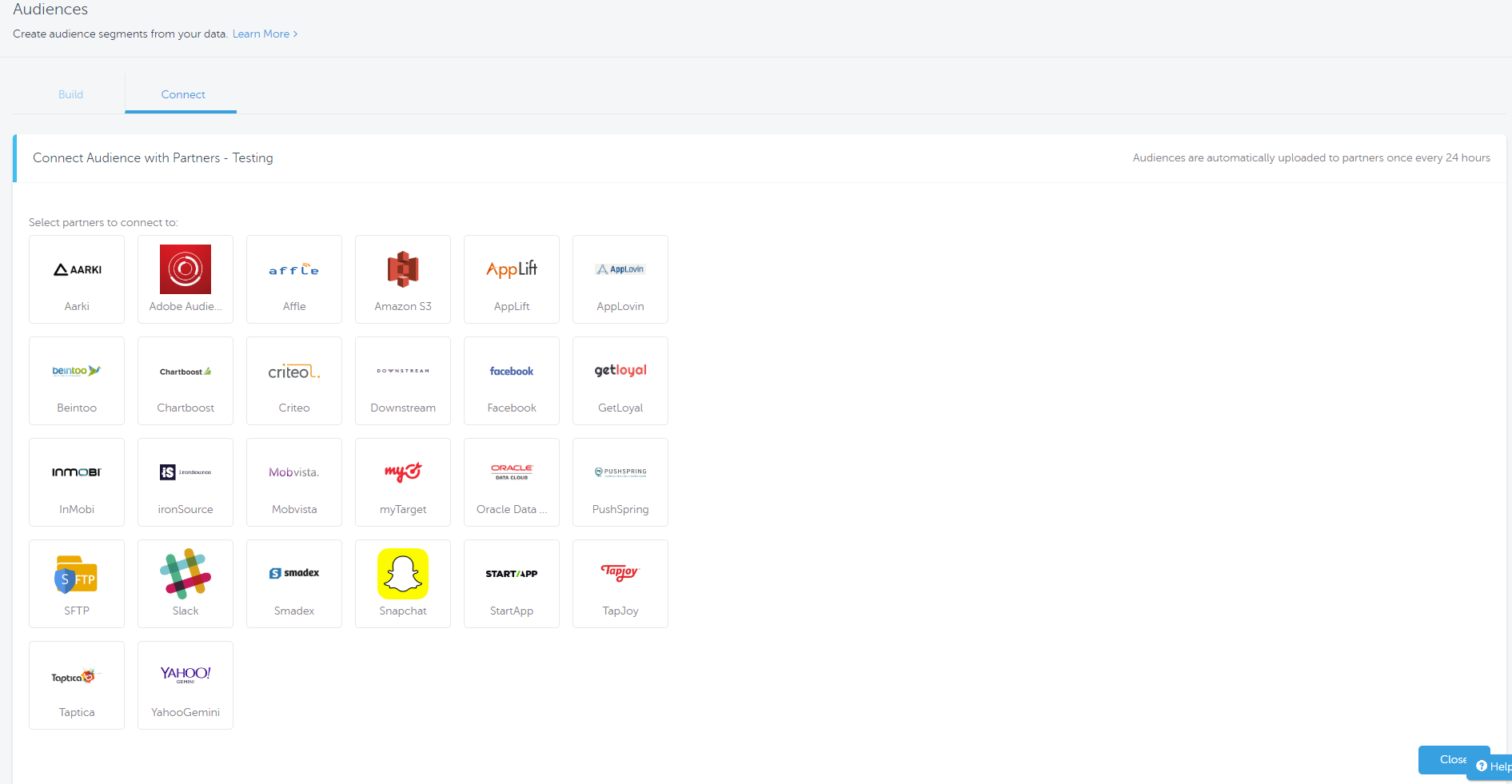 For details of how to configure these partners, click here.
3. Follow the specific instructions (Log in / Enter credentials) for each of the partners in the promoted configuration screen.
4. Once the connection with a partner is established, select all the audiences you want to connect with the partner and click Save Connections:
4. Click Close to exit the Audience builder.
Once saved, AppsFlyer uploads your Audiences to their designated partner once a day.
For details on the Audiences integration with the various networks click here
 Tip
By closing the window of the connected networks without choosing any of them, you can create audiences that are only available to download via CSV.
These audiences update their device lists daily without sending them to any network.


Audiences Panel
After creating your first Audience and connecting it to a partner, go to the Audiences' window to view and manage all of your Audiences:
From this screen, you are able to perform multiple actions on your Audiences, as well as view additional information about them:
1. Search for existing audiences:
2. Add new audiences:
3. Perform Bulk actions on multiple audiences after selecting them:
4. Under the Actions column, you can perform multiple actions on your Audience, such as View History, Upload to a partner, Download as CSV, Duplicate and Delete:
5. The Audience Panel also allows you to view information such as:
Current Audience Size
Partner upload status
Last Upload Time
Audience Examples
Set out below are several examples for user segments we can find, estimate and target in just a few seconds, using the Audience builder.
1. Users who installed the app in the last week, and spent 1$ in it:
2. Users from New York who uninstalled the app in the last month:
3. Users who installed the app in the last week and logged in with Facebook onboarding: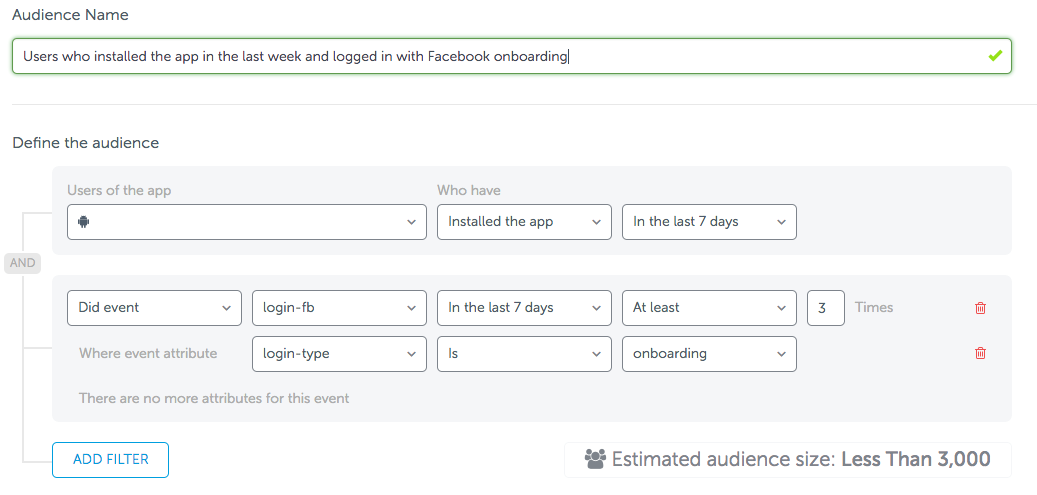 Using Clicks and Views for Effective Remarketing with Audiences
Remarketing is an advanced method of advertising to audiences who have already watched or even clicked ads for your apps, but have not converted yet. Sometimes users from these audiences need more convincing or just reminders to convert. Since these users have a high chance of converting, as a marketer, every dollar you spend on remarketing to them could have significantly better results than advertising to new audiences.
You can create Laser targeted audiences for remarketing based on clicks and impressions data collected by AppsFlyer.  
Remarketing Example
Consider building an audience of users that clicked on an ad, but didn't install in the last 2 days.
These are users that were very recently interested enough in your mobile app to click on your ad, but for some reason didn't install (or downloaded the app without launching it). Some of these users just need a gentle reminder of your app to install it. Others may need to see more screens or features of your app to finally convert. Therefore, if you have a primary creative you use on new audiences, it is advisable to use a different creative for audiences that clicked, but haven't installed yet.
Important Information
The Audience user base updates on a daily basis and so only contains devices data from the previous day and backwards.
Once the update process is completed, audiences are automatically uploaded to the connected partners.
With some partners AppsFlyer uploads only the new generated devices and deletes the expired devices on the partner's side automatically. With the rest of the partners AppsFlyer uploads the full list. Either way, once AppsFlyer generates an audience, the relevant partners are fully updated.
The event values and attributes are extracted from your existing AppsFlyer data, so you can choose custom events as well as native AppsFlyer events.
Known Limitations
At least one positive condition is required to create the base audience, which can be reduced by further negative conditions (eg. 'installed the app' AND 'did not do af_purchase event').
Windows Phone is not supported.
Audiences cannot have their names changed on the connected partners' side.
Nested event values are not supported.
When creating audience, at times, not all the events appear.  Only the top 100 appear, however, when you begin entering the event name, all the events are then shown.
The clicks and impressions data only contains devices which have advertising_id / idfa on their original click URL. Therefore devices of users from SRNs, which don't use external tracking links, are not taken into the clicks data for audiences.
When using the Total Revenue filter within the query builder, the Estimated Audience Size is not available. This does not effect the Audience creation and the Audience list.