At a glance: Increase the efficiency of your remarketing programs using AppsFlyer Audiences to build and connect audience segments to your partner networks.

Related articles: Audiences partners | User Attributes | Import audience | Incrementality guide
Audiences basics
An audience is a segment of current or past users of your app that meet the specific criteria that you define. You define these criteria using one or more sets of rules (called, appropriately enough, rulesets).
Once you have defined an audience and connected it to a partner, AppsFlyer Audiences creates the audience on the partner's system and sends identifiers for the members of that audience to the partner. This enables them to serve your ads only to these users.
All the information needed to upload audience data to an advertising partner is specified in a partner connection. You can have multiple connections for a single advertising partner (using different accounts, login information, etc.)
Note
In order to enable compliance with the privacy requirements of iOS 14.5 and other user privacy considerations, Audiences allows you full control to determine which identifiers are shared with partners, both at the account level and for each partner connection.
Audience split and incrementality testing
You can upload each of your audiences to one or more advertising partners, with the following options:
Upload the full audience to each partner.

Split the audience randomly among partners, according to the percentages you choose.

Create a control group by specifying a percentage of the audience to be held back from partners, for A/B testing purposes or measurement of incremental lift generated by your remarketing campaigns.
Getting started
Follow these steps to get started with Audiences:
Add and manage audiences
All about rulesets
Audience segmentation rulesets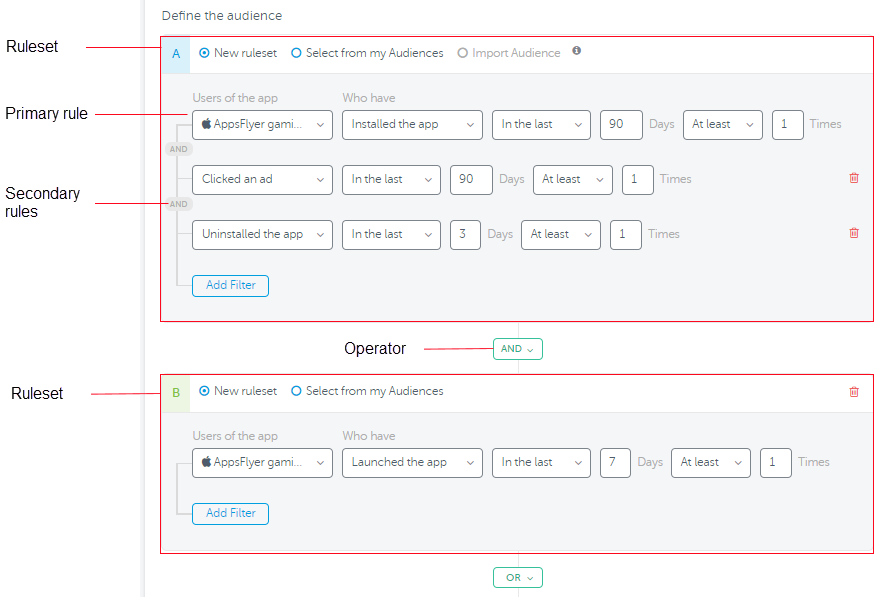 An audience segment ruleset consists of a mandatory primary rule and additional secondary rules to enable precision filtering.
Combine rulesets using operators: and, or, exclude.
As rules are defined and layered, the estimated audience size displays in real-time.
Where an audience consists of multiple rulesets, use the overlap visualization display to better understand your audience segments.
The user identifier used to evaluate rules is either the device ID [default] or the customer user ID (CUID).
The examples that follow illustrate ruleset implementation in various scenarios.
Primary rule
You must define one primary rule per ruleset.
Rule attribute
Options

App

Users of the App

App is any app housed in the account. The team member defining the audience needs permission for all apps referenced.

Engagement type

Who have:

Launched the app
Viewed an ad
Clicked an ad
Installed the app
Launched the app

Time frame

In the last [n] days (n=1-9999)
Between [specified data range]
At any time

Frequency

Used the app:

At least [n] times
Exactly [n] times
At most [n] times

[n]=1-100
Secondary rules
Secondary rules are optional
You can have multiple secondary rules
Each rule has a unique type, for example, engagement, in-app event, revenue
Rules have different parameters and settings, as listed in the table
Engagement

Engagement type:

Viewed an ad
Clicked an ad
Installed the app
Did not install the app
Launched the app
Did not launch the app
Uninstalled the app

Time frame and Frequency

In-app event

Did event [event name]
Did not do event: [event name]

Time frame and Frequency

Event attribute:

Is
Greater than
Less than

Notes relating to in-app events

The in-app event list updates daily.
In-app events, having attributes of more than 100 unique values aren't available by default. For example, the in-app event product can have many more than 100 unique values. To enable such an in-app event, reach out to your CSM or send an email to hello@AppsFlyer.com
If Did event is selected, and the in-app event has attributes associated with it, you can filter by in-app-event attribute value.

Revenue

Total revenue generated

Is
Greater than
Less than

Notes about revenue:

The value is in USD.
The value is the total value of all events reported from a device using the af_revenue parameter.

Location and metro code

Location options

Metro code options

Notes relating to location:

If you select multiple countries, you can't select states.
If you select multiple states, you can select cities.

Device

Device brand

Device model

App version

OS version

Carrier

Selected value

Attribution

User attribute name

String type
Number type

Is
Greater than
Lower than


For string: Select a value

For number: Enter a value
Combine rulesets
To combine a ruleset with an existing audience:
Go to Integration > Audiences.

Click Add Audience.
The Build tab displays.

Enter a unique Audience name.

Select the platform: Android or iOS.

[Optional] Select Advanced settings to select the user identifier:

[Default] Device ID: evaluates rules by device ID only.
Customer user ID: evaluates rules by grouping devices using the CUID. Use this method after you verify that your data has valid CUIDs.

Click Select from my audiences.
Select an operator: and, or, exclude.
Managing connections
The Connections tab displays all your partner connections and the status of each.
Add a connection
To add a connection:
Go to Integration > Audiences > Connections.
Click Add partner connection.
Enter a Connection name.
Select a Partner.
Complete the required fields/login information for the partner. Some partners have detailed instructions about how to connect.
Select the user identifiers that you authorize for sharing with this partner.

Supported identifiers vary by partner. Only those identifiers supported by the selected partner will appear in the list.
Only identifiers that comply with your account-level user identifier policy will be uploaded. You will see a caution message if you select an identifier that is disallowed by your account policy.


Click Save.
Manage connections
To manage an existing connection:
Select a partner.
Select a connection.

Take any of the following actions:
Option
Procedure
Change the connection name

To change the connection name, edit it directly in the Connection name field.

Reconnect

To reconnect:

If the connection status is not active, click reconnect.
Update the connection credentials or login to the partner to reauthenticate according to the instruction in the user interface.

Modify user identifiers

To modify user identifiers, select/deselect the user identifiers that you authorize for sharing with this partner. Only identifiers that comply with your account-level user identifier policy will be uploaded.

Delete connection

To delete a connection:

If there are any audiences connected, remove them as follows:

Select the audience.
The audience connects tab opens in a new tab.
Remove the connection.
Close the tab.

Repeat this procedure until no audiences are connected to the connection.
Click Delete connection.
Dashboard, Traits, and Limitations
Audiences dashboard

Column
Description
Audience name

Audience name

Size
Number of users in the audience
Upload size

Estimated audience size available for upload after application of your account-level user identifier policy and selected identifiers for the linked partner connections.

App name
The app referenced in audience selection. This is not necessarily the app being targeted.
Upload to

Icons of partners to whom the audience is sent
indicates that the audience is split between partners

Upload status

The current audience upload status
In case of failure, click View details and take corrective action in accordance with the detailed error message that displays

Incrementality

[Displays if you subscribe to Incrementality]
Click on a link to go to the Incrementality dashboard

Audience tab columns
Traits
Audiences traits
Trait
Supported
Remarks
Ad networks
x
Agencies
x
Agency transparency
x
App-specific time zone
N/A
App-specific currency
N/A
Size limitations
N/A
Organic data
✓
Included
Non-organic data
✓
Included
Data freshness
Daily UTC

Updates are pushed to partners on a daily basis
The in-app event lists in the rule-builder update Daily.

Historical data
✓
See data freshness
Team member access
✓

Some functions, like CSV download, setting S3, SFTP, and Slack partner connections require team member access to raw data.
As a security measure, if the account of the team member who created an audience has been deleted, AppsFlyer stops uploading that audience's data to the advertising partner(s). To check the upload status of your audiences, go to Integration > Audiences. To reactivate the audience, duplicate it and configure the split audience settings.
Limitations
A positive condition is required to create a base audience (primary rule). Then reduce it by negative conditions. For example, installed the app AND did not do af_purchase event.
Windows Phone not supported.
Audience names cannot be changed on the connected partners' side.
Nested event values aren't supported.
When creating an audience, only the top 100 events display. However, when you begin entering an event name, all events display.
In-app events having more than 100 attributes by default aren't recorded. Contact your CSM if more attributes are required.
Clicks and impressions data only contains devices that have an advertising_id/idfa on their original click URL. The devices of users from SRNs, which don't use external attribution links, are not included in the click data for audiences.
When using the Total Revenue filter within the query builder, the estimated audience size is not available. This doesn't affect the audience creation process.
Download file size limited to 5 million records.
Google Ads: UAC campaigns aren't supported. Other campaign types are supported.
Event reports by S2S must have a user identifier of CUID according to the ruleset.