At a glance: Set up a partner account to provide attribution data to advertisers via AppsFlyer.
AppsFlyer, a leader in the field of mobile attribution, welcomes you as our integrated partner. This article is for ad networks that have initiated the integration process with AppsFlyer. If you're interested in integrating with AppsFlyer, contact our partner development group.
AppsFlyer attribution model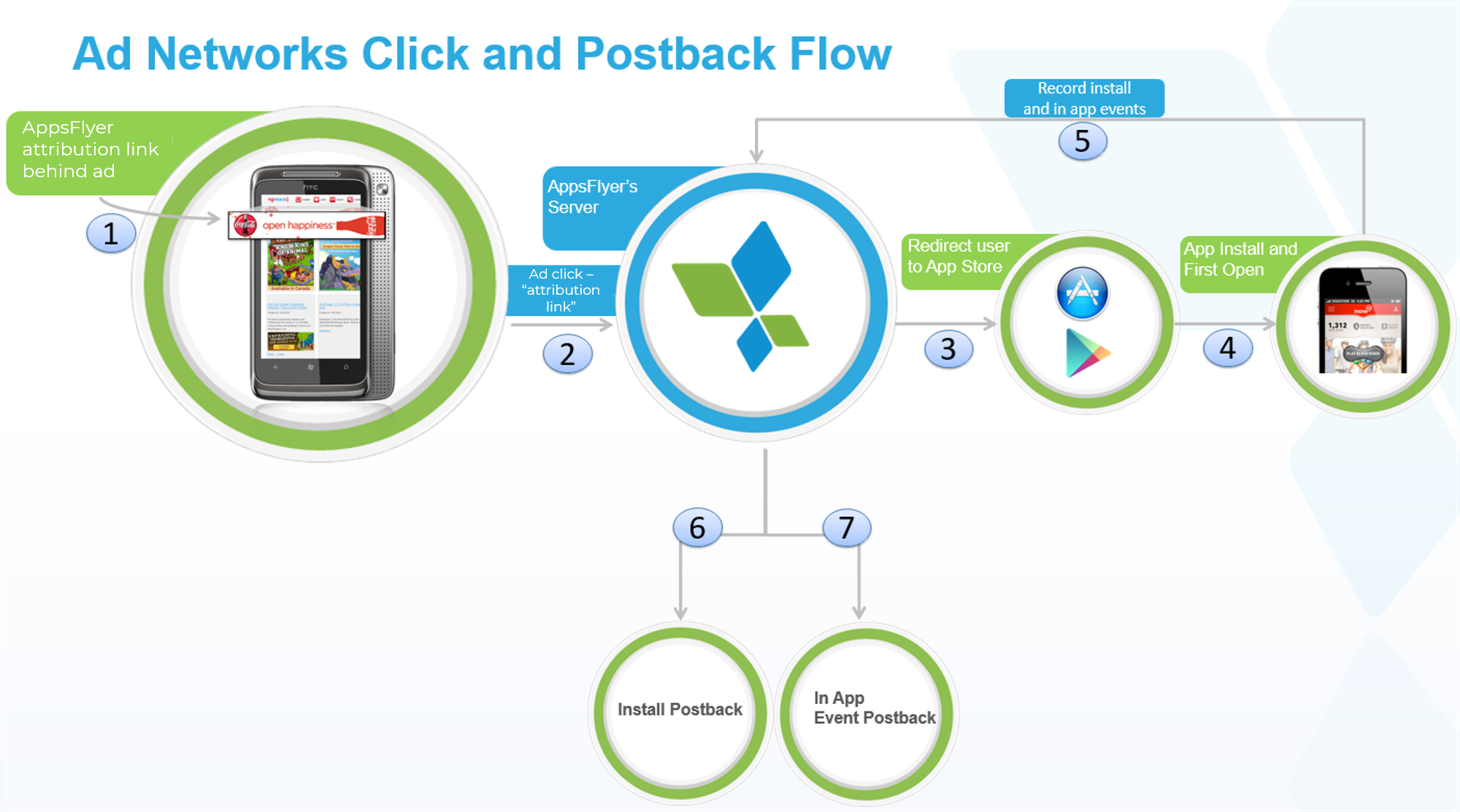 What happens on the journey from a first click or impression to the attribution of an install or an event—and beyond.
A user clicks on a banner or an offer link.
The banner or link redirects the user to an AppsFlyer attribution link. The AppsFlyer attribution link is then populated with information that is collected during the click.
We gather the information from the attribution link and store it in our database.
An install occurs and the app is opened for the first time. The AppsFlyer SDK inside the app calls our servers with the information about the device that the app is installed on.
We match this data to our click database using our Attribution methods:

Referrer matching
This attribution method is unique to Android devices. When a user clicks on a link and gets redirected to Google Play, Google Play gives it a unique Referrer ID. When the install takes place, we collect this ID from the device. Then we match it with Google Play records.
Device ID matching
We match the Device ID (IDFA for the iOS or GAID for the Android device) collected upon the click to the ID of the device that performs the install.

More about attribution methods.

We look for the referrer, device ID, and probabilistic modeling data points (in that order) in our click database. If we find a match, we attribute the install to the click. If not, we attribute the install to an organic download.

Once the install is attributed, we send a postback with the conversion details to the ad network.
As it follows from this flow, we use attribution links to get information from you, and postbacks to send the information back to you.
Getting started
Attribution links are URLs that have macros that are populated by you and sent to AppsFlyer for each click. Postbacks are URLs with macros that AppsFlyer populates and sends to your servers in real-time upon each successful conversion.
The templates for an attribution Link and a Postback are prerequisites for creating a partner account, and therefore should be provided to us in advance. Once we have them, we can proceed with the setup of your account. This section explains how to configure the attribution link and postback templates.
What's next?
Now that you've done that, what's next?