What is an Agency Account?
AppsFlyer Agency accounts are used by agency teams to track and measure their app marketing campaigns on behalf of advertiser clients.
Key pre-install and post-install metrics are available to ensure that agencies are able to deliver optimal performance across their client portfolio.
The Agency account dashboard allows similar viewing capabilities to the Advertiser's dashboard and includes default access to:
Life Time Value Overview Dashboard

In-App Events Dashboard

Retargeting Dashboard
Available common KPIs include: impressions, clicks, installs, user loyality, cost, ROI etc. More details on the various reporting dashboards can be found here.
By default, Agency IP is protected and Advertisers view agency activity as one complete media source. Agencies can choose to be transparent and thereby enable their clients to see a full breakdown of the source activity of the Agency.
Agencies are not able to view any data that advertisers receive from other sources, including organic data. However, organic data access can be made available to agencies by the app owners upon explicit request.
Agency vs. Advertiser Account
Advertiser accounts are geared towards serving the app and data-owner. Advertisers typically add their owned-properties to their account and determine the data-access levels required.
Agency accounts are purpose-built to enable agency teams to efficiently track and measure their clients' app marketing campaigns across their client portfolio.
Account structures permit knowledge-sharing between global agency teams and enable group-level ROI measurement, calculations, reporting and optimization.
Agency vs. Ad Network Account
There are thousands of ad networks that are integrated with AppsFlyer. Most ad networks, very much like agencies, generate and drive installs for their app owner advertising clients.
So, should you open an agency account or an ad network account?
The fundamental difference between the two accounts is that an ad network account enables you to receive installs and in-app event information via postbacks, when originated by you. If you need real time postbacks and have the technical capabilities for this, perhaps you should register as an ad network rather than as an agency. Refer to the ad network integration guide for more information.
Creating an Agency Account
Setting-up an AppsFlyer Agency account is performed by following a few simple steps:
1.  Complete the registration form here.
 Important
Must be registered using your company email domain

Must use an email address not already associated with an existing AppsFlyer account
2.  You are contacted by a member of AppsFlyer's Agency team to provide any necessary information.
3.  Once your account is activated, you can add new team members.
Adding Team Members
The agency's account owner is able to define new team members of the agency, that can get access to some or all of the apps accessible by the agency. For details of how to add new team members, click here.
How to Start Working with Advertisers
Once your AppsFlyer Agency account is created, you will want to receive access to your clients' apps to prepare for campaigns.
Once permissions have been granted, you can start the setup to run and measure your campaigns.
Getting Advertiser Permission
Any agency individual and/or team requires permission from the app owner to gain access to the app's dashboard and to enable any configuration changes. 
Advertisers can provide access to any agency directly through the platform. The advertiser can search for the agency team within the Integrated Partner list and provide the required permissions.
For more details regarding Agency permissions click here. 
All agencies enabled to work with an app appear in the Approved Agencies dashboard page:

Note that granting agency access permission may include access to raw data reports (related to the agency's campaigns only), as well as to aggregated data.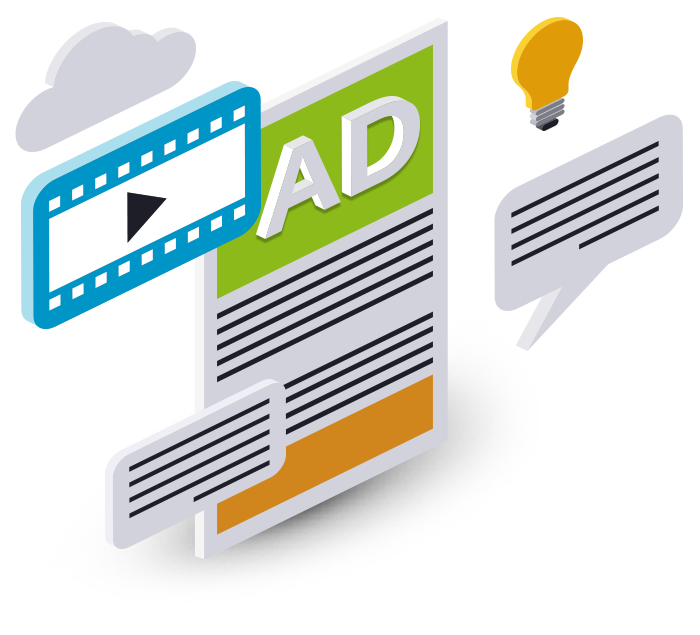 Campaign Setup
Now that the agency account is set up, and you have permissions over your clients' apps, you can start running campaigns for them.
There are 3 main categories for mobile traffic that agencies can track with AppsFlyer:
1. Ad Networks Using AppsFlyer Tracking Links
The vast majority of ad networks, which are integrated partners of AppsFlyer's, use AppsFlyer's tracking links for attribution purposes. With these partners the tracking links are already there and advertisers can simply copy them directly from AppsFlyer's dashboard for use.
For agencies the process is almost identical to that of the advertisers. Upon going to the setup window of any regular ad networks the tracking link is already there. 
The only difference is the automatic addition of the af_prt parameter to the tracking link.
 Note
The Agency name that is passed in the af_prt parameter is always converted to lowercase. 
The value of af_prt is the agency name.
Having af_prt with your agency name on a tracking link that results in new installs enables attributing new installs to your agency account. Without af_prt a new install can't be attributed to any agency account, and therefore it gets attributed directly to the ad network.

All-Installs and All-Launches Networks
Some non-SRNs require (or allow) advertisers to send them postbacks for devices that aren't attributed to them. 
All-Installs Network

The network accepts a postback for every new app install, from any source 

All-Launches Network

The network accepts a postback for every new app launch, from any source
Some examples for All-Installs networks are Vungle, Wechat, Startapp, Unity ads and more.
The following table shows the full list of the All-Launches networks:
| Network Name | Network PID (on AF tracking links) |
| --- | --- |
| Tapjoy | tapjoy_int |
| Adcolony | adcolony_int |
| Chartboosts | chartboosts2s_int |
| Supersonicads (legacy network of ironSource) | supersonicads_int |
| Adelphic Remarketing | adelphicremarketing_int |
| Grow Mobile | growmobile_int |
| ONE by AOL  | advertising.com_int |
| Lemmonet Mobile | lemmonetmobile_int |
| Clickky | clickky_int |
| Remerge | remerge_int |
| MyThings | mythings_int |
How to setup agency tracking with All Installs/Launches Networks?
Working with these networks entails sending information from installs that are not brought by the agency. Therefore, these networks require the advertiser to configure them BEFORE the agency. 
Let's use Tapjoy agency tracking setup as an example:
1. Advertiser goes to Tapjoy setup window on the advertiser's dashboard
2. Advertiser enter the Tapjoy App ID, given to the advertiser by Tapjoy, in the app_id text field

3. Under the Integration tab, the Advertiser goes to Default Postbacks and selects "Launches attributed to any partner or organic" 

4. Agency goes to Tapjoy setup window on the agency's dashboard
5. Agency enters the Tapjoy App ID, given to the agency by Tapjoy, in the app_id text field
2. Owned Media
If your agency has any owned media, such as an Email or Phone users data base, web site banners etc. you can drive and track all originated installs from it. To track installs from owned media you need to create a custom tracking link, which automatically contains af_prt with your agency's name for correctly attributing to your agency.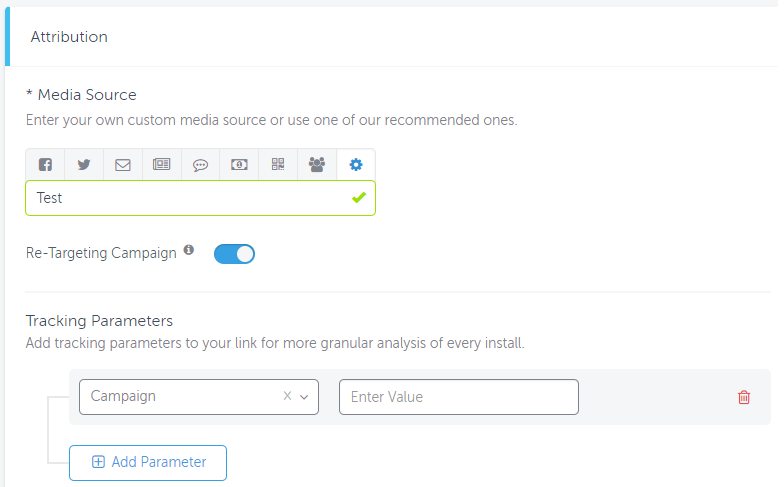 3. Self-Reporting Ad Networks
Self-reporting networks, such as Facebook, Google Ads or Twitter do not use tracking links of external companies. Instead, each network has its own methods and APIs AppsFlyer uses to communicate new installs, in-app events etc.
Below you can find the instructions for agencies to run campaigns with each of the self-reporting ad networks.
Facebook and Twitter
As an official measurement partner of Facebook, AppsFlyer enables Agencies to accurately track and measure any Facebook spend on behalf of advertiser clients, directly from their Agency Account.
For Facebook campaigns, it is necessary for the advertiser to initially set up Facebook tracking, even if only the agency runs its Facebook traffic.
All Facebook and Twitter campaigns must start with the Agency account name (as defined in the AppsFlyer platform) followed by "_".
Campaigns, which are not named as mentioned, become visible to the advertiser, but remain invisible to the agency account. The agency name is CASE SENSITIVE. 
 Twitter Notes
To establish the connection between AppsFlyer and Twitter, the advertiser MUST select an active account in Twitter's partner page in AppsFlyer's dashboard, so at least one Twitter account is checked. Afterwards, the agency needs to connect its Twitter account directly from its own agency dashboard.
Agencies cannot modify lookback windows and retargeting toggle and need to ask the advertiser to perform these changes if they're needed. Besides, agencies cannot modify any in-app event postbacks sent to Twitter, and only the advertiser is able to map in-app events with Twitter, even if only the agency is running Twitter for the app.
Check the image below for all the settings that need to be configured by the advertiser for the agency to be able to manage its Twitter campaigns: 
To map the in-app events, the advertiser needs to select the Events attributed to any partner or organic option.

 Example
agencyx runs a Facebook campaign called agencyx_brilliantcampaign, which is visible to it.
agencyz runs a Twitter campaign called AgencyZ_whathaveidonewrong, but doesn't see any results, as the agency name part of the campaign is different to the defined agency name (capital A and Z).
Contact agency@appsflyer.com if you have any questions regarding this.
Google Ads
For details of agency configuration for Google Ads campaigns, click here.
Apple Search Ads
For details of agency configuration for Apple Search Ads campaigns, click here. 
DoubleClick
For details of agency configuration for DoubleClick campaigns, click here.
Snapchat
For details of agency configuration for Snapchat campaigns, click here. 
Configuring In-App Postbacks
Agencies can be given permission to configure In-App Event Postbacks (including the af_app_opened event) to ad networks, upon receipt of permission from the Advertiser. 
Permission can be given by advertisers seamlessly through the platform.
 Note
Ad networks get visibility to their set up done by advertisers, but not when it's done by agencies. Therefore, when an agency, but not the advertiser, maps in-app events for postbacks to a network, the ad network sees this section as inactive, although it is actually active for the agency.
Advertiser vs. Agency Data Access
Advertisers and agencies mostly cannot access the same data on AppsFlyer's dashboard, reports etc. As agencies are usually responsible for but a part of the advertisers traffic, the agencies access to data is limited in comparison.
The following article breaks down these differences.
Reporting
Traffic statistics can be viewed and downloaded directly from your AppsFlyer dashboard. There are two types of reports available:  
Aggregated reports

Raw data reports
Both types or reports can be accessed via the Export Data page on AppsFlyer's dashboard.
 Note
Due to Facebook and Twitter's terms of service, agencies, which are considered as 3rd parties, do not have access to raw data reports traffic, coming from Facebook and Twitter. 
Access to Aggregated Data Reports
Aggregated Reports, also known as Performance Reports, are available by default for Agency Accounts. There are 5 different reports available for export directly from the Agency Account dashboard:
For all AppsFlyer articles related to Performance Reports, click here.
Aggregate reports for retargeting campaigns are also available.
Access to aggregated organic data reports is only available upon advertiser permission. 
Access to Raw Data
Raw Data Reports, also known as Device-Level Data Reports, contain abundance of attribution information, from the traffic sources of the agency.
Raw Data is available for:
Non-Organic Installs

Non-Organic In-App Events

Non-Organic Uninstalls

Installation Postbacks

In-App Events Postbacks

Retargeting Conversions

Retargeting In-App Events
For all AppsFlyer articles related to Raw Data Reports, click here.  
Access to Retention
Agencies can receive access to retention data, upon receipt of permission from the Advertiser. Permission can be given by advertisers through the platform.
More details on the retention report for agencies can be found here. 
Access to OneLink Template Configuration
Agencies are able to create app-specific or OneLink tracking links for apps of client accounts.
However, when creating OneLink templates, agencies are only allowed to associate apps that are owned by them, and not that they are partners of.
Agency Time Zone
Agencies see apps in the time zone and currencies set by the app owners.
Agency Transparency
Agencies can enable advertisers to view all of their traffic data for the app they are promoting. 
By default, advertisers view an agency's activity as one media source. This means that the media source information coming from agencies, is not available to the advertiser on the dashboard pages, or in the raw data reports.
Agencies that do wish to share the media source data, can become transparent to the client.
Cost Reporting
Coming soon.