Introduction
AppsFlyer's Ad Revenue feature allows you to combine the in-app ad revenue together with the in-app purchases and subscription revenue to determine the full LTV of each install.  By matching the LTV of each install with media cost data, you can determine the actual ROI of each campaign and optimize it accordingly.
Configuring Ad Revenue Attribution Per Monetization Platform
To configure the ad revenue attribution for a particular network, follow these steps:
1.  Select the integrated partner that you want to work with.  For details of the integrated partners working with Ad Revenue, see here.
2.  Click the Ad Revenue tab on the integrated partner configuration page.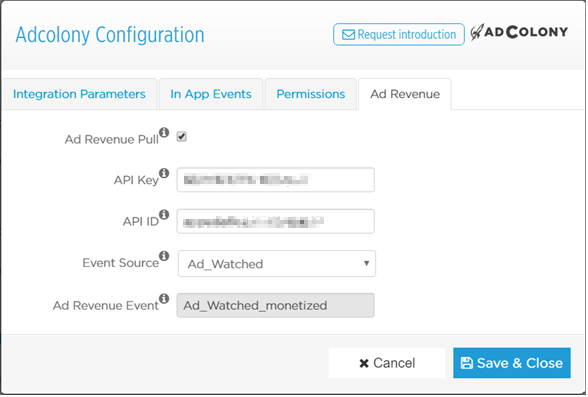 3.  Configure the parameters in the supported integrated partners configuration page:
API credentials - for details of each configuration credential per integrated partner, see here.
Event Source – The event representing your ad revenue model in the best possible way. For example, if your revenue is based on impressions, it is recommended sending AppsFlyer an ad viewed event.  The best event can be configured for each monetization platform separately. 

However, it is also possible to use the af_app_opened event.  In this case, ad revenue is attributed for every app open performed by the user.


Ad Revenue Event - a read-only field that presents the new ad revenue event called [source event]_monetized (e.g. Ad_Watched_Monetized as displayed above).  The ad revenue event is presented in the dashboard as an additional event.
Viewing the Data
The data for ad revenue attribution is displayed in the AppsFlyer dashboard under the Aggregated Performance Report.

The data shown in the Ad Revenue Event is included in the total Revenue column per media source / campaign / ad set / ad level.  Additionally, this is included on the total revenue KPI.  This revenue also appears in the Cohort and Activity Reports. 
 Notes
The eCPA is calculated as follows: Total Cost/Number of Monetized Events = eCPA
The ad revenue (LTV) does not include today's revenue, as AppsFlyer pulls the revenue from the previous day.
The ad Revenue event can be shown only on the day after the activation.
The ad revenue events are not available in the Raw Data Report.
The ad revenue events are not available through the in-app event postbacks and Push API.
The Retargeting dashboard does not display ad revenue events.
Agencies are not allowed to access ad monetization platform configuration.
Ad Revenue is available for yesterday after 2 PM GMT.