Introduction
To use Facebook mobile app ads, you just need to create a Facebook application. This does not mean you have to implement Facebook Login or integrate your app with Facebook; you only need an app on Facebook to get the Facebook app ID. If you do not already have one, you can create this by visiting the App Dashboard and clicking Create New App under Apps. You are asked to complete a name for your app, and a unique namespace. 
Setting-Up a Facebook Tracking
To start tracking Facebook campaigns with AppsFlyer, follow these steps:
When you define your mobile app on Facebook you get its Facebook App ID. 
Copy your Facebook App ID and head to your app's dashboard on AppsFlyer.


Click on Integrated Partners link on the left bar.


Search for Facebook and click on its logo to open the Facebook setup page.


We recommend the Click Attribution Lookback Window is set to 28 days to match with Facebook.
If you wish to enable View-Through attribution with Facebook first check its box, then set the View-Through attribution lookback window to 1 day, again to match with Facebook's value.
Press Save &Close. 
Congratulations! You have completed basic tracking for Facebook mobile campaigns with AppsFlyer!
Warning
Your app MUST collect IDFA or GAID or all your Facebook installs will be attributed as organic. For further information refer to the SDK Integrations Guides for either iOS or Android. 
Facebook Channels
With Facebook you can see data broken down not only by campaigns, ad sets and ads, but also by Facebook channels. Facebook channel means users from the Facebook app, Instagram means users from the Instagram app and AudienceNetwork are users from other apps that belong to or are affiliated with Facebook. Use this data to compare the quality of users that you get from the different channels of Facebook.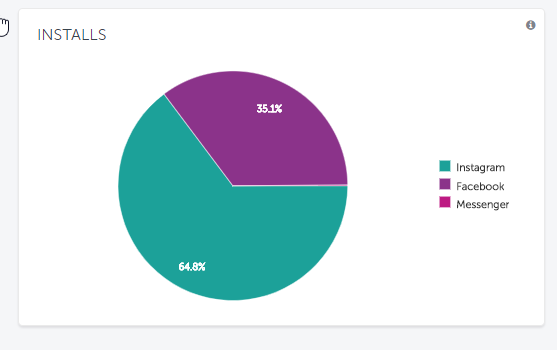 Facebook and Agencies
Agencies and FMPs can run and track Facebook campaigns on behalf of advertisers on AppsFlyer, or even alongside the advertisers' own Facebook campaigns. In order for the agency campaigns to be attributed to the agency, the campaign name MUST begin with the agency's name. For more details about agencies and Facebook install tracking please go here.
In addition, agencies can't alter the Facebook look back windows and re-targeting toggle. Rather, they need to ask the advertiser to perform these changes if they're needed.
Facebook FAQs
I don't see Facebook campaign clicks in AppsFlyer's Dashboard
Can AppsFlyer show the campaign level and ad groups?
Yes. In fact, AppsFlyer shows you also the single ad level, so you have 3 levels of drill down with Facebook ads, campaigns >> ad groups >> ads.
Is Facebook data shown in real-time?
Yes, all installs and subsequent in-app events are shown in real time. However, the clicks, impressions and cost data AppsFlyer gets in aggregated form from Facebook arrives periodically every few hours.
I don't see Facebook raw data in the Installation and In-App Events reports
By default Facebook does not allow distribution of user level data. However, advertisers who would like to get this raw data via AppsFlyer can sign
Facebook's Data Usage Terms
for Advanced Mobile App Measurement. 
Anybody with access to the Facebook ad account can do the following:
1. Go to Facebook's setup window on AppsFlyer
2. Click on Terms of service (highlighted in blue in the capture below)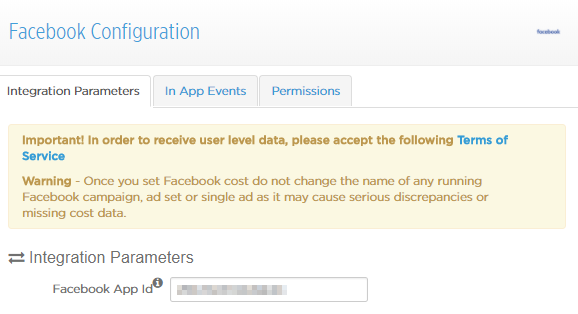 3. Continue on Facebook and agree to the terms of service
OR go directly to Facebook here.
Can I work with Facebook PMDs and measure performance with AppsFlyer?
What should I do when I receive the following warning?