To start measuring Facebook mobile app install ads campaigns with AppsFlyer, all you need to do is set your Facebook App ID in AppsFlyer's Dashboard (see example below).
To set-up a Facebook campaign and measuring it with AppsFlyer's procedure, follow these steps:
NOTE:  As a prerequisite for the integration with FaceBook the app must collect IDFA / GAID.  For further information refer to the SDK Integrations Guides for either iOS or Android.
Register your app with Facebook. (If you do not have a Facebook App ID associated with your app, click here).
Setup your campaign with Facebook. Click here and follow the instructions.

Make sure you have the latest AppsFlyer SDK integrated. Minimum, AppsFlyer's iOS SDK v2.5.1.9+ or Android SDK v1.3.12+ is required for measuring Facebook mobile app install ads.

Configure your Facebook App ID in AppsFlyer's Dashboard:

4.1 Click Integrated Partners:

  4.2. In the filter, search for Facebook.

4.3 Click on the Facebook logo to open the Facebook configuration page.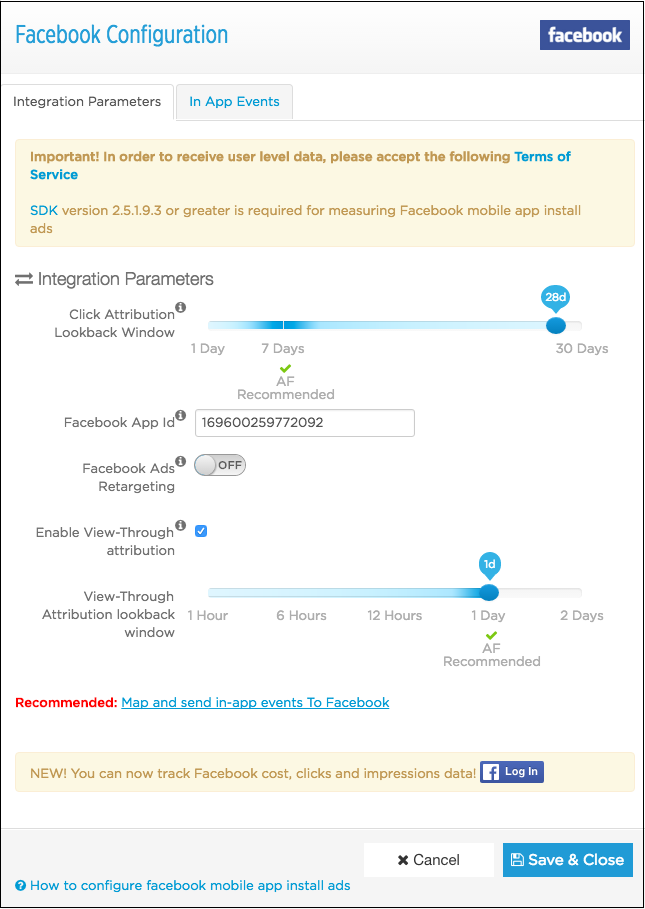 4.4. Set your Facebook App ID and click save.  
Now you are all set to start measuring your Facebook campaign with AppsFlyer.
Your Facebook App ID is available in your Facebook account:

Facebook View-Through Attribution
Facebook integration also supports View-Through Attribution.
View-Through is enabled by default, with a 1-day view-through attribution lookback window.
Select Enable View-Through Attribution to disable or re-enable this feature.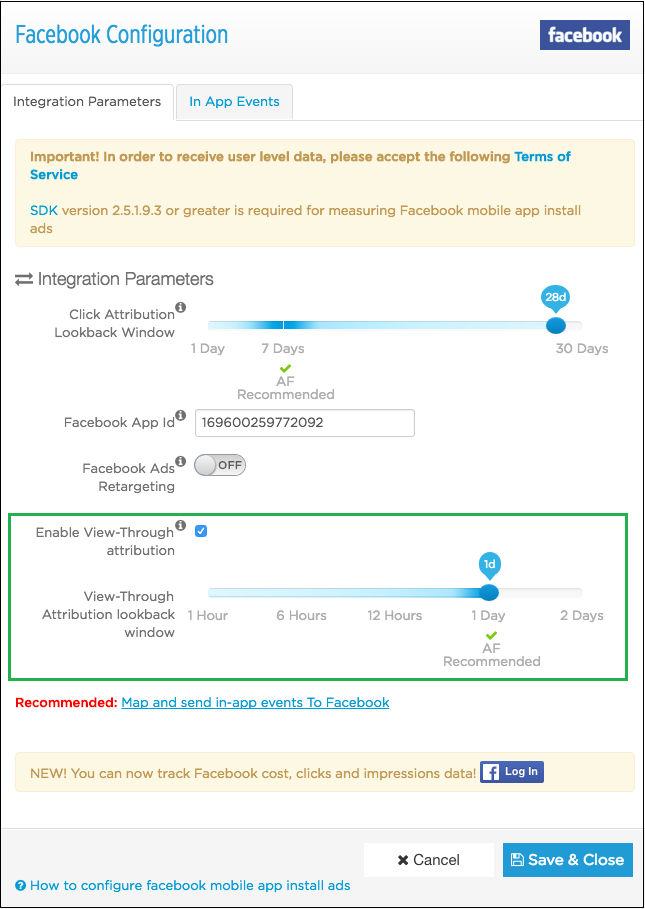 Facebook Channels
With Facebook you can see data broken down not only by campaigns, ad sets and ads, but also by Facebook channels. "Facebook" channel means users from the Facebook app, "Instagram" means users from the Instagram app and "AudienceNetwork" are users from other apps that belong to or are affiliated with Facebook. Use this data to compare the quality of users that you get from the different channels of Facebook.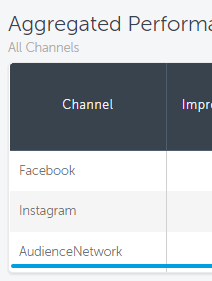 Questions
1. I don't see Facebook campaign clicks in AppsFlyer's Dashboard. 
The integration with Facebook includes only the conversion and engagement data. We don't have access to the clicks data.
For more information on Facebook Campaign Cost, Clicks, Impressions, ROI and eCPI, click here.
2. Can AppsFlyer show the campaign level and ad groups?
Yes.
3. Is Facebook data shown in real-time?
Yes.
4. I don't see Facebook data in the Installation and In-App Events reports.
By default, Facebook only allows aggregated reports (not user level). Use AppsFlyer's reports to analyze Facebook campaigns.
If you would like to receive user level data for Facebook campaigns click here.
5. Can I work with Facebook PMDs and measure performance with AppsFlyer?
Yes. AppsFlyer is already integrated with some PMDs and can integrate with any PMD that you would like to work with.
More Facebook Mobile App Install Ads FAQ's here. 
AppsFlyer is compliant with Facebook data and privacy policies.
To allow agencies to promote Facebook campaigns, click here.
6.  What should I do when I receive the following warning?

Verify the App ID in Facebook and check if you have any geo or age restrictions on their Facebook App ID.
If the tracking is already working, this indicates that app is already publicly available in the Facebook Developer Portal and you can you can safely ignore this error message.