Introduction
Apple Search Ads is a way to promote apps within the App Store. Ads are shown based on relevancy of the search query.
Requirements
 Important!
To track Apple Search Ad campaigns make sure your app has:
1. The mandatory iAd framework
2. AppsFlyer iOS SDK version 4.7.11 or above
3. Non-English characters are supported from SDK version 4.8.1 and higher.
Tracking Apple Search Ad Campaigns
To update Apple Search Ads, follow these steps:
1.  Click Integrated Partners on the left side of the window:

2.  Search for Apple Search Ads.

3.  Click on the Apple logo to open the configuration page.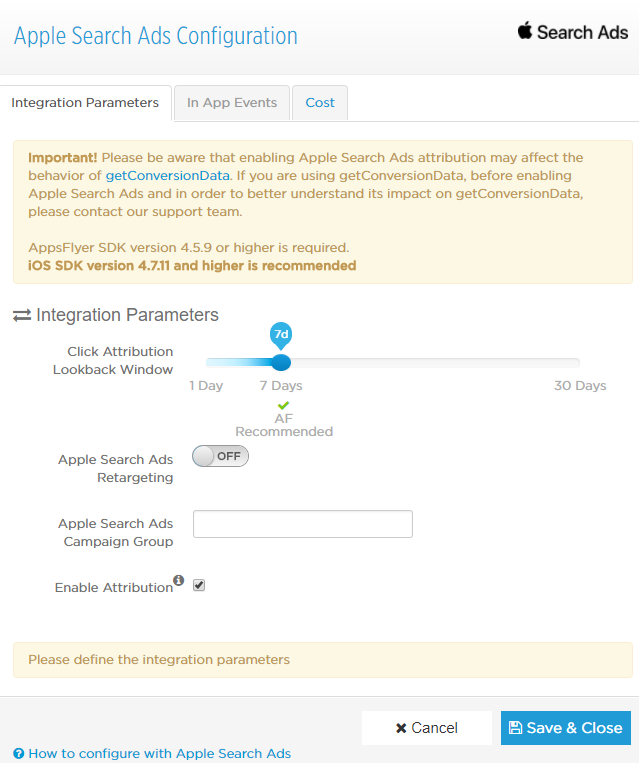 4.  Select Enable Attribution
5.  Toggle Apple Search Ads Retargeting to ON if you want to attribute re-installs (re-attribution conversion).
 Note
Currently Apple Search Ads retargeting only supports re-attributions and not re-engagements. You can see the re-attribution conversions displayed in the retargeting dashboard. 
6.  Set the click attribution lookback window to any required value between 1 to 30 days.
 Tip
AppsFlyer recommends configuring the click attribution lookback window to 30 days, to match with Apple Search Ads self-reporting window. This helps reducing discrepancies with the Apple Search Ads dashboard.
7.  Click Save & Close.  
 Note
AppsFlyer supports both Apple Search Ads Basic and Advanced.
In Apple Search Ads Advanced AppsFlyer provides keywords level data in RAW reports.
Enabling Cost, Clicks and Impressions Data
Follow the instructions below to enable AppsFlyer getting aggregated cost, clicks and impressions data from Apple Search ads. This cost data (including clicks and impressions) from Apple Search Ads is available on media source, campaign and ad set level.
1.  Open the Cost tab and check the Enable Cost check box.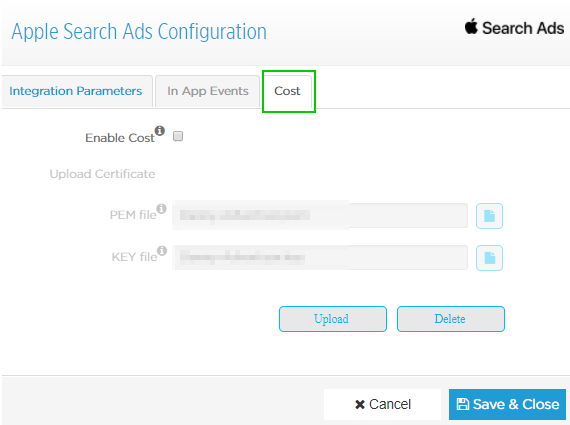 Note
Cost Reporting for Search Ads Basic campaigns is currently not available via the Search Ads Reporting API
2. Add the PEM file and Key file that you retrieved from Apple Search Ads.
2.1 To retrieve the PEM file and Key file log in to Apple Search Ads and go the account settings in the top right hand corner.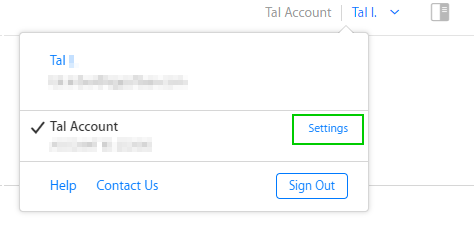 2.2 Then press the API tab and click the Create API Certificate button.
2.3 Name your API certificate and check either the Account Read only or Account admin checkbox and press create.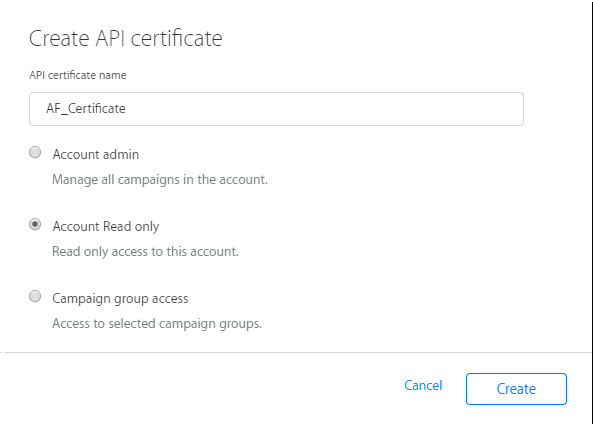 2.4 Press Actions and Download certificate.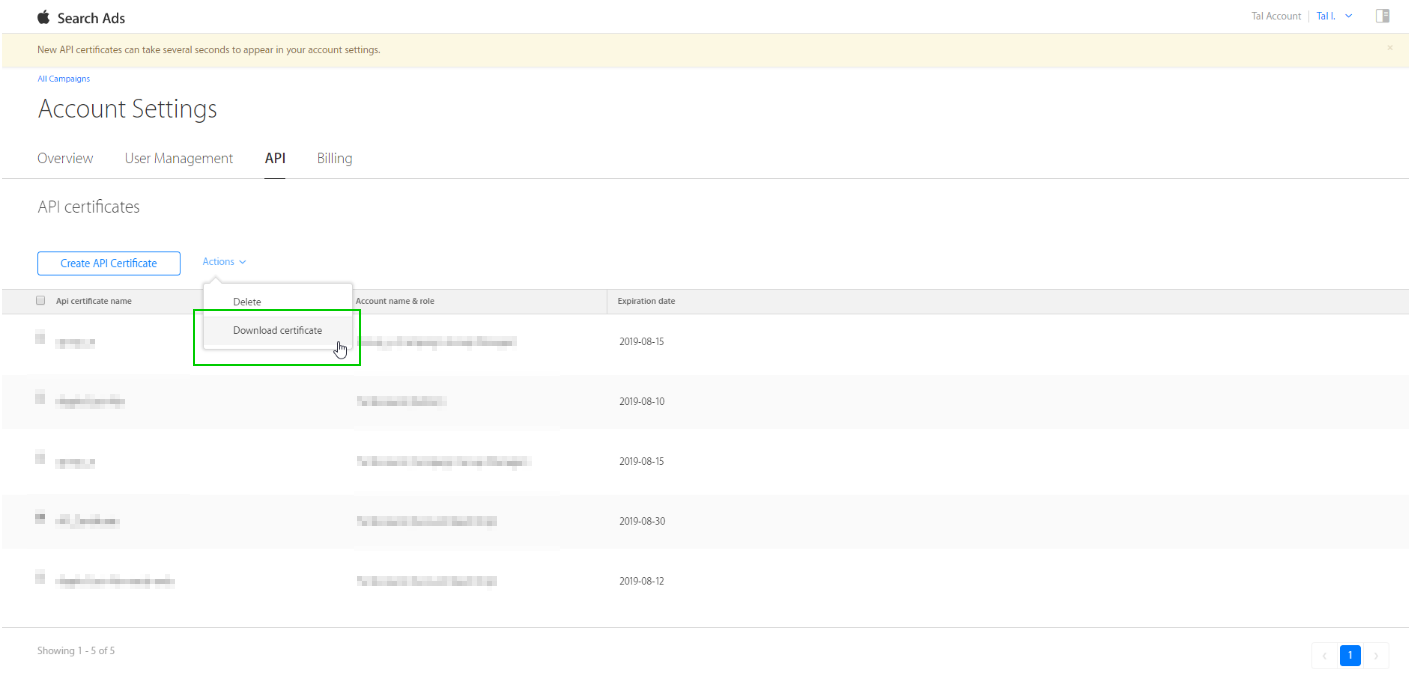 2.5 The certificates will be downloaded in a .zip file that contains 2 separate files that you will need to extract and upload into your AppsFlyer dashboard as shown above.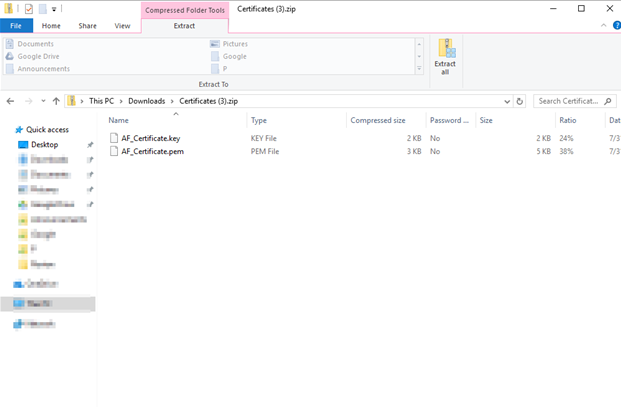 2.6 Press the below highlighted icon to select PEM file that you downloaded from Apple.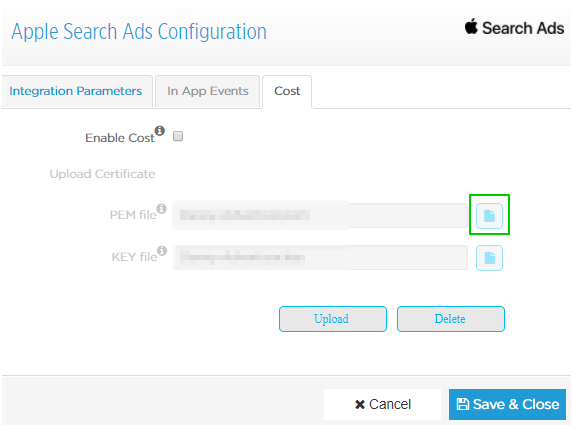 2.7 Press the below highlighted icon to select KEY file that you downloaded from Apple.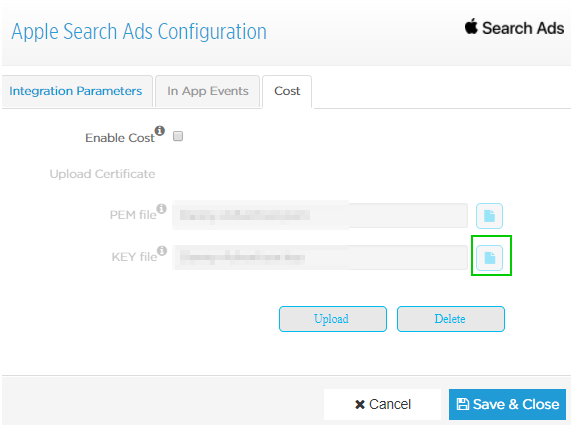 2.8. Press the Upload button to upload the selected certificate PEM and KEY files.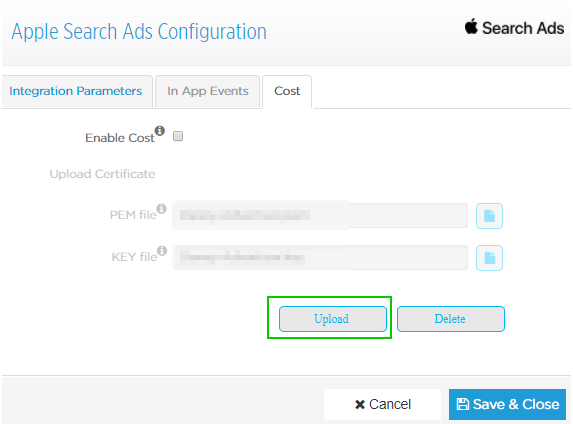 2.9 Press Save & Close.

 Notes
Upon performing the first Apple Search Ads admin login described above AppsFlyer receives Apple Search Ads cost data up to 30 days retroactively for existing campaigns. Cost data from beforehand is not available.
Discrepancies
 Note
Campaigns are aggregated by Geo. Apple reporting API does not return impressions, taps, or cost for geos with less than 100 impressions for a specific campaign. When grouping by Geo in AppsFlyer, Geos with unvailable data are not shown, and the total of unvailable data appears under N/A.
There could be several reasons for discrepancies between Apple Search Ads and AppsFlyer. To learn about these reasons, read the following article.