Apple Search Ads is a way to promote apps within the App Store. Ads are shown based on relevancy of the search query.
To track Apple Search Ad campaigns, the iAd framework is mandatory.
To update Apple Search Ads, follow these steps:
1.  Click Integrated Partners on the left side of the window: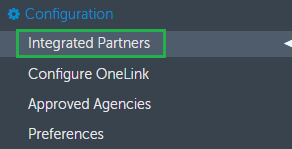 2.  Search for Apple Search Ads.

3.  Click on the Apple logo to open the configuration page.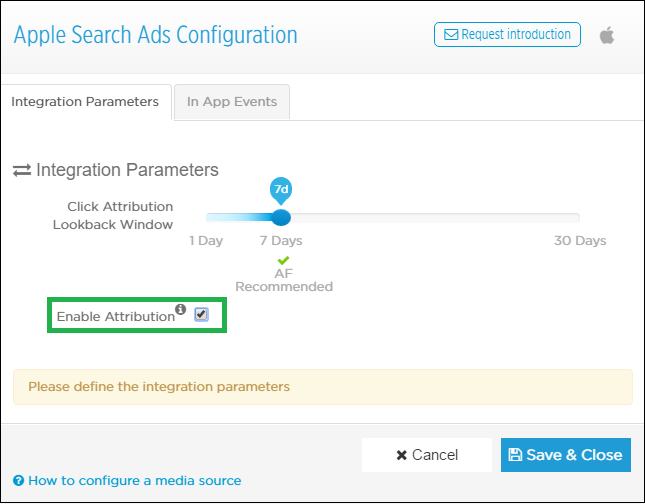 4.  Select Enable Attribution
5.  Click Save & Close.  
NOTES:
Apple plans to start with the US App Store.

Keywords data such as group name and keyword appear in Raw Reports.

Supported from AppsFlyer's iOS SDK Integration version 4.5.9 and higher.
Mapping of Apple parameters to AppsFlyer parameters:
| | |
| --- | --- |
| Apple | AppsFlyer |
| iad-campaign-name | c |
| iad-campaign-id | af_c_id |
| iad-adgroup-id | af_adset_id |
| iad-adgroup-name | af_adset |
| iad-keyword | af_keyword |
| iad-creative-id | af_ad_id |
| iad-creative-name | af_ad |

Discrepancies:
There could be several reasons for discrepancies between Apple Search Ads and AppsFlyer. 
1. If a user has activated Limited Ad Tracking (LAT) and the campaign on Apple Search Ads has no targeting parameters defined, Apple Search Ads will count the installs while AppsFlyer will not.
2. Apple Search Ads counts users based on downloads whereas AppsFlyer counts users based on first app open.
3. If you delete the app and then reinstall it after the click on an Apple Search Ad, Apple Search Ads consider this a conversion (install) while AppsFlyer might be de-duping these users and not counting them.