Apple Search Ads is a way to promote apps within the App Store. Ads are shown based on relevancy of the search query.
To track Apple Search Ad campaigns, the iAd framework is mandatory.
To update Apple Search Ads, follow these steps:
1.  Click Integrated Partners on the left side of the window: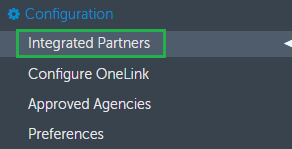 2.  Search for Apple Search Ads.

3.  Click on the Apple logo to open the configuration page.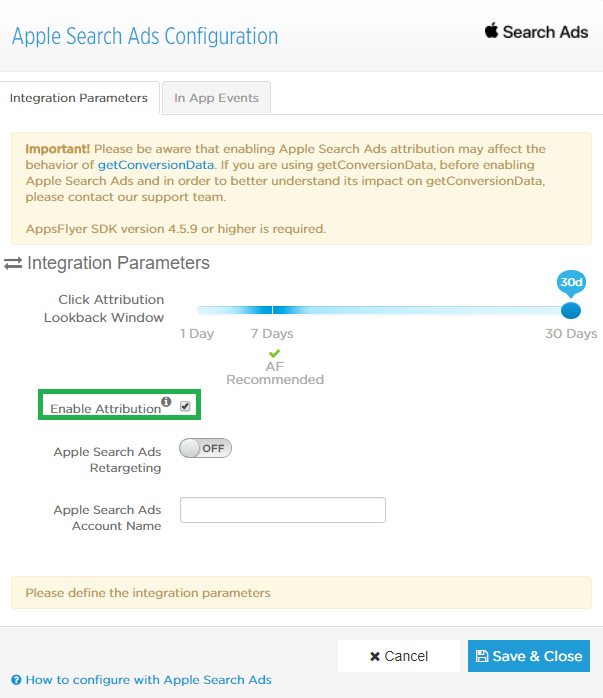 4.  Select Enable Attribution
5.  Toggle Apple Search Ads Retargeting to ON if you want to attribute re-installs (re-attribution conversion).
NOTES: 
The re-attribution conversions are displayed in the re-targeting dashboard.
Enabling this feature reduces discrepancies with the Apple Search Ads dashboard.
6.  Configure the required click lookback window. By default, this is 30 days.
NOTE:  30 days is the lookback window of Apple Search Ads self-attribution.
7.  Click Save & Close.  
NOTES:
Keywords data such as group name and keyword appear in Raw Reports.

Supported from AppsFlyer's iOS SDK Integration version 4.5.9 and higher.
Mapping of Apple parameters to AppsFlyer parameters:
| | |
| --- | --- |
| Apple | AppsFlyer |
| iad-campaign-name | c |
| iad-campaign-id | af_c_id |
| iad-adgroup-id | af_adset_id |
| iad-adgroup-name | af_adset |
| iad-keyword | af_keyword |
| iad-creative-id | af_ad_id |
| iad-creative-name | af_ad |

Discrepancies:
There could be several reasons for discrepancies between Apple Search Ads and AppsFlyer. To learn about these reasons please read the following article.